News from 1999
December 1999: Information from Grand Ole Opry Customer Service in Nashville, TN, via Ray Morgan: "'Always Patsy Cline' returns to The Ryman Auditorium in downtown Nashville, TN, from June 15 to August 12, 2000. No cast members have been announced. The opening night will come during International Fan Fair week which is June 12-17. Tickets go on sale: January 22, 2000. Phone Numbers: Toll Free at 1-888-976-1999 or Long Distance 615-889-3060. I will be in Nashville to attend Grand Ole Opry on January 7, 8, 14, 15, and will send more information when it becomes available." Thanks, Ray!

December 1999: A new article about Patsy and Charlie has been published on the net! Click here to read it! The info comes from Lisa Flood. Thanks!

December 1999: There's an article in the Winchester Star about the planning of the Patsy Cline museum. Click here to read it!

December 1999: Loretta Lynn is planning to release a sequel to her best selling book "Coal Miner's Daughter"! The new book is to be called "Still Woman Enough", and is said to be released during the fall of 2000. Read more about it here!

November 1999: I have received a presskit as a gift, from singer/songwriter and Patsy Cline impersonator Sherrill Douglas and her manager Sandy Clark, containing Sherrill's two cassettes from 1997 and 1998, her first original CD from this year, a video cassette showing Sherrill as Patsy Cline, an autographed poster, and a few pictures!!! Thanks! I am overwhelmed, and I love you both! In return, I have made a separate page about Sherrill, containing info about her.

November 1999: Below I mentioned a Patsy Cline impersonator named Sherrill Douglas. Another impersonator, which I think looks very much like Patsy, is Teresa D. Rollins. Click here to look at a picture of her, and visit her homepage!

November 1999: The Grand Ole Opry radio show may broadcast on the Internet in the near future! Click here to read more about it! The info comes from Johnny Franklin. Thanks!

November 1999: CDnow lets you vote for the most popular artist. They have a picklist of artists, and yes, Patsy is in it! You can also win a car in the process! Unfortunately the vote seems to be open only for Americans, because you cannot select a country in the voting form... Go here to vote! And Johnny Franklin has sent info about a site that has Patsy Cline Discount CDs, and the prices are below CDnow and Amazon in 80% of the cases! Click here to go to the Patsy page at their site. Thanks, Johnny!

October 1999: Sherrill Douglas is a Patsy Cline impersonator, and she has also recorded a couple of CDs containing Patsy Cline songs. Her CDs can be purchased at her shows, and at her website, and there you can also listen to samples from her songs!

October 1999: This site is featured at the Turner South web site, in the Music Links section! Thanks! And a new book called "A Century of Country" is due on November 11th. Patsy is featured, together with many others.

October 1999: If you are interested in Patsy Cline songs as backing (karaoke) tracks, go here and put in "patsy cline" in the "Artist" search field, and press "Submit". They have quite a number of titles there! The tip comes from Jim Gibbons. Thanks, Jim!

October 1999: News from Mike Freeman: "The Memphis Commercial Appeal has published a great story about our new book, 'Love Always, Patsy'. The book will be released Monday, the 11th. Read it on our own Patsy website, http://www.patsycline.net/, or on the newspaper's website, http://www.gomemphis.com/." Thanks, Mike!

October 1999: This site has been featured in the CountryNow.com Fan Sites section! A great honor!

September 1999: Yahoo! News has an article about the duets CD. Click here to read it!

September 1999: Yet another chance to vote for Patsy as your favorite country singer! Go here!

September 1999: This article was published in The Tennessean on 9/20/99: "GIVE MY REGARDS TO COUNTRY - By Brad Schmitt / Tennessean Staff Writer.
World collide! Universal Studios will rename two streets on its movie lots for Patsy Cline and Hank Williams. Also a building will be named after Patsy's legendary producer, Owen Bradley. What gives? Seems in the world of consolidation, both record labels that own Patsy's and Hank's catalogs are owned by the same company that owns Universal Studios. What a small universe, n'est-ce pas? So the owners thought it'd be neat to recognize some country music legends in Hollywood. A big press conference is slated for tomorrow here in Nashville where Patsy's hubby, Charlie Dick, and Hank's daughter, Jett Williams, will be among those presented with replicas of the street signs." This article is presented here thanks to Jimmy Walker.

September 1999: The following article was published in Winchester Star on Sep 8, 1999: Organizers of a proposed Patsy Cline museum have ruled out Winchester as a possible site, citing a lack of building space. Celebrating Patsy Cline, Inc., is looking for sites in Frederick County, preferably near Interstate 81, says Kevin Adams, the group's president. The group initially wants a 5-10 acre site that can be expanded to 20 acres. "A site doesn't exist in the city limits", Adams said Tuesday. "Interstate 81 seems to be a wise place to go because of visibility and access". Site selection is just one of several areas Celebrating Patsy Cline, Inc., hopes to make progress in this year. The group has budgeted between $50,000 and $70,000 to find a site, name a national chairman, and seek corporate sponsorships, Adams said, and the group's plans call for multiple buildings, including an interactive museum and a performance venue. At its Sept. 24 meeting, Adams said Celebrating Patsy Cline, Inc., will release details of $10,000 that has been donated to the group. Barbara Kelly, daughter of Irish country music singer Sandy Kelly, donated $2725 to the campaign at last weekend's Celebrating Patsy Cline Kickoff Dinner. -End of article- Note: Barbara raised the funds by conducting raffles prior to and during the intermissions of the "Patsy Cline: The Musical" shows in England, Ireland, and Wales. She was given the 1999 Ambassador of the Year Award by the Always Patsy Cline Worldwide Fan Organization. Info submitted by Phil Hunter, board member of Celebrating Patsy Cline, Inc., Winchester, VA. Thanks, Phil!

September 1999: Here is an article about the "Duets" CD. The link comes from Johnny Franklin. Thanks!

September 1999: To listen to samples from the new "Duets" CD, go here!

September 1999: Winchester Star has an article about the upcoming Patsy Cline Weekend. Mandy Barnett's latest CD, "I've got a right to cry", has been reviewed in one of the biggest newspapers in Sweden, Svenska Dagbladet. The review is very positive in every way: The orchestration is good, as well as the guitar picking, piano etc, and the album is a tasteful mixture between old and new material. And Mandy's voice: "Flexible, delightfully modulated and softly expressional, it fills even the most wornout phrases with new meaning". Attagirl, Mandy!

August 1999: I just noticed that my ImagineRadio radio station "PJ's All-time Country" has been offline for a while, without me knowing it, but I have now activated it again.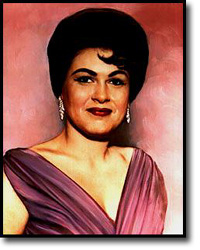 August 1999: The new book "Love Always, Patsy" by Cindy Hazen and Mike Freeman has been added to the Books and Videos page. I have also added a couple of pictures on the Shows page.

August 1999: Information from Ellis Nassour: "My website www.patsyclinehta.com (which already features a new look) will feature some surprises beginning Sept. 1st. Also, my book "Honky Tonk Angel" will have an exciting new trade edition with even more photos next year. And the book is currently being translated into Japanese. The recent staged reading of "Honky Tonk Angel", the stage musical adaption of my book, starring Broadway great Sally Mayes as Patsy and a fabulous cast, was a huge success and we are trying to mount the show for a national tour for next spring and then to come to Broadway." Thanks, Ellis!

August 1999: Yahoo! News has a picture of Charlie and Julie, when they received Patsy's star on the Hollywood Walk of Fame! Click here to go there! The link was sent to me by Johnny Franklin. Thanks!

August 1999: Newsflash from CNN: "Cline Gets Star On Walk Of Fame - LOS ANGELES (CNN) - Country singer Patsy Cline got her star on the Hollywood Walk of Fame Tuesday. The late singer's husband, Charles Dick, was designated to accept Universal Music Group's presentation of a multiplatinum award. Cline, known for such '60s hits as "Crazy" and "I Fall to Pieces", helped pioneer the way for women in the country music industry. Many of her songs also found success on the pop charts. Cline's career was cut short when she died in a plane crash in March 1963, at age 30. She only had a couple of years to enjoy the prime of her career." Click here to see the article at CNN's site. Patsy's star is located at 6160 Hollywood Blvd., among stars honoring Lucille Ball, Gregory Peck, Rock Hudson and Rudolph Valentino. This info was presented by Bill Cox in his Patsy Cline mailing list, and by an e-mail from Johnny Franklin. Thanks!

August 1999: First of all, when this is written, it's August 3rd, and today Patsy gets her star on the Hollywood Walk of Fame! Attagirl! Second of all, the town of Portsmouth has things to say about Patsy here. And third of all, some info from Beth Cuthbertson, regarding the show "Always... Patsy Cline": "We are running "Always... Patsy Cline" at the Capital Repertory Theatre in Albany, New York. We opened July 21 and will run through August 28. The show is going great. Our Louise is played by Diana Rogers and our Patsy is Diana Pappas. People can contact the box office by calling 518-445-7469." Thanks, Beth!

July 1999: Information from fan club secretary, Vyvyenne Jenkins: "Well, it's official now! Patsy was inducted into the Virginia Legends Walk on Monday, 7-19-99 at 1:00 pm. The city of Va. Beach honored 23 other individuals as well, including George Washington, Robert E. Lee, Gen. Douglas MacArthur, Edgar Allen Poe, Pearl Bailey and Capt. John Smith. I thanked everyone, on behalf of the fan club, fans and her family, for Patsy, for this honor and had to mention all the other wonderful things that are happening for Patsy this year, including the Hollywood Star, the Franklin Mint plate and of course the duets CD.

Well, I just wanted to let everyone know how it went. I will have photos in the next newsletter and on the website (soon). The granite markers are very beautiful. The etching is filled w/ gold and looks very impressive. If you ever make it to Va. Beach, make this a stop. It's at the 13th street park on either Atlantic or Pacific Avenues, it connects the two.

One more thing, if anyone knows of anyone who might be interested in the bus trip I'm doing, from Va. Beach to Winchester for Labor Day, please send them my way. I am lacking about 35 people to make it happen. I really don't want to cancel, but time is running out. My email is patzcln@yahoo.com. My office number is 757-425-2418. I have an answering machine on 24 - 7."

Thanks, Vyvyenne!

July 1999: Patsy ended up at #11 in VH1's "100 Greatest Women of Rock"! Attagirl! Go to the USA Today website, read the whole story, and look at the complete list!

July 1999: An official press release regarding the new Patsy Cline duets can be found at the www.luckmedia.com website. Click on "Artists pages" and then "Patsy Cline Duets". This info was presented by Bill Cox in his Patsy Cline mailing list. Thanks, Bill! And I would like to congratulate Lisa Flood and her Patsified site to the "VH1 Best Of The Web Award"! Way to go, Lisa! Speaking of VH1, go here to vote for Patsy in the poll for "100 Greatest Women of Rock"! And furthermore, go here to vote for Patsy's "Crazy" video in CMT's "Labor Day Top 100 Requests"!

July 1999: Info from Phil Hunter, regarding his booklet, "Crazy Over Patsy": "All of the copies of the limited edition have been sold, except for the last copy (100 of 100). It will be a silent auction item for the Friday evening event during the Celebrating Patsy Cline, Labor Day Weekend. A revised edition is planned, pending an approval by Legacy, Inc." Thanks, Phil!

July 1999: Info from Donna Caporaso: "The Downtown Cabaret Theatre, Bridgeport, CT ((203) 576-1636) will be running 'Always...Patsy Cline' from August 13 - October 31. The show has not yet been cast, but once auditions have been completed I will have cast info to share." Thanks, Donna!

July 1999: Lisa Flood has obtained some really exciting news from Michael Blakey at Private I/Mercury Records, regarding an ongoing project; Set for release on September 14, 1999 is a Patsy musical treat out of the ordinary: Patsy sings duets with some of the greatest talents in country music! Read the whole story on the PatsyNews page at Lisa Flood's "Patsified" site!

July 1999: Time Magazine is allowing us to vote for Time Magazine's Person of the Century, which will be in their December 1999 issue. To vote, go here. This info comes from Kent aka cLoWnbEaR. Thanks, Kent! Go there and vote for Patsy!

June 1999: I have updated and added info on the Achievements page. The new info comes from Julie Fudge. Thanks, Julie!

June 1999: News from Doug Davis at Country Music Classics: "Published a feature on Patsy Cline in recent issue of Country Music Classics Newsletter. Anyone who missed it or would like a free copy, just e-mail to Patsy@countrymusicclassics.com with the words "Request Patsy Cline" in message, and I'll be happy to e-mail it to them." Thanks, Doug!

June 1999: Regarding "Always...Patsy Cline" at the Clarence Brown Theatre in Knoxville, mentioned below: I just got links to this article and also this article from Ray Morgan. Thanks!

June 1999: News from Phil Hunter in Patsy's hometown, Winchester, VA: "'Always...Patsy Cline', starring Jessica Welch as Patsy and Joy Hawkins as Louise, is running June 5-20 at the Totem Pole Playhouse, Caledonia State Park, near Chambersburg, PA. (An hour's drive north of Winchester on I-81). Jessica and Joy made quite a favorable impression on a close friend who is the Managing Director for our local Shenandoah University-Summer Music Theatre. For ticket info contact: By Phone: 717-352-2164; FAX: 717-352-8870; Email: BoxOffice@TotemPolePlayhouse.org; Web Site: www.TotemPolePlayhouse.org." Thanks for the info, Phil!

June 1999: Apparently "Always...Patsy Cline", starring Teresa Willliams as Patsy and Katie Johnson as Louise, is running June 4-19 at the Clarence Brown Theatre in Knoxville, TN. And "A closer walk with Patsy Cline" runs at the Texas Troubadour Theatre in Nashville, at least thru November. They have a website here. The info comes from Ray Morgan. Thanks, Ray!

June 1999: Go here and vote for Patsy! The tip comes from Patsy Walen. Thanks!

June 1999: News from Mario Munoz: "Patsy Cline's star on the Hollywood Walk of Fame will be dedicated on August 3rd 1999 at 11:30 am. In case you would like to attend, the host hotel is the Hollywood Roosevelt Hotel. I was able to get a group rate. It's $109.00 per night (which may seem like alot, but for a hotel during the peak season and located directly on Hollywood Blvd. with the amount of history involved in the hotel itself, it's actually a fair price... The regular rate is $159.00 per night. The hotel is extremely elegant, several Hollywood legends had suites there and the first two academy awards were held there also). Should you be interested your reservations should be made by calling Channa Perera @ the Hollywood Roosevelt Hotel by June 31st. His number is (323) 769-7280. Different size rooms are available should you desire. The location of the star has not yet been determined by the Hollywood historic trust/chamber of commerce, but as soon as I find out, I'll let you all know. Hope to see ya there." - Thanks, Mario!

May 1999: News from Patsy Walen: "'Always... Patsy Cline', is having an extended play at Ordway McKnight Theatre, 345 Washington St., St. Paul, MN, USA. $20-$35 for tickets. It runs through June 6th. It must be VERY popular. And I must admit it, it was a wonderful show! Deb Del Mastro really nails Patsy's songs!" Thanks, Patsy!

May 1999: News from Samantha Springer at Lion & the Rose Productions: "I'm working at the Hollywood Playhouse here in Hollywood, Florida (near Ft. Lauderdale) where we are opening 'Always, Patsy Cline' starring Sally Struthers as 'Louise' and a young singer named Rachel Ricca as 'Patsy'. The show runs through June 20th." Thanks, Samantha!

May 1999: A message from the fan club secretary, Vyvyenne Jenkins: "A BIG T-H-A-N-K Y-O-U TO EVERYONE WHO NOMINATED PATSY FOR THE VIRGINIA LEGENDS WALK. In an article in today's paper, Guy Friddell wrote: 'Patsy Cline leads Virginians nominated, thus far, for consideration in the Virginia Legends Walk. Apparently her fan clubs got in early. That's fine by me. I'd as soon hear Patsy sing as anybody among 65 notables named to date.' Yes, I am waiting to hear from him. I called and left a message that the fan club did get in early and to get back with me. I want to see if he'll do another article about the fan club. I'll keep you all posted. Thanx again!!! My best to all!" Thanks for the exciting info, Vyvyenne!

May 1999: Please visit Biography by demand at Biography.com and vote for Patsy to be in an A&E biography!

April 1999: Info from Mike Freeman: "Our Patsy Cline book will be released on October 15, by Berkeley-Putnam. The title is 'Love Always, Patsy'. The subtitle is 'Patsy Cline's Letters To A Friend'." Thanks for the info, Mike!

April 1999: I have added a new book and some ISBN numbers on the Books and Videos page, and also the new cover of Margaret Jones' biography "Patsy".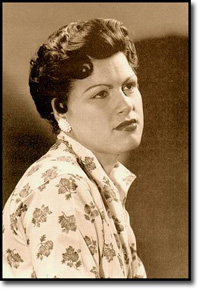 April 1999: I have now received my copy of Mandy Barnett's new CD, "I've got a right to cry". What can I say, except that I love it! I have always thought that Mandy is the one singer that comes closest to Patsy, and after listening to this CD, I have no reason to think differently. If you like Patsy, I'm sure you will like this new CD by Mandy Barnett, which, by the way, is produced by Owen and Harold Bradley. Owen Bradley, who was Patsy's producer, sadly died during the making of this album, so his brother Harold took over and finished it for him, together with Bobby Bradley and Mandy. It contains 12 tracks, the label is Sire, and the number is 31046-2. The album is dedicated to Owen Bradley.
April 1999: Please go to www.va-legends.com and vote for Patsy! And please choose your words carefully in the "National/global achievements" box! Personally I will mention things like Patsy's ability to capture people's hearts, during her lifetime and forever, through her fantastic, heartful recordings and the ongoing movies and shows about her life, as well as how she has boosted the tourism, mainly in Winchester and Nashville.
March 1999: I have added two pictures from Winchester on the Related places page. One showing the hospital where Patsy was born, and one showing Sid Veasey's Triangle Diner, where Patsy worked. The pictures are courtesy of Jimmy Walker. Thanks, Jimmy!
March 1999: Info from Shane C. Collins: "A new discussion list about Patsy Cline has been added to "onelist", managed by me. Click here to subscribe to the list. Please feel free to join in, and discuss anything pertaining to Patsy Cline. In this list there will be no restrictions, as long as it's kept clean. I will add things from time to time. But it's up to all of you to help me run this smoothly. So join in the fun. If you have any problems posting or signing in, please let me know. Sincerely, Shane."
March 1999: Check out the airing schedule for TNN's new series "Century of Country", hosted by actor James Garner! Patsy is featured in part 6, aired on May 12. And read an article about the show here!
March 1999: I have added the movie "Sweet Dreams" to the Books and Videos page, including the ISBN number.
March 1999: Message from Rachel Kraus: "The Wild Wild Web sponsors first annual Quickie Awards. The Wild Wild Web, the CBS-syndicated TV show about entertainment and pop culture on the Web, wants your entry for the 1st annual Quickie Awards. The winners will receive fantastic prizes, and winning entries will be shown during a special episode of the TV show in May.
Animation, live action or interactive -- if you have a multimedia moving work of art on the Web, it's eligible for the Quickies. We'll accept entries in any of the following formats: QuickTime, AVI, MOV, MPG, Shockwave and Flash. All you need do is send us the URL of the page that contains your work. (Do not send us the files themselves).
Among the prizes are an Olympus D-400Z digital camera, sound-editing software from Sonic Foundry and a package of multimedia development software from Macromedia, including the latest versions of Director, Flash, Freehand, Generator and Dreamweaver.
All entries must be received by April 14, 1999. This contest is open to citizens of the United States and Canada. For more information and contest rules, point your browser to http://www.getwild.com/theshow or email Susan Kaup."
March 1999: Listen to my ImagineRadio customized radio station "PJ's All-time Country" while you surf the net! You must have RealPlayer G2 or Windows Media Player installed to listen to the station. Nothing but good country music!
March 1999: Join Bill Cox's TheCline mailing list, and discuss Patsy with other fans! Bill has taken over the subscribers from Amber Miller's mailing list, which has been discontinued.
March 1999: I have added pictures of Jodi Bennett on the Shows page, courtesy of Don Lane. Thanks, Don!
February 1999: I have added the two books "The Real Patsy Cline" and "Coal Miner's Daughter" to the Books and Videos page, and also added the ISBN numbers of the previous books, if known.
February 1999: As you might have noticed, this site has moved. The new URL is http://www.patsy.nu/. Actually, the site has moved to another server within the same building. All pages at the old address are redirected to the corresponding page at the new address. Please update your bookmarks and/or your links!
February 1999: "A closer walk with Patsy Cline" will be performed at The Barn Dinner Theatre in Greensboro, NC, starring Jodi Bennett, beginning on February 10 and running through May 5. Show times are Wednesday - Sunday, doors open at 6:00 and show begins at 8:00. For ticket information, call 1-800-668-1764. This info comes from Jodi herself! Thanks!
February 1999: On February 1st, 1999, this site (main page) reached the 100,000 visitors mark!
February 1999: Check out Ellis Nassour's site at www.patsyclinehta.com!
January 1999: Info from Shane C. Collins: "A&E's biography program will be running its tribute show to country artists next week. Patsy's biography is scheduled for January 29! This info can also be found at A&E's homepage." Thanks, Shane!
---
News from:
[2005] [2004] [2003] [2002] [2001]
[2000] [1999] [1998] [1997] [1996]