News from 2004
November 2004: Sad news from Jimmy Walker via Bill Cox: Patsy's brother, Samuel L. Hensley Jr., 64, of Bunker Hill, W.Va., died Monday, Nov. 1, 2004, at his home. Mr. Hensley was born Nov. 13, 1939, in Lexington, the son of Samuel L. and Hilda V. Patterson Hensley. He was self-employed as a master plumber and a member of Winchester Eagles Aerie 867. Surviving are three daughters, Patricia A. Taylor of Palm Bay, Fla., Susan Rannells and Kimberly Kline, both of Winchester; a son, Martin Williams of Winchester; a sister, Sylvia H. Wilt of Woodstock; seven grandchildren; a great-grandchild; and his companion, Rebecca A. Williams.

October 2004: This morning (Oct. 30) I got an e-mail from Jeff Chambless, a 2nd cousin of Louise Seger, stating that Louise passed away a couple of days ago. This has now been confirmed by Louise's husband Ed, via Ellis Nassour. Louise passed away quietly and peacefully at 9pm on Oct. 28. Louise was a great fan and a close friend of Patsy, and her story can be heard in the show "Always, Patsy Cline"...

September 2004: Several articles about Patsy have been published recently in the Winchester Star and also one article in the Voice of America News. Visit Bill Cox's Cline Chronicle to read articles about the Bell tower, Labor Day Weekend, possible museums and more!

August 2004: News about the Bell Tower from Phil Hunter: "Jim Kniceley called me to report that the tape player and the speakers will be installed in the Bell Tower prior to the Labor Day Weekend. $1600 was donated for this project from fans. Jim appreciates everyone who contributed to this project.

The tower will also be painted but will require an additional $800 for the painting contractor. The officers of the Patsy Cline Bell Tower Committee would appreciate any donations to help cover the cost of painting the tower. Please send any donations to: PATSY CLINE BELL TOWER COMMITTEE, 2630 Blue Ridge Terrace, Winchester, VA 22601.

On behalf of Jim, I appreciate your help to promote the Bell Tower Project."

July 2004: New Patsy Cline murals in Winchester! See pictures below! Information from Phil Hunter: "The Valley Photo Centre is located in the Old Town Mall of Winchester. Turn right on Cork Street to Indian Alley. The murals are on the side wall of Valley Photo Centre and can be seen from Indian Alley and a parking lot next to it. They are also less than a block from the Sweet Caroline's night club that will be the site of a Patsy museum benefit concert at 8 p.m. on Sat. Sept. 4th. We owe Lauri Bridgeforth, the owner of Valley Photo Centre and Full Frame Photography, a sincere thank you. She gave permission for the PAVAN high school artists to paint the Patsy murals on her building. We now have a new 'Patsy Site' in Winchester."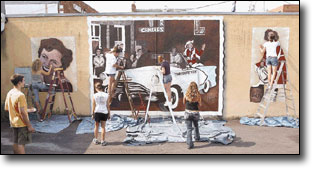 The Patsy Cline murals.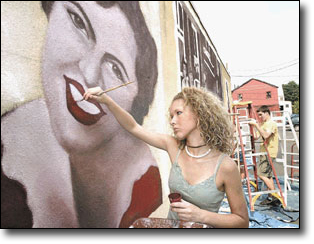 Kelly Baltimore lays a final touch to Patsy's lips.
Both photos by Rick Foster.
July 2004: Plans changed for bell tower. Click here!
July 2004: Scheduled for release on Sep. 15 is a book called "Falling Stars: Air Crashes that Filled Rock and Roll Heaven" by Rich Everitt, about John Denver, Jim Croce, Patsy Cline, Ricky Nelson, Buddy Holly, Otis Redding, Lynard Skynard and other superstars of music who died in plane crashes at the peak of their careers. Click here for more information.
July 2004: Read this interesting article about legendary guitarist Hank Garland. He worked with Patsy, Elvis, and many others. The link comes from Bill Cox at patsycline.info.
June 2004: Message from Rebecca Hill: "Bristol Riverside Theatre will be presenting 'Always, Patsy Cline'.
Thursday, June 10 - Sunday, June 13
Wednesday, June 16 - Sunday, June 20, 2004
'Always, Patsy Cline' is more than a tribute to the legendary country singer who died in a tragic plane crash in 1963. The show is based on a true story about Cline's friendship with a fan from Houston named Louise Seger, who befriended the singer in a Texas honky-tonk in 1961, and continued a correspondence with Cline until her death. The musical play, complete with down home humor, true emotion and even some audience participation, includes many of Patsy's unforgettable hits such as 'Crazy', 'I Fall to Pieces', 'Sweet Dreams', and 'Walking After Midnight'... 27 songs in all. The shows title was inspired by Cline's letters to Seger, which were consistently signed 'Love Always, Patsy Cline.' Starring Barrymore winner Bethe B. Austin and 2 time Barrymore nominee Jo Twiss.
COST: $25/ticket
PLACE: Bristol Riverside Theatre, 120 Radcliffe St, Bristol, PA 19007
WEBSITE: www.brtstage.org
BOX OFFICE: 215-785-0100
ADMINISTRATIVE OFFICE: 215-785-6664"
June 2004: Message from Christie's: Christie's New York is having an auction that will include 11 lots of clothing and accessories owned and worn by PATSY CLINE, consigned by her brother, Samuel L. Hensley.
AUCTION DETAILS:
Auction Name: Entertainment Memorabilia (Sale #1391)
Auction Date: June 24, 2004
Time: 10am
Place: Christie's New York
Catalogue Orders: 1-800-395-6300 (ask for Cat. #1391)
Bid Registration: 212-636-2437
To view Lots 147-157 (the Cline ones), please go to view these lots and many others, go here. Thank you for your interest and we look forward to your participation,
Margaret Barrett (212.636.2272) and Sophie DeLaCour (212.636.2434)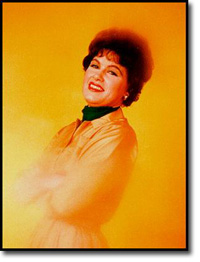 May 2004: Great news from Bill Cox: The dream of many fans, for years, is to get the Patsy Cline Memorial Bell Tower at Shenandoah Memorial Park to play. With your help, this will occur by Labor Day Weekend THIS YEAR!!!!
Contracts have been negotiated to install a computerized sound system in the tower at cost. A challenge has been issued to raise $500 (which will be matched). Any and all help is greatly appreciated.
If you would like to contribute, send donations to:
Patsy Cline Bell Tower Committee
2630 Blue Ridge Tr.
Winchester, Virginia 22601
Spread the word.
May 2004: Article in the Winchester Star:
Judge Orders Estate Solution
By Stephanie M. Mangino
A Winchester Circuit Court judge recommended the brother and sister of legendary singer Patsy Cline use an egg timer in splitting up their mother's estate. The estate of Cline's mother, Hilda V. Hensley, has been unsettled since her Dec. 10, 1998, death. Many items, including stage costumes sewn by Hensley and worn by her famous daughter, were returned to Hensley's home after Cline perished in a March 5, 1963, Tennessee plane crash.
Cline, born Virginia Hensley, spent her formative years in Winchester, and her mother lived most of her life in town. Cline reached the top of pop and country charts with hits like "Crazy" and "Walkin' After Midnight".
Cline's brother and sister, Samuel L. Hensley and Sylvia M. Wilt, have battled over their mother's possessions in court, at least since 2001, and on Thursday, Winchester Circuit Court Judge John E. Wetsel Jr. said he wanted to see the wrangling end. He clarified an earlier order he had made to sell the Cline possessions in the Hensley estate to cover its debts. Sixteen items auctioned in November 2003 by New York auction house Christie's netted $123,919.
Wetsel said with the payment of debt, the terms of the estate disbursement reverted to Hilda Hensley's wish to split her estate equally between her two remaining children. "Here's the way it's gonna work," Wetsel said. "They've got a minute. One minute to make their choice. No hemming and hawing will be allowed, and the siblings will rotate choices," Wetsel added.
Later in the brief hearing, Wetsel decided the distribution of roughly 140 items could work however the parties wanted, but it must be finished by July 16. The two sides were ordered to reappear in court on July 22.
"I'm very glad that Judge Wetsel made this decision," Wilt said, adding it reflects her mother's wishes.
Samuel Hensley did not attend Thursday's hearing.
Wilt said it will be interesting to see how the distribution affects a civil suit brought against her by her brother and estate administrator Charles R. Alton. A 2002 Winchester Circuit Court jury found that Wilt did not intentionally take or destroy estate items, as the plaintiffs claimed. However, that trial did not cover all the items the suit alleged Wilt mishandled, and the case officially remains open.
March 2004: News from Bill Cox: "The Library of Congress has selected Patsy Cline's recording of 'Crazy' for inclusion in its National Registry of Historic Sound. The National Registry of Historic Sound was created by passage of the National Recording Preservation Act of 2000. This purpose of this act is 'to maintain and preserve sound recordings and collections of sound recordings that are culturally, historically, or aesthetically significant.' For more information about the National Registry of Historic Sound, and to view the list of 2003 inductees, please visit: http://www.loc.gov/rr/record/nrpb."
March 2004: If you haven't done so already, please visit Bill Cox's new excellent Patsy Cline website! Click here!
February 2004: Information from Dick Shuey at TwangTownUSA.com: There will be a Patsy Cline Memorial fund raiser show Thursday March 4, 2004, sponsored by the Benton County Chamber of Commerce located in Camden, Tennessee. If you are interested in donating your singing talents and time, contact Bill Kee at the Benton County Chamber Of Commerce at phone number 731-584-8395 for information. Funds generated & raised will be used to renovate the current Patsy Cline Memorial located at the plane crash site which also claimed the lives of manager & pilot Randy Hughes, Hawkshaw Hawkins & Cowboy Copas. Contact: Bill Kee or Sherry, Benton County Chamber Of Commerce, 202 Main Street West, Camden, Tennessee 38320, USA. Phone 731-584-8395 or e-mail chamber1@usit.net for complete information & details.
January 2004: Information from Bill Cox: "Two of the letters Patsy wrote to Treva Miller are up for sale. This one is being auctioned and this one is available for a straight sale. The auction of the first one ends Wednesday the 21st (ironically, Randy's birthday and the 47th Anniversary of Patsy's Godfrey appearance). I would say the other is available until sold (current sale price is $8,999)."
---
News from:
[2005] [2004] [2003] [2002] [2001]
[2000] [1999] [1998] [1997] [1996]