News from 2002
December 2002: Mary Ann West is a singer who is currently performing in the Northeast U.S. in a Vegas style show called "The Legend of Patsy Cline". She is receiving top shelf reviews for her performances. Click here for more information about the show! The information came from Bob Wesolowski. Thanks!

December 2002: Some of Willie Nelson's earliest recordings have been unearthed and will be released as "Crazy: The Demo Sessions" on February 11th by Sugar Hill Records. The version of "Crazy" included on this album is the one that Patsy initially heard and inspired her to cut her own classic version!

December 2002: Check out the following article in the Winchester Star: Fan Club Buys 2 Patsy Cline Blouses Through Auction! Great news!

October 2002: Information from Jimmy Walker: If anyone want to go to Nashville to preview the items from Mrs. Hensley's estate, the showing will be Nov 4-6 at the Hilton Suties. Contact Ronna Rebuen at 615-298-4400 for details.

October 2002: An entry from Theresa Shalaby: "There is a major issue of concern that you all need to be aware of. Please go to profilesinhistory.com for the full story, but the gist is that in December, a number of PRECIOUS items of Patsy's will be auctioned off to deal with issues regarding the estate of Patsy's beloved mother, Hilda. Now, these aren't just a few cowgirl outfits we're talking about. The items include a dress worn at Carnegie Hall, and two outfits from Patsy's Las Vegas performances, INCLUDING the beautiful sequinned black gown, gloves, and purse. Hilda sewed sequins on that gown till her fingers bled, and by God, it's sickening to think that this will be sold off, never to be seen again, all due to disputes and greed. Patsy would be heartbroken if she were here to see this. This is an OUTRAGE that items with such tremendous historical and sentimental value will be put on the block to be potentially whisked away to someone's basement, or private collection, never to be seen by fans who adore Patsy so very much.

What a sad, heartbreaking time for Patsy and her fans. I don't claim to understand the dynamics of why this is happening, but it is so disconcerting. I feel for family members who may be caught up in this and helpless to rescue these precious items. My thoughts are for people to contact all and any entities out there who may have the interest and resources to purchase these items and donate them back to either the Hall of Fame or any museum.

Let it be known that these proceeds from this auction WILL NOT benefit a museum of any kind for Patsy. This is solely for the estate, as is made clear in the story at Profiles in History. Please, if any of you can think of ways to help bring Patsy's history home, and out of the hands of some rich private collector that will likely keep these treasures hidden, get on it. We can't let Patsy be robbed like this, we just can't. For Patsy's sake, and for the sake of what she and Hilda would have wanted, please think of, and do anything that you can, even if it seems small and insignificant.

Per, if you want to put this info on the news page, it might be interesting for people to know, and perhaps someone out there can contact someone with the resources to purchase this stuff, and donate it back. This is a tragedy waiting to happen!"

October 2002: There is a Norwegian country singer named Anne Kristin Sagmo, who released her second CD in August, and that CD contains a song about Patsy that Anne Kristin has written herself, called "I remember Patsy Cline". You can listen to the complete song, and three more, at her homepage. Just click on the "Audio" link in the menu to the right.

October 2002: Information about an upcoming auction of items from the estate of Hilda Hensley is available at the The Cline Chronicle!

October 2002: Country songwriter Donn Hecht, who co-wrote the Patsy Cline hit "Walkin' After Midnight" with Alan Block, has died of a heart attack. He was 72. Hecht, who lived in Miami Beach for almost 30 years, died Oct. 18 at Jackson Memorial Hospital.

October 2002: The following article is from "Country Music News" from United Press International, via Bill Cox:

PATSY CLINE TRIBUTE DUE OUT NEXT MARCH

"Remembering Patsy", MCA Records' tribute to Patsy Cline, is expected to hit stores next March, around the 40th anniversary of her death. While the label isn't saying who'll be singing what on the album, CMT.com reports a source who has heard the tribute says this is the lineup: Martina McBride and Take 6 - "Sweet Dreams"; Diana Krall with "Crazy"; Natalie Cole sings "I Fall to Pieces"; Jessi Alexander on "So Wrong"; Michelle Branch with "Strange"; Amy Grant on "Back in Baby's Arms"; Lee Ann Womack with "She's Got You"; Patty Griffin does "Faded Love"; Norah Jones with "Why Can't He Be You"; Rebecca Lynn Howard on "You're Stronger Than Me"; k.d. lang sings "Leavin' on Your Mind" and Patsy Cline with "Walkin' After Midnight". Cline died in a plane crash on March 5, 1963.

October 2002: Information from CMT via Jimmy Walker: "The Grand Ole Opry House will soon get a $6 million to $7 million 'facelift', according to Colin Reed, CEO of Gaylord Entertainment Corp., the building's owner. Reed mentioned the impending project during his remarks at the Musicians Union concert held Monday (Oct. 7) at the Opry House. Jim Brown, Gaylord's director of corporate communications, says the makeover will include access ramps, elevators and other improvements and is not expected to interfere with any scheduled events. Construction is slated to begin near the end of this year, when the Grand Ole Opry is in its annual winter run at the Ryman Auditorium, and should be completed by the fall of 2003." Thanks, Jimmy!

October 2002: Singer Eddy Arnold has been honored at Musicians Union Extravaganza, and there is a great article about it at CMT. Click here to read it! There were many great artists who performed live, and among them were Willie Nelson, Kitty Wells and Mandy Barnett! Mandy sang "Crazy" and "I can't stop loving you". The link to the article came from Jimmy Walker. Thanks!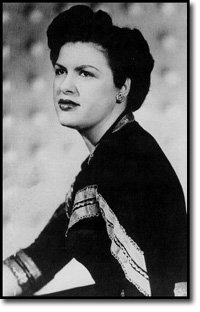 October 2002: The following is probably old news for most of you, but since I seem to have neglected to mention it here before, I thought I'd do that, also partly because I was reminded of it by Robert Miller... :-) Anyway, this is a quote from the NPR website: "Throughout the year 2000, National Public Radio presented the stories behind 100 of the most important American musical works of the 20th century. These special features cover music from a wide variety of genres -- classical, jazz, rock'n'roll, country, R&B, musical theatre and film scores. NPR 100 stories aired on All Things Considered, Morning Edition, and NPR's weekend news magazine programs. Here you will find audio of three NPR feature stories -- one from Morning Edition and two from All Things Considered -- on the NPR 100, plus the complete NPR 100 list arranged alphabetically with the air date and the original audio of each piece." Needless to say, Patsy's recording of "Crazy" is one of those 100 most important musical works...
October 2002: The Warrenton Horse Show in Warrenton, VA presents a Patsy Cline celebration and dedication of the Patsy Cline Award's Pavilion on October 27. There is also an audition on the 26th, to sing at the dedication. Call 540 347-9442 for details. Click here to see the poster, and click here to go to their website! The information comes from Susan Huberth. Thanks!
October 2002: Info from Bill Kee via Jimmy Walker: "I have just been informed that the City of Camden plans the official opening of the Camden Heritage Museum on the 15th of October. We have a small display of Patsy Cline memorabilia including a portion of the plane wing, the Life Magazine article, pictures, sign in books from the memorial site and such, but anything that the members of the fan club would like to loan the museum would be greatly appreciated. Gary Farmer is the contact for the museum. He is at Camden City Hall 731-584-4656 and I will be happy to help coordinate in any way."
October 2002: A new offer from Todd Jeffries: "Patsy Cline Holiday Gift Set: The Holiday Gift Set includes: A set of one economy print of 'Honky Tonk Angel' and 'The Cline' AND a gift set of the Patsy Cline Note Cards! That's two prints and two boxes of Note Cards for $75.00, a savings of nearly 30%! Supplies are limited! Offer ends December 1, 2002!" Thanks, Todd! For more information, visit Todd's website at www.tjeffries.com.
September 2002: There is an interesting article on country music in the Washington Post, from the 20th, and there are both audio and video links featuring Patsy there! Click here!
September 2002: A message from Evelyn Burgess: "Just wanted to inform Patsy Cline fans that 'A Closer Walk With Patsy Cline' will open at The Nightlife Dinner Theatre in Nashville, TN on September 27, 2002. Portraying Patsy will be Lisa Layne ('All I Want For Christmas is You'). Lisa sang this role in Nashville at the Ernest Tubb Troubadour Theatre for several years as well as in the national road show, and in various theaters around the country. Lisa bears an uncanny resemblence to Patsy, but the voice is what does it!! The show will run from Sept. 27 until sometime in November. Visit Lisa Layne on her website at www.lisalayne.com." Thanks, Evelyn!
September 2002: Click here for some info about the forthcoming "Remembering Patsy" book and CD.
August 2002: OT: A message from Rick Morris: "This year, Tanya Tucker celebrates her 30 Year Anniversary as a country music artist. In July, I began a 'Call Out' to the international country music community, inviting them to participate in a 30 Year Anniversary Tribute to Tanya Tucker. Many international country music stars, songwriters, producers and nearly a thousand international fans and friends of Tanya Tucker, so far, have come together to help produce a Tribute to Tanya Tucker Book in honor of this special anniversary celebration.
This Tribute Book is to be presented to Tanya Tucker, as a gift, for her 44th birthday on October 10th. Each person, internationally, has an opportunity to participate in this Tribute Book production. By simply emailing a 'Tribute Message to Tanya Tucker' through the Tribute Website. Please join us in this 30 Year Anniversary Tribute to Tanya Tucker. The response has been phenominal, as many countries have paid tribute to this country music legend! See the Tribute to Tanya Tucker website for more Tribute Book information. It's a very interesting and exciting thing we have going on here!!
Please participate and then pass the word!! This tribute effort is being put together and managed by a fan of Tanya's who lives in her hometown in Tennessee. (Tanya doesn't know about this tribute for her) Tanya deserves all of our praises for all those years and for what she has contributed to the country music industry."
August 2002: Due to changes at MCA Nashville, the Patsy Cline tribute album mentioned in an entry below, has been put on hold until the first quarter of 2003. Probably late February or March.
August 2002: News from Todd Jeffries: "This week I received permission from Charlie Dick to produce boxed sets of note cards using my original graphite portraits of Patsy. These are the same portraits that are also available as Limited Edition prints. (I donated a set of the prints to the Fan Club for their Silent Auction at the Labour Day Weekend Celebration.) The note cards measure 5.5 x 4.25 inches, and are packaged in boxes of 10 (envelopes included). The cost for a single box of 10 note cards with envelopes is $15. Folks can save by purchasing a double-box set ( one box of each set) for $25. I am taking this opportunity to also try and raise funds for the Always Patsy Cline Fan Club by choosing to contribute 20% of every sale directly to them. I have also decided to contribute 20% of each sale of the Limited Edition Prints to the Fan Club as well. The note cards will make great gifts, but supplies are limited so folks should get theirs while they can. They can be purchased directly from my online store at www.tjeffries.com. Most major credit cards are accepted and all transactions are made using a secure server." Thanks, Todd!
August 2002: Ellis Nassour invites you to celebrate Patsy's 70th birthday on Sunday, Sep. 8th, at New York's Cowgirl Hall of Fame Restaurant! Furthermore, his best-selling biography, "Honky Tonk Angel: The Intimate Story of Patsy Cline", will come out in a new edition at the 40th Anniversary of Patsy's untimely passing. If you want more information about the book, or if you want to order a copy, please visit Ellis' website Patsy Cline: Honky Tonk Angel!
August 2002: Press release: "Cline recalled in tribute album, network special, Fri Aug 16, 4:19 AM ET - Tamara Conniff; LOS ANGELES (The Hollywood Reporter) --- Country legend Patsy Cline's musical influence continues its ride almost 40 years after her death. A tribute album featuring Norah Jones and Diana Krall and a remastered version of Cline's 1967 'Greatest Hits' album are ready for release and a television special is in the works. Of note is that the tribute, 'Remembering Patsy Cline', and the 'Greatest Hits' remastered album (the original has sold almost 10 million copies to date) both feature the same songs in the same order, MCA Nashville executive vp Mark Wright said. Additionally, the first track on the tribute is a slight remix of Cline's 1961 version of 'Walking After Midnight'. Her vocal was mixed in with a new blues/rock backing track -- a use that was approved by Cline's husband, Charlie Dick. The tribute also features Martina McBride with Take 5, Natalie Cole, Jessi Alexander, Michelle Branch, Amy Grant, Lee Ann Womack, Patty Griffin, Rebecca Lynn Howard and k.d. lang. 'All of the artists on (the tribute) are passionate about Patsy Cline,' Wright said. 'You can tell when an artist is really involved with the music.' The albums are likely to hit stores this year, but because talks of a network TV special are under way, the release date is on hold. Numerous ideas for the special are being bandied about, including a show that highlights performances by the tribute artists under a biographical backdrop. MCA Nashville chairman Bruce Hinton and Wright produced the album. (Hinton stepped down from his post after 19 years earlier this month.) Cline died March 5, 1963, in a plane crash. She would have turned 70 on Sept. 8."
August 2002: Press release: "CMT Pays Tribute to the 40 Greatest Women of Country Music - CMT rolls out one of its most anticipated specials to date -- CMT 40 Greatest Women of Country Music, a three-hour special honoring the 40 women who have made the greatest contribution to country music. The tribute will include interviews from various artists, entertainers and music historians as they describe why each of these incredible women is considered one of the "40 Greatest Women of Country Music." The historic documentary special, hosted by actor Billy Campbell (Once & Again and Enough), will debut Labor Day weekend Friday, Aug. 30 at 9 p.m. ET/PT. Encore presentations will air Saturday, Aug. 31 at 4 p.m. ET/PT; Sunday, Sept. 1 at 12 p.m. ET/PT; Monday, Sept. 2 at 8 p.m. ET/PT. CMT 40 Greatest Women of Country Music will include interviews with celebrities talking about the impact these women have made on country music, how they feel when they hear one of these women sing and the emotions that are evoked when they think of the contributions these specific women have made to country music. The special will also include video footage, historic photos and the timeless music these women have made over the years that will create the exciting three-hour countdown from No. 40 to No. 1. Each hour will draw CMT viewers closer to knowing which artist will be honored as the Greatest Woman of Country Music. The CMT exclusive special will illustrate the depth, as well as the reach of country music throughout all musical genres. The three-hour tribute includes interviews with Vince Gill, Loretta Lynn, Dolly Parton, Reba McEntire, Don Henley, Lee Ann Womack, Chris Isaak, Toby Keith, Travis Tritt, Lorrie Morgan, Jamie O'Neal, Lynn Anderson, Randy Travis and many other celebrities from country music and other entertainment genres. The CMT 40 Greatest Women of Country Music were selected by hundreds of artists, music historians, music journalists and music industry professionals -- looking at every aspect of what a great artist is -- from her musically groundbreaking body of work to her overall contributions to the ever-changing world of country music."
July 2002: A message from Theresa Shalaby: "Hi Patsypals: It is time for us to unite, and do something to help Patsy. You may not be aware of this, but there is a proposal on the table in Winchester to re-zone the area near Shenandoah Memorial Park, where Patsy is laid to rest. This re-zoning plan includes large commercial plans, which means going to the cemetery, and dealing with strip malls, noise, and pollution in your face. I can't imagine anything so disturbing and disrespectful. Patsy's grave is about to be desecrated, and we CAN and must try to make a difference.The proposal is likely going to be on the agenda of a meeting in August of the Planning Committee for Winchester. A local group is working to stop it, and I think that we must make our feelings known about this issue as well. If you go to www.winchesterstar.com, click on the 'Forum' page, then click on 'Winchester'. We've already got the issue there, and people are weighing in on it. We all take the time to post, chat, and share our love for Patsy on great sites like this. So, PLEASE, take the time to do this for Patsy. She needs our help. If you do post, think about all of the other civic-minded reasons that this re-zoning is detremental, like traffic, pollution, overcrowding, etc., and not just the obvious Patsyfeelings. We don't want to be discredited as just following our emotions. We won't help Patsy any with that.Please, let's do this. Together, we can help make a difference for Patsy. E-mail me with any questions, and/or check out the Patsy news page at Lisa Floods's Patsified website. I'll do anything I can to help. I am so passionate about this, and feel that finally, for once, there is something we can do for Patsy and her family. Patsy's counting on us, so GET WRITIN' Y'ALL!!"
July 2002: A new service from Bill Cox: "Patsifans! Now, you can show the world just how Patsified! you are with your very own Patsy Cline e-mail account. Each Patsy Cline e-mail account comes with 3 Mb of web space, message editing tools and spam filters. Other features include easy web access from any browser. And, you can access your mailbox on your desktop using popular e-mail software such as Outlook Express, Netscape or Eudora. For more information on the new Patsy Cline e-mail accounts, please click here!" Thanks, Bill!
July 2002: Information from Mark Baczynski via Jimmy Walker: "I just thought I'd let you know that from August 19-September 20 something, Gail Bliss will be performing as Patsy Cline in "A Closer Walk With Patsy Cline" up in Rock Island, Illinois at the Circa-21 Dinner Theatre. Joining her will be Dan Embree, Russ Wever, and myself, Mark Baczynski, all who have been in numerouse productions about Patsy, in Branson in 1995, and the National tour and at the Queen Elizabeth Theatre in Toronto Canada in 1996. Also, we are very proud to have joining us on guitar, Canada's own Bobby Edwards. Bobby's reputation is that of one of the best guitarists around. He has performed in many shows as well as with symphony orchestras T.V. and has scored music for film. He also was a part of the legendary "Patsy" cast in Toronto in 1996. Just thought I'd let you know so you can inform the fans of Patsy that a very good production will be running in the upper midwest soon." Thanks, guys!
June 2002: Read an interesting article about Mandy Barnett! Click here! The link came from Jimmy Walker. Thanks!
June 2002: Regarding the previous entry: I have now received a copy of the final version of Erica Dawn's demo CD! It is simply gorgeous! Go to Erica's page to see how it looks! And she has mentioned both me and my site in the liner notes! Why don't you order a copy? It's only $11.25 including shipping! Thanks, Erica Dawn! You are the best!
June 2002: You may now order Erica Dawn's demo CD! E-mail Erica at erica@ericadawn.com or write to Erica Dawn, P.O. Box 821, Butler, PA 16003, USA. The price is $10.00 plus $1.25 for shipping. Go to Erica's page, here at the site, to listen to sound samples from the CD, and also, visit Erica's new website!
May 2002: Patsy's siblings may settle the estate! Click here to read more!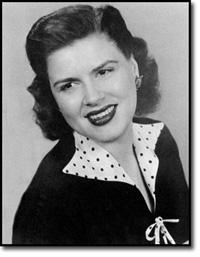 May 2002: I have received this mail from Nashville: "My name is Brett McCormick and I live in Nashville, TN. As you know, next March commemorates the 40th anniversary of Patsy Cline's death. I am interested in organizing an event to celebrate Patsy's life and achievements in Nashville in March 2003, in coordination with the Grand Ole Opry and Charlie Dick. Prior to planning such an event, I am trying to get a feel for the public demand to be able to know what kind of facilty will house this tribute. I was wondering if it would be possible to post a poll on your website that Patsy fans could give their feedback on this memorial. Any help that you could offer would be greatly appreciated." Lisa Flood has posted a poll at her website, and instead of having two separate polls, I feel it would be better with only one, so therefore I am redirecting you to Lisa's site. Click here! Thanks, Brett!
May 2002: Press release:
ARTISTS FROM ALL GENRES COME TOGETHER TO HONOR MULTI-MILLION SELLING PATSY CLINE
NASHVILLE, TN -- May 16, 2002 --
What do Natalie Cole, Diana Krall, Lee Ann Womack, Michelle Branch and kd lang have in common? For starters, these platinum-plus selling singers each list Patsy Cline as one of the most important female vocalists in the history of recorded music. So, it was no surprise when they were asked to join a very special tribute recording being put together by Cline's label, MCA Nashville, they jumped at the opportunity.
In what may be the most exciting and talked about recordings of the year, MCA Nashville has banded these artists, and more, together to pay homage to the original diva, Patsy Cline. Recorded in Los Angeles, Nashville and New York, the tribute album, "Remembering Patsy", will be released later this year. The songs selected for the tribute album reflect all of the titles included on Cline's nine million-plus selling "Greatest Hits" CD. Artists and the songs they have chosen to record include: Natalie Cole performing "I Fall To Pieces"; Lee Ann Womack singing "She's Got You"; Diana Krall performing "Crazy"; Michelle Branch singing "Strange" and kd lang performing "Leavin' On Your Mind".
According to Bruce Hinton, Chairman of MCA Nashville, the label was trying to think of something special to do to honor Cline and acknowledge the incredible staying power of her "Greatest Hits" package, which has spent an incredible 500 plus weeks (and still counting) on the Billboard Country Albums Chart.
"Patsy is one of those once in a lifetime artists," Hinton said. "She could take a song and completely make it her own. She has one of the most distinctive styles and voices I have ever heard, and I daresay there won't soon be another artist with her kind of influence and staying power. When we first began the discussions of just who we should approach to be a part of this tribute album, we didn't have to look far. Once word got out, our phones began ringing. This is a true testament to Patsy's worldwide influence - her music knows no boundaries, or genre limitations." "The beauty of Patsy's music is that it transcends all boundaries," he continued. "When I heard Diana Krall's take of "Crazy", I literally got chill bumps. She did it the Diana Krall way - putting her own special spin and touches to the song. Each of the artists has done this - taken a Patsy song, and recorded it in their own inimitable style. This record is going to be something music fans truly will appreciate."
"Remembering Patsy" will feature 12 tracks, and the previously mentioned artists are just a part of the total lineup that will be featured on the final recording. Additional artists will be announced throughout the coming months.
MCA Nashville is a division of the Universal Music Group. Named Label of the Decade by both Billboard and Radio and Records (1990-2000), MCA Nashville is home to some of music's most dynamic, creative and successful artists. From the beginning, the label created an environment that embraced a diverse cross section of country music, from cutting edge to bluegrass to pure country. Its artists have found success on all popular music charts, both domestically and internationally.
CONTACTS:
Jennifer Bohler or Leslie Kellner
MCA Nashville
(615) 244-8944
April 2002: Information from Todd Jeffries: "Due to increased interest locally and at my web site, and due the nature of the prints being a limited-edition, not to mention being authorized by Patsy's estate, an honor which is conferred very sparingly world-wide, the current low price of $155.00 will expire on Monday, May 13th. This leaves only 18 days for folks to take advantage of this Mother's Day special on the prints before they return to their market value of $350.00 each! That's a savings of over 50% for this limited time only! We're pleased to announce that the Patsy Cline prints recently helped raise $1,000 in an auction hosted by Rhubarb Jones of Atlanta's Eagle 106.7 FM to benefit The Leukemia and Lymphoma Society!" Thanks, Todd!
April 2002: I have now received a "pre-release" of Erica Dawn's Nashville Demo CD! Now, is it great or is it great?! Erica Dawn is very proud of these recordings, and so she should be! I love them all! Erica is going places, mark my words! And I am proud to be able to present sound samples from the CD! Go to Erica's page and listen! You won't regret it! These new samples are at the bottom of the page, below the song samples from 1999. Way to go, Erica Dawn! And please visit her new website made my her Image Consultant! Click here!
April 2002: Todd Jeffries has improved his website, and also significantly reduced the price of the Patsy Cline prints at his online store! Click here to go to his site!
April 2002: I have added some more sound samples on Sherrill Douglas' page, in which she sings Patsy Cline songs! Thanks for sending me the CDs, Sherrill and Sandy!
March 2002: I received this information from Tom Bland: "We have scoured your website in search of names for our Kentucky Lake Pearl Festival here in Camden, Tennessee. I'm sure you are aware of the fact that this is where Patsy Cline was tragically killed in a plane crash March 5, 1963. We are having a festival and part of the weekend will include talent in a Patsy Cline songfest. We would like to get in contact with singers from all over North America to invite them here for this festival. Patsy Cline Singing Contest - Sat. Oct. 12 at 1 PM, registration at 11 am, entry fee $25.00 per person. Guaranteed 1st Prize $1,000, other places will be awarded cash and prizes determined the day of the contest and depending on the total entry fees. We will pay back 100% of entry fees." The festival is Oct. 11-13. For more information, you can visit www.kentuckylaketennessee.com and www.heavyweightpromotions.com. And you may contact Tom at tom@birdsongresort.com or webmaster@heavyweightpromotions.com. Thanks!
March 2002: Sad news from Bill Cox: "Harlan Howard, the songwriter behind such Country Music classics as Patsy Cline's 'I Fall To Pieces', Ray Price's 'Heartaches By The Number', and many others, passed away in Nashville on the 3rd. The following is his obituary from the March 4 issue of 'The Tennessean'." Click here. Thanks, Bill!
March 2002: Todd Jeffries, an artist who has made two graphite portraits of Patsy, has sent me this information: "Well, in the months since I first contacted you, I have been working diligently to make prints of my portraits available to fans. I've had the pleasure of speaking to Charlie by phone. I was honored to receive approval from the Estate to have a Limited Edition of 300 giclee prints made from each of the two portraits I drew. And this past Monday evening, I got to meet Charlie for dinner in Chattanooga, where I presented him with a framed set of the prints I've had made. I am happy to say that after several months of hard work, I have established a web site where fans can go to purchase these fine art prints, which are now Authorized by the Estate of Patsy Cline! The prints measure 16x20 inches, and are printed on the finest quality, 100% Rag Cotton, Sommerset Archival Stock Paper. Each prints is numbered and signed by the artist, which would be me, and includes a Certificate of Authenticity. These are fine-quality prints, not just your average poster-type print. They will have to be shipped in flat mailers, as to roll them up and ship in tubes would ruin them. You can visit my site at www.tjeffries.com." Todd also sent me a picture from his recent meeting with Charlie. Click here to see it! Thanks, Todd!
February 2002: Country legend Waylon Jennings passed away on Feb. 13th. He was one of the singers who performed on the "Patsy Cline Duets, Vol. 1" CD from 1999.
February 2002: New pictures of Erica Dawn have been added, both on her main page and on the Nashville page. Click here!
January 2002: Legacy, Inc. (Julie and Charlie) are getting a new e-mail address. The new address is LegacyInc@comcast.net. Julie is not sure of exactly when this new address will start working, but probably within the next few days (this is written on Jan. 23rd). The old address, LegacyInc@home.com, will continue to work at least through January.
January 2002: Patsy's home at 608 South Kent Street may house the new Patsy Cline museum! Read this article in the Winchester Star about it! The information came from Phil Hunter. Thanks!
---
News from:
[2005] [2004] [2003] [2002] [2001]
[2000] [1999] [1998] [1997] [1996]