---

---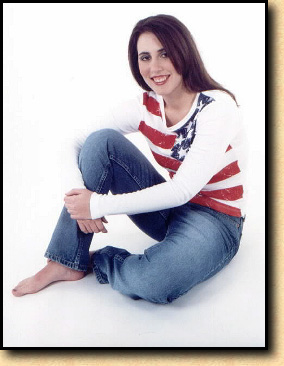 Erica Dawn (2002)
"Captivated by Patsy"
My name is Erica Dawn Synowsky and I live in Butler, Pennsylvania. Let me tell you a little bit about my life with Patsy Cline's music. I was first introduced to Patsy from the movie "Sweet Dreams". I was only 9 or 10, but I can still remember being captivated by her voice and life. She sings with so much emotion, it's hard not to be taken by her voice.
My mother, Joan, then bought a double cassette called the "Legendary Patsy Cline". There was no turning back after that tape was in my hands. I played it front to back so many times that I eventually wore it out. I then began to sing along with her songs. I guess you can say I kinda developed my own voice, helped of course by Patsy's voice. From that moment on, everything I did revolved around Patsy and her music. Everyday after school I would lock myself in my room and sing along to her songs. I even made my family take several pilgrimages (if you will) to Winchester, VA, Gore, VA and Nashville, TN.
I've competed in a few local talent contests and in the last contest I won by an applause meter. My prize was a $1,200 Recording Session in Knoxville, TN. My family and I went down in April of 1996 and made my first professional recording tape. I entitled it "Remembering Patsy". Then I began taking voice lessons, where I picked up many fine points on how to project and articulate. Next came my 9th grade spring concert, where I sang "Love Letters in the Sand". I received my first standing ovation, which completely thrilled me.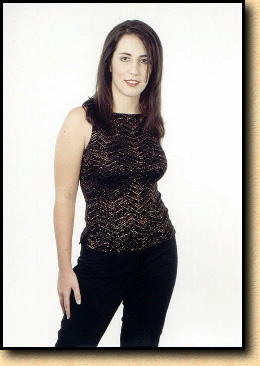 Erica Dawn (2002)

Now let me bring you into the present (Jan 2000). I have just recorded my very first CD of Patsy Cline songs. In Butler, there is a recording studio called "The Rec Room". This is where I made my CD. I did 12 songs and the whole CD took about 2 1/2 hours to make. My next big goal is to get me on the "Rosie O'Donnell Show", where I can let everyone know how much Patsy means to me. My family has begun a writing campaign to get me on.

Thank you all so much for taking the time to read all of this. I hope you enjoy the samples Per was so kind to put up. Per, thank you very much for giving me space on your wonderful Patsy site.

Always,
Erica Dawn


---
Comment: (April 2002):
Well, the above was written a couple of years ago, and a lot has happened to Erica Dawn since then! For example, she appeared at the Patsy Cline Sing-A-Song Contest in Winchester last summer. And something very exciting has happened just recently! Erica has recorded a demo CD in Nashville!!! Yes, Erica's dream is starting to come true! Look below for sound samples from the demo CD, and information on how to order it! And further below there are other samples, from 1999. Notice how her voice has developed between these two sessions! And read Erica's entry in the Fan Forum about the Nashville session! It is dated Dec. 3rd and shown in green color. And click here to look at a few recent pictures of Erica Dawn, taken in Nashville!
The latest news that I have from Erica is that she has been singing in a classic rock cover band. Click here to see a few pictures from a gig!
Per Jonsson
---
Erica Dawn's Nashville Demo CD

Sound samples from the CD:
(Recorded December 2001)
Honky tonk angels
Don't worry about me
Deeper waters
No pain, no gain
Leavin' on your mind
If it's real love
She took it like a woman
After losing you
Leaving standing tall
I don't deserve you*
*) Omitted from the final CD
You may now order Erica's demo CD!
The price is $10.00 plus $1.25 for shipping.
E-mail Erica Dawn or write to this address:
Erica Dawn
P.O. Box 821
Butler, PA 16003
USA
---
Song samples recorded Dec 8th, 1999:
There he goes
Crazy
The wayward wind
Leavin' on your mind
Have you ever been lonely
He called me baby
Bill Bailey, won't you please come home
Someday you'll want me to want you
---
A gig with the cover band 2004!
Pictures from Nashville 2001/2002!