News from 1998
December 1998: Info from Vyvyenne Jenkins: "Just wanted to give everyone some quick info about a bus trip I'm planning for next Labor Day to Winchester. We'll leave the Va. Beach area on Friday and returning on Monday. Arrangements for air fare are being handled by First Discount Travel. The bus will be picking people up and dropping them off at the airport. If anyone is interested, please call me at my office at 757-425-2418 for more information. Leave a message with your address or fax number, if after hours. If you're a member of the fan club you can take advantage of reduced rates. If you're not a member yet, you still have time to join. Call me and I'll get you set up with all of the details. You can also write to me at 3144 Niagara Way, Va. Beach, VA 23456." Thanks, Vyvyenne! She is the new secretary for the fan club.
---
December 11th, 1998:
I just got an e-mail from Julie Fudge, containing some very very sad news, indeed... Thursday, Dec 10th, on the afternoon, Julie's grandmother (Patsy's mother), Hilda Hensley, passed away... Only this short statement will be published, for the time being, according to Julie's wishes. This is a very sad day, indeed... Our thoughts are with you and your family, Julie, during this time of great loss and sorrow...
---
November 1998: Info from Patsy Walen: "ATTENTION ALL PATSY CLINE FANS!!! For all of you who love the 1985 movie 'Sweet Dreams: The Life And Times Of Patsy Cline'. Then join my list at Onelist! You can tell us your fav. scenes, songs, lines, etc. We will countdown to the re-release of the movie! Go to http://www.onelist.com/. Go to the user center, register, and in the search box type in Patsy Cline. And it should come up. If you have any questions, comments, PLEASE e-mail me! THANK-YOU!! And join today!!!" Thanks, Patsy!

September 1998: The following comes from Larry Hysmith: "Great news for fans of 'ALWAYS....Patsy Cline'. I recently had the good fortune to meet the 'real' Louise Seger in Arlington, TX, and what a hoot! Although her physical appearance differs greatly from the character in the show, (she is actually a tall, beautiful blonde) the humor, charm, intelligence and strength of an independent woman are all there! It was as if I was meeting Patsy as she shared stories of their meeting and friendship. She was very happy to answer questions and her love and admiration for Patsy are still strong today. As she spoke, it was easy to see why they were so bonded, as the fire and sassiness of both of their personalities came through! Louise is also as plain spoken as Patsy is portrayed, but also contains the sincerity and tenderness that Patsy possessed. She would love to hear from others who share her love for Patsy and can be reached at louiseed@lcc.net (E-mail address printed by permission and by request). Love to all and thanks for keeping the memory of Patsy alive!" Thanks, Larry! Yes, Louise wants to share her memories with anyone who is interested. She is really quite graceful about sharing her stories with others, according to Larry. Louise is new to the Internet and e-mail, so she is still learning, but don't be afraid to contact her!

August 1998: Amber Miller has created a "Patsy Cline Fans" mailing list, dedicated to discussing all-things Patsy! If you want to subscribe, go here!

August 1998: Additional info from Phil Hunter in Winchester regarding Labor Day Weekend: Tickets for the public events on Friday & Saturday nights may be charged to Visa and Mastercard. Call the Visitor Center at 1-800-662-1360 or e-mail tourism@visuallink.com to order tickets. And George Hamilton IV's Gospel Concert will start at 1:30 pm, instead of 4:30.

August 1998: Good news!!! The 1985 movie "Sweet Dreams", starring Jessica Lange and Ed Harris, will be re-packaged and re-released in 1999! The info comes from Gareth Brown at HBO Home Video, via Guy Cesario. Thanks, guys!

July 1998: Information from Gail Bliss: "The show 'Patsy!' is getting ready to go out on a national tour, and I will again be starring in the role. It all kicks off on August 19 in Mississippi. This is the big production similar to the one in both Toronto and Branson!" Thanks for the info, Gail! I hope to be able to display a tour schedule in the near future, since Gail has promised to send me one! And please read Gail's entry about this and other things in the Fan Forum!

July 1998: Information from Winchester, VA: "Phil Hunter, APC Fan Club Member and the treasurer of Celebrating Patsy Cline, Inc. (CPC), is confident that a major announcement will be made by the Labor Day Weekend, concerning the future PATSY CLINE MUSEUM in Winchester, VA. Jane Radford, planner with the CULTURAL COMMUNICATIONS museum company gave an encouraging report at the CPC meeting held on Monday, July 20th. If negotiations are successful, Patsy's museum may have a major presence in Winchester. More details to follow as they develop!!!" Thanks, Phil!

July 1998: New pictures have been added: Two pictures of Mandy Barnett from the Midnight Jamboree, courtesy of Jimmy Walker, and a picture from the Opry museum, courtesy of Amber Miller, showing the blue cowgirl outfit and the sewing machine that Mrs Hensley has donated. I have also discovered a "countdown feature" in my webserver software, and I have used it on the main page and in the Fan Forum to show how many days away Patsy's birthday is. If you know of any Patsy related events taking place in the near future, you can contact me with info and the exact date, and then I can insert a countdown towards that event!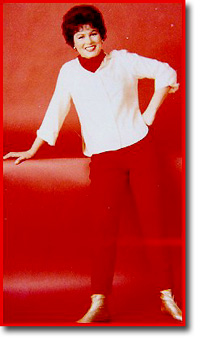 July 1998: Take a look at this gorgeous picture of Patsy, from Guy Cesario's private collection! Thanks Guy, for letting me show the picture at my site!
July 1998: Theatre in the Square in Marietta, GA, is currently playing "Always... Patsy Cline". The info came from Bill Reed. Thanks, Bill!
(From February 1998): In September last year I received a copy of Phil Hunter's booklet "Crazy over Patsy - A chronological outline of the important dates and events for Virginia Patterson Hensley or Patsy Cline". I have finally gotten around to reading it, and I must say that it is a great publication! It can be used as a reminder of the important events after reading one of the biographies over Patsy, it can be used as a kind of "encyclopedia" about Patsy, because it's easier to find certain events in this booklet than in a big biography, and it can also be read from cover to cover when you want to gain good knowledge fast about the life and career of Patsy Cline. It also has extensive info about events related to Patsy that occured after her death, all the way up to August 1997. Phil's booklet can be ordered by dropping a note to: The Office, P.O. Box 2673, Winchester, Va 22604, USA. The price is $10.00 per copy, and add $5.00 for shipping and handling. Send check or money order made out to Hunter Promotions. No COD's and no credit cards! Allow 2-3 weeks for delivery! The proceeds after printing expenses (approx. $5.00 per booklet) will be donated to Celebrating Patsy Cline, Inc. (The Patsy Cline Museum Fund). Good job, Phil!
June 1998: Good news! Patsy is finally getting her star on the famous Hollywood Walk of Fame!!! Read this article about it! The info came from Bill Cox. Thanks, Bill!
June 1998: Info from Johnny Franklin: If you are looking for the Patsy Cline rose, go to Consulting Rosarians Online, click on "CR by geographical area", contact a rosarian near you, and ask about the Patsy Cline [AROcomu] Hybrid Tea Rose, plant patent #5556. Thanks, Johnny!
June 1998: Amber Miller has contributed pictures from the booklet about "Always... Patsy Cline" at the Ryman, starring Mandy Barnett and Tere Myers. I have added those pictures on this page. Thanks, Amber!
May 1998: I have lowered the quality of the shadowed pictures at the site a bit (from JPEG quality 85 to 75), to make the pages load a little faster. But the non-shadowed versions, which you see when you left-click on a shadowed picture, are the same quality as before (JPEG quality 95).
May 1998: I have gotten myself a V3-URL for this site. The address is http://welcome.to/patsy. This is a redirection service, which means that if the "real" URL should change sometime in the future, the V3-URL will still work, simply by changing the target URL. For more info on V3-URLs, go to http://come.to/.
May 1998: Regarding the Treva Miller letters, which are up for sale: It has come to my attention that the Country Music Hall of Fame was contacted at first, about obtaining these letters, by a member of Treva's family. Steven Shutts is the one who appraises these kind of things for them, so he was called in on this, but the CMHF didn't have the money to buy them. So, the letters were sold to this group of collectors for several thousands of dollars, and here's the reason why: This member of Treva's family has a husband with a serious disease, so by selling these letters, she will be able to cover some medical expenses. So the letters were sold for a good cause. There will be a book about these letters. It will be a positive book. Trisha Yearwood has bought some of the letters, and has agreed to loan them back to the CMHF. There will be a display when the book is done, and Julie Fudge will receive the letter that is about her birth.
May 1998: Larry Jordan at Midwest Today Magazine lets you know that you can order a copy of the latest edition, containing his Patsy article, by sending $5 (which includes mailing by first class postage) to Midwest Today, P.O. Box 685, Panora, IA 50216. Thanks, Larry!
May 1998: The following info came from Phil Hunter in Winchester, VA: "Celebrating Patsy Cline, Inc., has contracted with a museum consultant (Cultural Communications) to do research, plan, and organize an exhibit on the second floor of the Kurtz Cultural Center in Winchester, VA. Jane & Tim Radford will be working on the project with the Chamber of Commerce Committee and the non-profit corporation. They have over 50 years of combined experience with the National Park Service and are a local company based in Clarke County. No date has been set for the opening, but it might occur prior to or close to the Labor Day 'Fan Club Weekend'. The Kurtz exhibit space may become a semi-permanent space. A travelling truck/bus display has also been proposed. More details will be released as Cultural Communications completes Phase 1 of its museum project." Thanks, Phil!
May 1998: Check out a new, interesting female country singer, Leslie Gail Brooks! You have info about her, and Real Audio clips to listen to, here and also here.
April 1998: According to Lou, Patsy will be featured on A&E's "Biography" during the last week of April. Monday was Hank Williams, Tuesday was Barbara Mandrell. Thanks for the info, Lou!
April 1998: Please visit Steve's Dottie West page! Dottie was, as you probably know, one of Patsy's closest friends. Click here to go to Steve's page! Also, check out Brad's Dottie West site here!
April 1998: Info from Joe Inscoe: "TheatreVirginia, in Richmond, VA, is reviving one of its hottest selling shows in its 40-some year history - 'A closer walk with Patsy Cline". It played there a few years ago to rave reviews and sellout houses. This season previews begin May 6 for a run that will close May 30". Thanks, Joe! Additional info from Doug Burns: "Kayce Glasse will be reprising her role as Patsy in this new production. Since the late '80's, Kayce has played Patsy to stand-up houses in Texas and Florida in 'Always Patsy Cline' and to more rave reviews and standing o's in 'A closer walk...' at the Oregon Cabaret Theatre in Ashland, OR, and on two tours throughout the northwest and into parts of California and Canada". Thanks, Doug!
April 1998: One of the great ladies of country music, Tammy Wynette, sadly passed away in her home on April 6... Thanks for the great music you gave us, Tammy, and say hello to Patsy for us!
April 1998: The following info, regarding the Design/Pickwick master tape discussion, came from Bill Cox: "I've been reading the comments by Wade Settle and Patsy Walen regarding the unusual version of 'Walkin' After Midnight'. Apparently, when the 4-Star masters were 'electronically enhanced for stereo', some record companies like Everest and Pickwick took the liberty of adding additional instruments. I have a couple of those LP's and some of the tracks are the same. As far as the LaserLight set, that one has been issued twice. First in 1991 (the set I have), the second time in 1993. The 1993 release eliminated some duplicate tracks, added a couple, and updated the packaging. The 1993 set says 'Licenesed from Masters International' while the 1991 set says 'Licsensed from Pickwick Entertainment'. That would explain why the LaserLight set uses the same master as the Design LP." Thanks for the info, Bill!
April 1998: This site has won the Macromusic Noteworthy! Site of the Day Award for April 6, 1998! A great honor! Thanks!
April 1998: Patsy Walen has compared the Laserlight version of "Walking after midnight" with the one from the Design Series LP that was mentioned earlier, and according to her, they are the same! That means that Laserlight was using the same "master" for their 3 CD set, as Design used back in 1962. Imagine that... If you haven't read Wade Settle's comment about the Design series in the Fan Forum, please do! His entry is from March 26.
April 1998: According to The Internet Link Exchange, the average number of hits at this site, has increased from 149 hits/day in February to 260 hits/day in March! Wow!
March 1998: Does anyone have any info about an album called "Design Country & Western Series" (DLP-601/SDCP-601), released in 1962? It contains the following artists: Jimmy Dean, Patsy, Carl Belew, Maddox Bros. and Rose, Ferlin Husky. Patsy sings "Walkin' after midnight" and "Ain't no wheels on this ship", and according to Patsy Walen, "Walkin'" is different from the versions we are used to. She says that someone talks before the song starts, and that the instruments are a bit different. Of course, the difference in the instrumentation could perhaps be explained by a different mixing.
March 1998: According to Billboard Magazine, "Patsy Cline's Greatest Hits" has sold 8 million copies! Info from Julie Fudge. Thanks, Julie!
March 1998: More pictures of Mandy Barnett has been added. A fifth picture from "Always... Patsy Cline" on this page, and a new three-part picture showing Mandy singing at Caffè Milano on this new page. Photos courtesy of Jimmy Walker. You can click on a picture to see the full size version, and that also includes the two previous three-part pictures on the main Mandy page, which are also clickable now.
March 1998: I have now scanned four more pictures of Mandy Barnett, courtesy of Jimmy Walker. They show Mandy in "Always... Patsy Cline". Click here to see them! Click on a picture to see the full size version! There is also a link to that page on the main Mandy page at the bottom of Jimmy's block. Thanks again, Jimmy!
March 1998: Midwest Today Magazine does a weekly radio show called "Midwest Today Radio Edition", and if you go to their website at www.midtod.com, and if you have RealPlayer installed, you can hear a radio show about Patsy, including comments from Charlie Dick and Mildred Keith. Just click on the orange "RADIO EDITION" button and then choose the "March 28" edition!
March 1998: Bill Cox has submitted info about some articles about Patsy on the net: First, the Kansas City Star has articles from March 1993. Go here, click on "Local news" and then on local search, check "Library '93" in the pick list, enter "patsy cline" in the search field, and press "Search". Second, Yahoo! has a press release about that CMT will be the exclusive telecaster of Patsy's music video "Crazy", and also that they will begin telecasting a series of CMT BEAT segments about "Live at the Cimarron Ballroom". Go here to read it! Thanks for the info, Bill!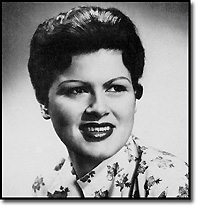 March 1998: Today, March 5, 1998, marks the 35th anniversary of the very sad day when Patsy left us for a better place... I know you are looking down at us from heaven, Patsy! We love you forever! And on this day, Patsified!, the website of The Homesick Texan, is launched! Please visit!
March 1998: Due to copyright issues, I have been forced to remove the "Memories" page. I'm sorry... Nothing lasts forever...
March 1998: Click here to read an article about how Bill Frazee obtained the original tape containing Patsy's Cimarron Ballroom live performance, which he eventually sold to MCA!
February 1998: You can read an article about Patsy and a music review of "Patsy Cline Live at the Cimarron Ballroom" here. Maybe a somewhat controversial article, if you see it from a devoted fan's point of view...
February 1998: The Australian movie "Doing time for Patsy Cline" has a web site here! Info courtesy of Jimmy Walker. Thanks, Jimmy!
February 1998: Patsy is featured in a Nancy Celebrities Comic Strip. Go here to see it!
February 1998: According to Jimmy Walker there will hopefully be a new Patsy exhibit ready at the Kurtz Cultural Center in Winchester by April. For more info call Judy Sue Kemp at the Winchester Chamber of Commerce on 1-800-662-1360.
February 1998: I have added a few more pictures on the shows page.
January 1998: I have enhanced the books and videos page and the shows page by adding shadow effects on the pictures, and also by adding a couple of new pictures.
January 1998: Just before Christmas, Amber Miller asked me if I wanted to take over the stuff at her Patsy web site, since she doesn't have time to maintain the site anymore. "Sure", I said, and now I have included her info and pictures at this site. I have modified the pages somewhat, in order to make them fit into this site's layout and coloring. There are three new pages: The books and videos page, the shows page, and the links page, and modifications have been made on the pictures page and on the related places page. Thanks, Amber, for letting me use the stuff that you have collected! I will include the new pictures in the Picture Gallery as soon as I can!
January 1998: Logan Wells has added samples of her singing on her homepage! I think she sounds great! You must have RealPlayer 5.0 installed to hear the samples, and if you don't have it, you can get it here. You have two samples on her main page, and another three on the concert pictures page! Those three are samples of her Patsy renditions!
January 1998: The sad news has reached us, that the legendary producer Owen Bradley passed away on Jan 7th. Owen produced almost all of Patsy's fantastic studio recordings, and he also produced other great singers, like Loretta Lynn and k.d. lang. A great loss, indeed. Let us send a thought to Owen's family and personal friends on this very sad day. Owen, say hello to Patsy for us! According to Jimmy Walker, "Today's Country" will air a rememberance segment about Owen, Monday Jan 12, on TNN.
---
News from:
[2005] [2004] [2003] [2002] [2001]
[2000] [1999] [1998] [1997] [1996]