News from 2000
December 2000: Don't miss out on this great limited earrings and book offer from Ellis Nassour, just in time for Christmas! Click here!

December 2000: If you haven't read this story, please do! It reflects the powerful healing influence that Patsy has. Click here to read it! The link comes from Jim Gibbons. Thanks!

November 2000: I have included a new picture of Patsy. It is a concert photo from Kansas City in 1958. Click here to see it! The photo is courtesy of Mary Antonette. Thanks!

November 2000: On the Grand Ole Opry, on Thanksgiving night (whenever that is), Trisha Yearwood will be performing a tribute to Patsy! She will be singing "Crazy" and "I fall to pieces", and Vince Gill will join her in "Walking after midnight". Tune in to the show on CBS-TV from 9 to 11 ET/PT! Info from the Country Music Classics mailing list, via Bill Cox. Thanks!

November 2000: Info from Lee at MandyBarnett.com: "Mandy will be appearing on all 3 of the Grand Ole Opry shows this coming weekend... Friday, November 24th, 7:30-8:00 pm; Saturday, November 25th, 7:00-7:30 pm and 9:30-10:00 pm. The performances will be broadcast on WSM AM 650 radio, so listen there if you live within range, and all shows are also carried live on the Internet, here. The Opry says this weekend begins their Holiday season, so who knows, we may even get treated to a Christmas song from Mandy!" Thanks, Lee!

November 2000: The Winchester Star has a new article in which the possible Patsy Cline museum is mentioned. Click here to read the article. The link came from Phil Hunter. Thanks!

November 2000: Off-topic: Michaela Olofsson, the very talented artist from whom I have purchased several watercolor paintings and pencil drawings inspired by the wonderful musical "Cats", has given me the honor of hosting her homepage in my server! If you are at all interested in "Cats", please visit her homepage, and sign her guestbook! She also has several items for sale! The address is http://www.patsy.nu/michaela/ or her V3 URL, which is http://surf.to/carbucketty. And if you want to see the pictures I have purchased, click here!

October 2000: My radio station, "PJ's All-time Country", hosted by Radio.Sonicnet, is back! Click here to listen to it while you surf!

October 2000: I have installed another game here at the site. Previously I have only had the Memory game, but now I also have a Tile game! Try it out! Note that the two buttons, "Start new game" and "Solve it for me", currently work only in Netscape. I will try to correct that. And you must have a JavaScript enabled browser to play the games!

October 2000: According to Mel Dick of Always Patsy Cline Fan Club, Patsy's gravemarker at the Shenandoah Memorial Park will be replaced in 2001. Details about this will be released through the fan club website. This info comes from Phil Hunter in Winchester. Thanks!

October 2000: For info about the book "Love Always, Patsy", and the exhibit at the Country Music Hall of Fame, go to the authors' website, www.patsycline.net.

October 2000: The show "Always... Patsy Cline" will be performed at the Actors Guild Playhouse in Parkersburg, WV, during November. Click here for more info. The link came from Jim "Sunny" Sundquist. Thanks!

October 2000: Mandy Barnett has been nominated for the "Female Vocalist of the Year" award in the annual Nashville Music Awards. EVERYONE who lives in "Davidson and surrounding counties" near Nashville, Tennessee is eligible to vote for the winner of this award. If you live near Nashville (they ask your address to prove it) PLEASE take a moment to go visit www.nashvillemusicawards.org and place your vote for Mandy! The info comes from Lee at MandyBarnett.com. Thanks!

October 2000: You can read a transcript of a chat session with Loretta Lynn if you click here. Patsy is mentioned several times. The link came from Bill Cox. Thanks!

September 2000: A new article in The Winchester Star mentions Patsy. Click here to read it. The link came from Linda Cunningham. Thanks!

September 2000: The Springer Opera House in Columbus, GA, will go on tour with "A closer walk with Patsy Cline", starring Morgan Sturges as Patsy. Click here to go to Morgan's website. There you have pictures of Morgan as Patsy, and a list of tour dates. The info comes from Rob Lindley. Thanks!

September 2000: Lisa Flood has found a new article on the web, about Patsy and Hank Williams. Lisa is mentioned in the article, and there is also a link to her website, Patsified! (even though the link doesn't work, for some reason). Way to go, Lisa!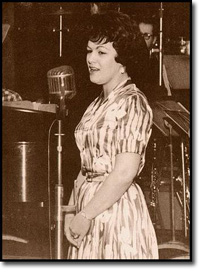 September 2000: Two new articles about Patsy are available in the Winchester Star: "Patsy Cline celebrated" and "Kicking back with Patsy".
September 2000: I have now obtained a copy of the 15 minute BBC show "Rock Shrines" about Patsy, from Kate Patten! Thanks, Kate! There is no reporter asking questions in the programme, and there is no narration. Ordinary people (some who met Patsy in person, and some who didn't), who visited Patsy's grave on March 5th, 2000, are telling us about what a fantastic person Patsy was, and how much she means to them, and that they wanted to pay their respects on the date of her death. You see a little of Patsy singing "Crazy" and "Lovesick Blues", and of course a lot of stills, and there are some newly taken sequences from Winchester, for example the exterior of the 608 S.Kent Street home, and from inside Gaunt's Drug Store, where Patsy worked. I don't particularly like the camera technique used in some sequences, but that's my subjective point of view. Bud Armel, who sadly died shortly after the filming of this programme, and Phil Hunter, participates in the programme, as well as a cast of "Always Patsy Cline", but I don't know their names. There are no names shown, except for Bud Armel. You also see some stills from the crash site, and from the funeral. Even though you see people talking about Patsy at her grave site, I don't find this programme to be disrespectful to Patsy in any way. All the people who participate show great love and respect for Patsy.
September 2000: There is a new article about Patsy in the Winchester Star. Click here! The link came from Linda Cunningham. Thanks!
September 2000: Loretta Lynn, and eleven other country stars, are involved in a new book that features childhood stories. The info comes from Jason Wells at Simon & Schuster Children's Publishing. Thanks!
August 2000: Info from Carl Sperr: "MARTINA MCBRIDE TO PLAY PATSY CLINE - Martina McBride's management office has confirmed that Martina has been cast to play the part of Patsy Cline in a new IMAX film, tentatively called 'The Legends of Country'. Details were few, but Martina is scheduled to be on the movie set on September 8(!) to begin production. Meanwhile, Martina will be busy next week working on a CMT video bio set to air in the coming months. On October 21, the singer will appear on 'A Golden Moment' at the Arena in Oakland, California. Kristi Yamaguchi will be skating to Martina's 'There You Are'. The show will air November 24 on CBS. This weekend, Martina will be playing the Grand Ole Opry on both Friday and Saturday nights." Thanks, Carl! Visit Martina's website!
August 2000: There is an article about Patsy in the Washington Post. Info from Jimmy Walker. Thanks!
August 2000: Info from Roberto: "The Alhambra Dinner Theatre in Jacksonville, FL is opening the "A closer walk with Patsy Cline" a biographical music review, this Friday at 8:00 pm. The show stars Gail Bliss, who captures the spark, spice, and passion of Patsy. Her gestures, inflection, and voice are amazing. We are excited that Patsy's husband Charlie Dick will be attending the Gala opening. Ms. Bliss and Mr. Dick have been friends for several years, and Mr. Dick truly feels Gail Bliss does real justice to his wife, and her legacy." Thanks, Roberto! For more info, go to www.alhambradinnertheatre.com.
August 2000: According to Lisa Flood at the Patsified! website, Patsy's old home at 608 S. Kent Street in Winchester is for sale! Click here for more info! Thanks, Lisa!
July 2000: Country.com has made a news story about the new Patsy Cline exhibit at The Country Music Hall of Fame. Click here to read it! Info from Jimmy Walker. Thanks!
July 2000: Info from Kate Patten at BBC: "I just wanted to write to update you on our film on Patsy Cline for the BBC series Rock Shrines. The fifteen minute film is now edited and we are very pleased with how it looks. Unfortunately we weren't able to include everyone we interviewed, but all in all I think the film gives a very good impression of the day in March as a whole. The Rock Shrines series has just kicked off in the UK, and our film on Patsy will be transmitted on Tuesday 1st August at 20.00 on the BBC digital channel BBC Choice. There will be repeat showings at later dates. So let any of your friends in the UK know. We have had very good reviews in the newspapers, which is pleasing." Thanks, Kate!
July 2000: The Winchester Star has a new article about Patsy. Click here to read it! Info from Jimmy Walker. Thanks!
July 2000: Info from Lee at MandyBarnett.com: "Well... this is the TV broadcast MandyFans have been waiting for. The 'Sessions at West 54th' TV show will be aired within the next 2 weeks! Last July, Mandy Barnett did a special concert for the 'Sessions at West 54th' PBS television series in New York City. She brought along her expert band, and performed all her 'I've Got A Right To Cry' songs and more. The performance was professionally filmed, and we've been hoping for it to air since then. They have a busy schedule on their series, but it is now scheduled to be shown. PBS stations around the U.S. can choose to carry this show, or not. They have some flexibility as to when they each exactly broadcast the show... Some will show it this Friday, Saturday, or Sunday, July 14th, 15th or 16th. Some will not show it until NEXT weekend, the 21st, 22nd, or 23rd. Stations usually air it rather late in the evening, 10:00pm, 11:00pm, etc. To find out if your local PBS station will be showing it, and exactly when it will air, consult your local TV listings, and/or visit the 'Sessions' website at www.sessionsatwest54th.com. They have a great website, with lots of info about the concert, including a picture, the band credits, the set list they'll be broadcasting, etc. I definitely recommend visitng their site before the show airs." Thanks, Lee!
July 2000: Go to the Fan Club website to read about this year's Labor Day Weekend activities!
June 2000: Information from Judy Sue at the Winchester Chamber of Commerce, via Jimmy Walker: "Patsy has been invited to be a part of the Preservation of Historic Winchester Summer Camp which is a big feather in our cap --- To be recognized by PHW and to be wanted to be part of such a camp is so exciting, and then Patsy has been invited to be part of The Shenandoah Valley Hot Air Balloon and Wine Festival --- About 30,000 people come to this event in this area, and Patsy was invited to set up a booth and to sell items and to spread the word about her to those who do not know that she is from Winchester --- So exciting!!! At last people in this area are asking for Patsy!!!!!!!" Thanks, guys!
June 2000: The Tennessean has a new article about Mandy Barnett and "Always... Patsy Cline". Click here to go there. On Sat July 1st, TNN's "Backstage at the Opry" is to feature a story on the new Patsy exhibit. July 14th thru July 21st, PBS stations will be airing sessions with Mandy Barnett. Check with the program managers for correct date and time. The info comes from Jimmy Walker. Thanks!
June 2000: Three new articles are now available on the net: One about Patsy, one about Mandy Barnett and "Always... Patsy Cline", and one about The Opry broadcasting on the net. The links come from Mike Tarcan. Thanks!
June 2000: "Always...Patsy Cline" will be performed at the Cincinnati Playhouse, July 5-16, starring Molly Andrews and Adale O'Brien.
June 2000: Info from Jimmy Cee: "The Grand Ole Opry announced they will broadcast live online starting this weekend Sat. June 17 at www.opry.com. First show at 6:30 PM CST. Loretta Lynn is in the 8:30 to 9:00 and 10:00 to 10:30 shows." Thanks, Jimmy! The broadcasts will also be available at www.wsmonline.com and www.musiccountry.com.
June 2000: "Always...Patsy Cline" is starting on June 15 at the Ryman in Nashville, and starring the original cast members Mandy Barnett as Patsy and Tere Myers as Louise! The info comes from Kathy Allmand at FrontPage Publicity. Thanks!
June 2000: News from the Mandy Music mailing list: "Jimmy Cee and Betty kindly alert us that Mandy Barnett will be on the Grand Ole Opry this coming Friday and Saturday nights, June 2nd and 3rd. On Friday she will perform on the 7:30 to 8:00 segment, and Saturday on the 7:30 to 8:00 and 9:30 to 10:00 segments. All performances are carried live on WSM AM radio, if you're anywhere within their large listening area. BUT, the first Saturday segment is the one broadcasted live on cable TV channel TNN, so we'll all get another chance to see Mandy perform live on TV! All times are Central, so check your local listings for what time the Opry is shown on TNN n your area. Also, immediately before the live broadcast is the 'Opry Backstage' interview show. You might want to tune in to that to see if they chat with Mandy, they have had her on many times in the past." The info came via Jimmy Walker. Thanks!
May 2000: You can watch a fabulous video tribute to Patsy here! It features the song "Crazy" and pictures from the various Patsy Cline sites on the net. You must have Netscape v4.0 or later, or Internet Explorer v4.0 or later, to view the video clip. The info comes from Bill Cox. Thanks!
May 2000: Information from Martie Bell at the Camden Chamber of Commerce, regarding the annual Folklife & Music Festival: "Date: October 6 & 7; Place: City Park, Camden, TN. The Patsy Cline Sing-alike contest will start at 9:00 a.m. on Saturday, the 7th. We are trying to get Little Jimmy Dickens to come down and do a show during the break the contestants have before the finalists are announced. We are also going to have a Celebrity Auction to raise money to refurbish the Patsy Cline Crash Site. We have people who have agreed to come in and build an overlook and give the place a new look in order to attract more tourists (and also to stop the risk of injury should someone fall down that very bad hill). Should anyone in the Fan Club like to furnish something of Patsy's to auction off for this good cause, please contact me here at the Chamber or at home." This info came via Jimmy Walker. Thanks!
May 2000: After Jimmy Walker made me aware of the fact that Sissy Spacek has made an album of her own, I tried to locate a copy, and I found one at Buckaroo Records! It is a good country/rock/pop album, and it's nice to have it!
May 2000: Information from Keith Wright: "A new exhibit is beginning this month at The Country Music Hall of Fame and Museum in Nashville, TN. It is called 'Love Always, Patsy: Letters From The Jewelry Box' and it will feature some of the actual letters recently published in the book 'Love Always, Patsy'. In addition there will be other Patsy Cline artifacts including her hairbrush and one of her cowgirl dresses, plus much more. This unprecedented look at the life of Patsy Cline is the first to ever tell her story through her own words." Keith is the Marketing Manager at The Country Music Hall of Fame and Museum. Thanks!
May 2000: Mandy Barnett will be on Face the Music Videos on CMT on May 13th! Info from Jimmy Walker. Thanks!
May 2000: A handwritten letter by Patsy Cline, to Treva Miller, is for sale at Ebay! Click here to go there! The info comes from Melanie Walen. Thanks!
April 2000: On April 28 the old domain name "nola.ovik.se" stops working. This means that those of you who are sending me mail at "pj@nola.ovik.se" must change that to "pj@nola.ornskoldsvik.se". Thanks in advance!
April 2000: A&E have scheduled the following biography programs for the month of May:
May 08 - Reba McEntire
May 09 - The Judds
May 10 - Barbara Mandrell
May 11 - Tammy Wynette
May 12 - Loretta Lynn
May 13 - Patsy Cline
The info comes from J. Kalin and Carl Sperr. Thanks!
April 2000: Sad news from Nashville: "Neal Matthews, famed member of The Jordanaires Quartet, suffered a massive heart attack and passed away last night, April 21st., between 9-9:30 p.m., at his Nashville home. A member of the legendary quartet since 1953, Neal's contribution to the music world is immeasurable. Best known for his legendary vocal arrangements, he's also given credit for creating the 'Nashville Numbering System', a musical shorthand that played a very important role in the growth and development of the 'Nashville Sound'. He will be greatly missed. Neal was 70. Viewing Services will be held at the Brentwood Funeral Home, 9010 Church St. East, Brentwood Tn. 37027, on Sunday (4/23) from 3-7pm, and in the afternoon on Monday (4/24). Memorial services will be held at 11am, on Tuesday (4/25), at the Immanuel Baptist Church, 222 Belle Meade Blvd., Nashville Tn. 37205. The info comes from Jimmy Cee. Thanks!
April 2000: A Patsy Cline dress is for sale at Ebay! Click here and enter "patsy cline dress" in the search box. I hope it is authentic... Patsy's daughter Julie is checking it out, and hopefully we will get more info from her.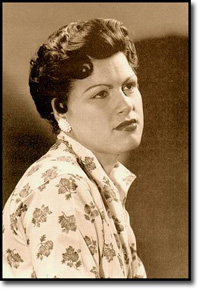 April 2000: Some very sad news from Phil Hunter in Winchester: Marvin E. "Bud" Armel, 71, of Woodland Avenue, Winchester, died Friday, April 14, 2000, in the Winchester Medical Center. "Bud" was a well-known area country guitarist and had played with Patsy Cline in the 1950's with the Kountry Kracker Band. He was also well-known for his hand-made instruments, both full-size and miniatures. He was the founder of the annual Kountry Kracker Reunion and Dance that was held on Saturday night of Labor Day Weekend. "Bud" had been an active boardmember of Celebrating Patsy Cline, Inc. CPC, Inc., was set up by the local Chamber of Commerce to establish a museum in Winchester in honor of Patsy Cline.

A funeral will be held at 2 p.m. Sunday, April 16th, in the Jones Funeral Home, with the Rev. Donald Jones officiating. Burial will be in Macedonia United Methodist Cemetery, Stephens City, Virginia. Pallbearers will be musicians that played in bands with "Bud". They include: Roy Dixon III, Tommy Reynolds, Jim Unger, Sonny Lonas, Clyde Miller, Ronnie Flook, and Roger Strosnider. The family will receive friends from 7 to 9 on April 15th at the funeral home. Memorials may be made to Celebrating Patsy Cline, Inc., 1360 S. Pleasant Valley Road, Winchester, VA 22601, U.S.A.

Thanks, Phil!

March 2000: News from Linda, Always Patsy Cline representative for Wales, UK: "Hi Friends. Just to let you know we are doing a Tribute to Patsy evening on April 7th at the Pondarosa Club here in Wales, UK. The singer we have doing Patsy is Amanda Norman Sell, the winner of the BBC series 'Stars in their eyes'. It's a program where a contestant takes off a well known singer. The series was televised all over the country. We will be having a visitor from the States to join us on this very special evening. I will let you all know how it all goes." Thanks, Linda!

March 2000: Off-topic mode on: Would you be interested in art inspired by the fantastic musical "Cats"? I have recently purchased two watercolor paintings made by Michaela Olofsson, currently a student at the High School where I work, and she is a very talented artist indeed! Click here to go to my personal homepage and look at my two paintings! From there you can go on to Michaela's homepage and look at more of her work. She also has some items for sale there! By the way, Michaela went to London last weekend, to watch "Cats" for the fifth time... Off-topic mode off.

March 2000: Bill Cox found an article about Leon Kagarise, a man who has recorded hundreds of hours of live rock, jazz and country music during the fifties and early sixties, including Patsy! This man is fantastic! Click here to read the incredible story! Maybe we can hope for more concert recordings with Patsy to be released sometime in the future! This is exciting! Thanks, Bill!

March 2000: Information from Phil Hunter in Winchester, VA: "A British (BBC), 4-person TV crew spent the weekend in Winchester shooting footage of Gaunt's Drug Store, the G&M Music Center, Kent Street, and Patsy's gravesite. The Patsy Cline documentary will be one in a series of BBC shows titled, 'Rock Shrines'. Other artists will include John Lennon and Buddy Holly. Each show will have fan tributes filmed on the anniversary of the music legend's death. Many local fans including myself were interviewed by the show's producer, Jamie Goold. The Assistant Producer, Kate Patten, indicated that the show should air in England in August of this year... There is also a chance the show will be aired at a later date on a U.S. cable channel. I gave Kate a 'Patsy' calendar on behalf of our museum project, Celebrating Patsy Cline, Inc. I also gave the crew copies of my booklets, 'Crazy Over Patsy'. I gave them permission to use two photographs of Patsy's burial service that were in my 1999 edition... These have not been released to any media previously... I purchased three photographs of her burial service at an estate sale in 1998. For more information on the BBC crew's visit see: www.winchesterstar.com (March 6th)." Thanks, Phil!

February 2000: Singer and songwriter Carolyn Richards has been performing her show "Tribute to Patsy Cline" for several years, and now she has recorded it on CD and cassette! Click here to go to her website. You can listen to samples of the songs there!

February 2000: A relatively new site, Nashville Country, has an article about Patsy. Click on the "Legends" link. Then you'll see an article about Kitty Wells. Scroll down and choose Patsy in the "Legends Archives" pick list. Next month Owen Bradley will be featured!

February 2000: Sandra Salling has sent me a picture of Patsy that none of you have seen before! It shows Sandra and Patsy together at the Big "D" Jamboree in Dallas, Texas, on Sep 15, 1962. Sandra also includes a picture of the program from that day. Click here to see the pictures! Thank you very much, Sandra! A new picture of Patsy is always a major event!

February 2000: A few more pictures have been added to the Books and Videos page, courtesy of Joan Searson and Bill Cox. Thanks!

January 2000: Billboard Online has an article about Patsy. Click here to read it. The link comes from Melanie Walen. Thanks!

January 2000: Information from David Stein: "My company is presenting 'Always Patsy Cline' at The Claridge Hotel and Casino in Atlantic City starting Jan 24 and running for 9 weeks. The shows are Monday-Sunday with Saturday dark. It stars Jeanie Seely and Terri Wilson. It's wonderful. Tickets can be bought through any Ticketmaster location or contact the Claridge direct". Thanks, David!

January 2000: Dish Magazine has an article about the book "Love always, Patsy"! And if you haven't done it, also read their previous article about Patsy and Charlie! The info comes from Patricia Gear at Dish Magazine. Thanks!

January 2000: Mandy Barnett has agreed to return for another period at the Ryman as Patsy in the show "Always Patsy Cline". She will do the show between June 15 and August 12, 2000. This is great news! When I write this it has not been confirmed whether Tere Myers will return as Louise Seger or not. Tickets for the show and the Ryman's other shows this season go on sale Saturday, January 22. "Always Patsy Cline" tickets are $15 - $30, children 4-11 are half-price. For tickets, call 615-889-3060. The info comes from the Mandy Barnett mailing list.

January 2000: Erica Dawn Synowsky, who has written a few entries in the Fan Forum, and mentioned that she has made recordings of some of Patsy's songs (and a few others), sent me a tape containing her recordings. This girl can sing! I have made a special page for her, here at the site, because I think she is worth all the appreciation she can get, and I hope that she will make a singing career in the future. On Erica's page you can read her own story, and listen to samples of her recordings. The samples are all in MP3 format.

January 2000: Lisa Flood at Patsified! has been interviewed about Patsy by the San Antonio Express News! Click here to read the article. Way to go, Lisa! Dish Magazine has an article about Patsy and Charlie, by Sandra Schulman. And People Magazine has a review of the book "Love Always, Patsy" by Mike Freeman and Cindy Hazen.
---
News from:
[2005] [2004] [2003] [2002] [2001]
[2000] [1999] [1998] [1997] [1996]