News from 2003
November 2003: Information from Bill Cox: "Boston's NPR station, WBUR-FM, hosted a 1-hr. 'Remembering Patsy Cline' tribute Thursday evening as part of their 'On Point' series. k.d. lang was the lone guest. For more details, and to listen to the complete show, click here."

November 2003: Country Music Hall of Famer Don Gibson, a hit artist and songwriter who penned classics "Sweet Dreams", "I Can't Stop Loving You" and "Oh Lonesome Me", died on the 17th of natural causes at Baptist Hospital in Nashville. He was 75. Click here to read the article in The Tennessean.

October 2003: The site has moved to a new server that we have set up at work, running Mandrake Linux v9.2 and Apache Webserver v2.0. Please e-mail if you encounter any sort of problems. Known problems that you don't have to report are that the webcounter doesn't work and that the link block at the bottom of the page may be missing on quite a few pages. This will be corrected in the near future.

October 2003: Information from Sophie DeLaCour: Dear Patsy Cline Fan, Christie's New York is having an auction that will include 16 lots of clothing owned and worn by PATSY CLINE, consigned by The Estate Hilda Hensley, her mother.

AUCTION DETAILS:
Auction Name: Entertainment Memorabilia (Sale #1307)
Auction Date: Tuesday, November 18, 2003 at 10am
Place: Christie's New York

To view Lots 70-85 (the Cline ones), please go to www.christies.com and manuever around until you find SALE NUMBER 1307 -- ENTERTAINMENT MEMORABILIA -- NOVEMBER 18. (Our site is somewhat hard to navigate - please call us directly should you have questions.) Thank you for your interest and we look forward to your participation,

Margaret Barrett
212.636.2272

and

Sophie DeLaCour
212.636.2434

October 2003: "A Closer Walk With Patsy Cline" will be performed in Scottsburg, Indiana on October 10 and 12. Click here for more information!

September 2003: The show "A Closer Walk With Patsy Cline" will open Sep. 17th at The Barn Dinner Theatre in Greensboro, NC, and will run through Nov. 23rd. Starring as Patsy are Jodi Bennett and Lisa Dames. Click here to go to their homepage!

September 2003: Article in Winchester Star: "Event Honors Cline's Legacy". Click here!

August 2003: Patsy Cline Route 11 Chips Tins for Sale! Click here!

August 2003: You can buy a copy of the "Remembering Patsy Cline" CD autographed by Patsy's husband Charlie Dick here!

August 2003: There is an article about the Labor Day activities in The Winchester Star. Click here!

August 2003: From Yahoo! News: "Patsy Cline's Hits Being Re-Mastered - Tue Aug 12,11:23 AM ET
LOS ANGELES - The best-selling album in country music history, 'Patsy Cline's Greatest Hits', is being digitally re-mastered and re-released. The album will hit stores with a new booklet Sept. 9, the same day a Patsy Cline tribute album is due out. 'Remembering Patsy Cline' duplicates the 12-tracks on greatest hits with performances by contemporary stars Norah Jones, Michelle Branch, Amy Grant, Martina McBride, k.d. lang, Lee Ann Womack, Terri Clark, Natalie Cole and others. As of Aug. 2, 'Patsy Cline's Greatest Hits' has spent a total of 790 non-consecutive weeks on Billboard's country charts. When the Top Country Catalog Albums chart debuted in 1988, the album was at the top, and remained there longer than any release on any chart in history. She never toured to support the album. It was released four years after a fatal plane crash in 1963."


Visit the site about the forthcoming "Remembering Patsy Cline" CD! You may listen to sound samples there! Click on the banner below!
"Remembering Patsy Cline" track list:
I Fall To Pieces - Natalie Cole
Why Can't He Be You - Norah Jones
Back In Baby's Arms - Amy Grant
Crazy - Diana Krall
Strange - Michelle Branch
She's Got You - Lee Ann Womack
Leavin' On Your Mind - k.d. lang
Walkin' After Midnight - Terri Clark
You're Stronger Than Me - Rebecca Lynn Howard
Faded Love - Patty Griffin
So Wrong - Jessi Alexander
Sweet Dreams (of You) - Martina McBride with Take 6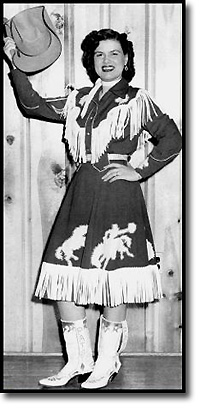 July 2003: The Norwegian country singer Anne Kristin, which I mentioned in an entry here in October 2002, debuted on the independent country chart in the states at #22 (and the highest place in Europe is also #22), with her tribute song "I Remember Patsy". Furthermore, the song was played at the memorial service in Camden, TN on Feb. 28, 2003. You can listen to the song at her homepage. Just click on the Audio link when you get there.
July 2003: Information from Bill Cox: "Imperial Palace unveils 'Legends Pit' - The Imperial Palace unveiled its Legends Pit at the casino in Las Vegas Friday. The casino is known for its celebrity tribute show, 'Legends in Concert'. The lineup of celebrity-impersonator blackjack 'dealertainers' includes Elvis, Liberace, Buddy Holly, The Blues Brothers, Madonna, Patsy Cline, Marilyn Monroe, Barbra Streisand, Rod Stewart, Elton John and Ray Charles." Click here.
June 2003: NEWS RELEASE: The International Guild of Celebrity Impersonators and Tribute Artists Inc. awarded a "Cloney Award" for the Best Female Musical Star Impersonation at their Convention held in Las Vegas from June 1-4, 2003 to Rossana Holmes. This is a great honor for Rossana Holmes, a Burlington, Ontario resident, to win this coveted award, but also for Canada. Rossana Holmes performs in the show "Memories of Patsy", which recently appeared at the Hamilton Place Studio Theatre and The Old Roxy Theatre in Mount Forest under the name "Forever Patsy". As 2003 is the 40th year of the anniversary of the death of Patsy Cline, the show was changed to the new name, to reflect this anniversary. Rossana is also an established entertainer in her own right, singing all the hits of the divas, from Streisand to Whitney to Bonnie Tyler. For more information about Rossana, click here!
June 2003: Mario Munoz has heard from Nashville, that the long awaited tribute CD "Remembering Patsy" (read more below), will be released in September, on or near Patsy's birthday. Let us hope that it is true!
March 2003: Read this fine article, "40 years later, small exhibit marks Patsy Cline's death in plane crash". Click here! Also, please visit Bill Cox' site for more articles covering the 40th anniversary of the plane crash on March 5, 1963, which took the lives of Patsy Cline, Cowboy Copas, Hawkshaw Hawkins and Randy Hughes. Click here!
February 2003: MCA has delayed the tribute CD "Remembering Patsy" until this fall, or even later. No special reason has been expressed, but a likely reason is new management at MCA. The CD is said to be featuring Martina McBride, Lee Ann Womack, Norah Jones, Natalie Cole, k.d. lang and others, all singing Patsy Cline songs. See the entry from October 2002 for more info about the songs.
January 2003: Message from Terry Hudson in Camden, TN: "My name is Terry Hudson and I am the chairman of the 40th anniversary tribute to the memory of Miss Patsy Cline, Hawkshaw Hawkins and Cowboy Copas. March 5, 2003 will be the 40th anniversary of that tragic event and the city of Camden and the county of Benton wants to pay tribute to these great artists with a memorial service and other events. There will be a candlelight memorial service at the Camden City Park on February 28th at 6pm. On Saturday March 1st there will be a shuttle bus available to take folks to the actual crash site just outside of Camden, where they may leave a memorial if they wish. Also we are asking anyone with Patsy Cline, Hawkshaw Hawkins or Cowboy Copas memorabilia to set up exhibits for the public to view all day long on Sat. March 1st. Saturday evening there will be a tribute performance from Miss Lisa Layne, one of the top Patsy Cline performers in the world. Any money raised during this event will go toward preserving the integrity of the actual crash site. Then on March 5th there will be a more private memorial service taking place at the location of this terrible accident."
January 2003: Patsy Cline biographer Ellis Nassour has launched a new, completely rebuilt website! The site promotes the latest issue of his best-selling biography "Honky Tonk Angel", commemorating the 40th anniversary of Patsy's untimely passing. But the site contains so much more than that! Visit the new site by clicking here!
---
News from:
[2005] [2004] [2003] [2002] [2001]
[2000] [1999] [1998] [1997] [1996]