Related News
If you have any Patsy Cline related information that you want the world to know about, just e-mail me that information, and I'll put it up on this page if I think it is suitable to put up on the World Wide Web. Please state your full name. The newest info is at the top of the page, and the oldest at the bottom.

May 2012: Info from Bernard Green:
The Country Music Hall of Fame will be paying tribute to Patsy with a cameo exhibition August 2012 to June 2013:
http://countrymusichalloffame.org/recent-press-releases/view/1888

May 2011: Info from Bernard Green:
Suzi Quatro seeks Patsy Cline
On Monday 30th May on BBC radio 2 at 8pm UK time Suzi Quatro will be exploring the story of Patsy Cline.
Join Suzi Quatro in her quest for the woman behind the myth that is Patsy Cline. Suzi travels to Nashville to talk to the family, friends and musical colleagues of the woman who recorded some of the greatest country songs. She explores how Patsy got on as a woman in a man's world and finds out what happened on the night of her fatal plane crash.

http://www.bbc.co.uk/programmes/b011j36b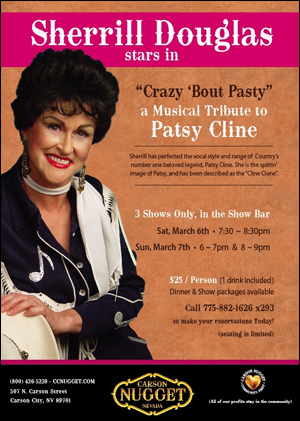 March 2010: Sherrill Douglas will be performing her Tribute to Patsy Cline, "Crazy 'bout Patsy" at the Carson Nugget Casino in Carson City Nevada on March 6 (7:30 PM) and March 7 6:00 PM and 8:00 PM). For tickets call the Casino at 775-882-1626 ext. 293. For more information on this show and others scheduled all over the US and Canada, please refer to Sherrill's website, www.sherrilldouglas.com.
January 2010: This site has been featured:
50 Online Tributes to Celebrities Who Died Young
October 2009: Info from Cate Johnson:
Willie Nelson is performing October 29th in Winchester, VA at John Handley High School, in the newly renamed theater. It's a dedication ceremony/concert because the theater is now named Patsy Cline Theater.
June 2009: Sherrill Douglas to Star in Patsy Cline Musical Tribute at Tulsa Little Theater.
Click here to read the press release, and click here to see the flyer (MS Word)!
February 2009: Info from Taylor Loftin:
My record label has just released an album called "Hushabye Baby: Lullaby Renditions of Patsy Cline".
The CD is really cute as a baby gift and for Patsy Cline fans.
You can get more information and listent to MP3 clips on our website:
http://www.hushabyebabymusic.com/web/page.asp?pgs=product&catid=49&id=1403
January 2009: Excerpt from an article in Winchester Star:
"Celebrating Patsy Cline Inc., the organization that owns the singing legend's former house at 608 S. Kent St., asked that the city's Zoning Ordinance be amended to allow museums in the district where the house is located.
The organization has plans to turn the home into a temporary museum until it can convert a storefront on the Loudoun Street Mall into a full-fledged museum honoring the late country music star, who was born and raised in Winchester.
If the council eventually approves the zoning change, Celebrating Patsy Cline would still be required to apply for a special permit and obtain formal approval from the City Council to enact the switch from house to museum."
Click here for the full article.
January 2009: Info supplied by Bernard Green:
There will be a Shenandoah Valley Regional Studies Seminar on January 16 at 3:35 p.m. in Room 107 of Jackson Hall, Harrisonburg, VA. Warren Hofstra and Mike Foreman of Shenandoah University will present "Country Music and Cultural History in 1950's Winchester, Virginia: The Life and Times of Patsy Cline." Sponsored by the JMU Department of History and Lord Fairfax Community College. Free.
October 2008: Info from Jacqueline Harris-Smith:
The Backdoor Theatre in Wichita Falls, TX will be performing "Always, Patsy Cline". It opens on Oct 10, 2008 and will run on the weekends until the 25th of Oct. Just visit the website for contact info, dates, times and prices at www.backdoortheatre.org.
August 2008: Press release from Ellis Nassour: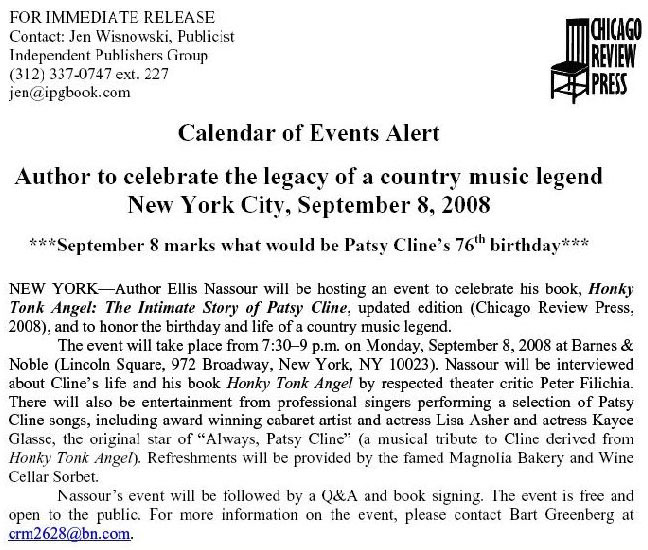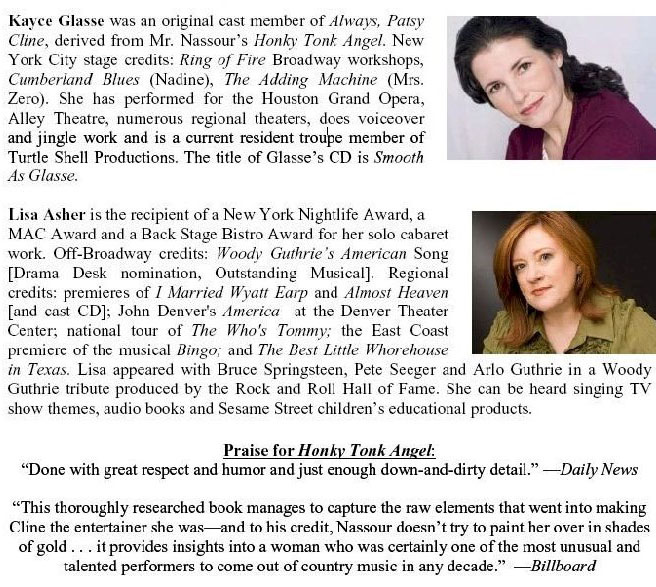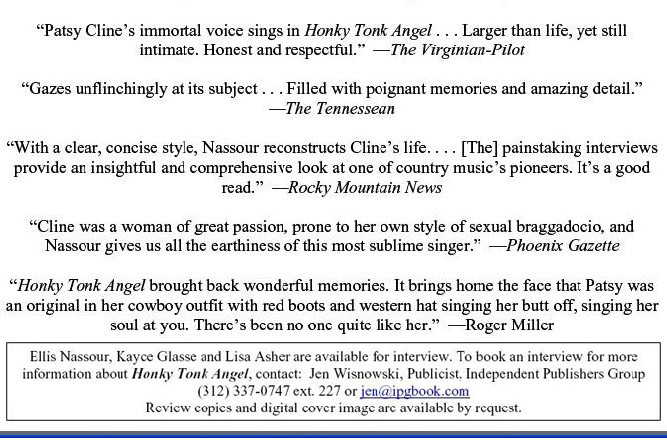 August 2008: Press release from Luanne Hunt:
Contact:
Steve Hunt
760-947-0620
luannehunt@yahoo.com
For Immediate Release:
PATSY CLINE'S LOST CHRISTMAS CLASSIC (American Classic Recordings) In the sweltering summer heat of 1960, legendary singer Patsy Cline's thoughts were turned toward much cooler days. The country diva was in a holiday mood and wanted to record a Christmas song to add to her growing repertoire.
She felt the best songwriters for the job were Lawton Jiles and Buster Beam, who had written her Top-10 hit "Let The Teardrops Fall". The team went to work immediately and penned "Christmas Without You".
Patsy went crazy for it and took it to her record label representatives. They loved it too, but had other ideas for the catchy tune. At the time, they were looking for Patsy's next single. They thought the melody of the Jiles-Beam creation had hit potential. So they asked the writers if they would pen new lyrics for the song with a non-holiday theme.
Jiles and Beam quickly came up with new words and the title "How Can I Face Tomorrow?" The song was released within a few weeks, but despite heavy television and radio promotion, it only made a modest showing on the Cashbox Country Charts.
"I've always believed if Patsy would have recorded 'Christmas Without You' it would have become a holiday standard," said Jiles. "It's the kind of Christmas song you hear once and want to sing along. It's very simple, but the simple songs are usually the ones people love the most."
Jiles said he and Patsy were extremely disappointed "Christmas Without You" wasn't recorded in its original form. He hoped another artist would record it someday.
Forty-eight years later, Jiles finally got his wish. Patsy's lost Christmas classic has been recorded and released for the world to enjoy, courtesy of award-winning recording artist Luanne Hunt. Hunt's rendition of "Christmas Without You" will bring a tear to the eye of every Patsy Cline fan, reminding them how much she wanted to give her fans a musical gift for the holidays.
"Luanne's angelic voice brings Patsy's song from attic shadows to a yuletide hearth," said Alexandra Lajoux, president and founder of American Classic Recordings. "It's a Christmas present to all of us."
"Christmas Without You" was produced by Eric Uglum (Alison Krauss, Ron Block, Ralph Stanley, Cherryholmes and Nickel Creek). It features an impressive twin-fiddle performance by 16-year-old sensation Christian Ward, who has shared the stage with Ricky Skaggs and Sierra Hull. Also on the record are Austin Ward (upright bass), Roger Gillespie (drums), Hal Ratliff (keyboards) and Uglum (guitar, mandolin and harmony vocals).
"I got a rush when I first heard Luanne's recording of 'Christmas Without You'", said Jiles. "The song's been in my head for years and to hear it done the way I always envisioned it is very exciting. It's a perfect blend of the traditional and the contemporary."
"Christmas Without You" is included on Hunt's new six-song holiday EP "How Christmas Feels To Me" on the American Classic Recordings label. To hear more tracks from the EP or to purchase your copy, go to www.luannehunt.com or www.myspace.com/luanneschristmascd.
April 2008: News from Sandy Clark:
Sherrill Douglas is a world renowned Patsy Cline Tribute artist (www.sherrilldouglas.com) based in Dallas, Texas, USA. Sherrill's News for spring 2008: Sherrill was pleased to once again be asked to headline the Cotulla Wild Hog cook-off in Cotulla, Texas, USA. Sherrill has performed for them now 3 years in a row and this has always been always a fun event for all.  It was nice to be in warm south Texas... The first year she performed there it was over 100 degrees! The second week of March found Sherrill on her way to the cold northeast... from one extreme to another! She performed with Vinnie Brandi's band and two theaters in Vermont and Massachusetts and it snowed after the concert in Vermont!
As usual, we had sell-outs as the northeasterners really love Sherrill and her Tribute to Patsy Cline, "Crazy 'bout Patsy". Both theaters are famous old vaudeville theaters which are artistic and beautifully renovated.  It was a great time and she made a lot of new fans in the northeast. The end of March found Sherrill at a first time beautiful, new venue in Ottumwa, Iowa, the Bridge View Center Theater.  She worked with Ray and his band locally based in Ottumwa. Sherrill had a sell-out as the Midwesterners really love their "Patsy".
The following week Sherrill performed in Illinois for the first time in about 20 years. Sherrill performed 7 shows for Beth Henderson at the White Pines Inn Theater in Oregon, Illinois.  All of Sherrill's shows have been sold out for months there so we sure appreciated the support. In fact, Beth said that Sherrill sold out her shows faster than anyone she had ever booked there and she has been in business for 20 years! Beth is already scheduling a 2009 re-booking for a more extended stay. In the middle of the White Pines performances, Sherrill had to dash back to Bettendorf, Iowa at the Isle of Capri Casino.  Sherrill has always been a sell-out there and she performed a new show for the first time for them.
She performed her variety showcase of country and classic rock called, "By Request Superstars Music Revue"... a Tribute to the Divas, Darlings and Legends of Rock and Country, Past and Present. She performed this show three times over the weekend. It was extremely well received and had a great turn-out. This was the first time her Iowa and Illinois fans had a chance to come and see Sherrill perform a wide range of music and they really enjoyed it! Sherrill is performing her tribute to Patsy in the Dodson Auditorium in Kilgore, Texas, May 6.  This is a 1600 seat venue and will be a fundraiser for the Kilgore Historical Foundation. Sherrill will be performing with the pro band, "Fever" based out of Dallas and this is expected to be a sell-out.
Sherrill will be in Vegas for 10 days or so in May, so stay tuned for more news. Sherrill has just booked her tribute to Patsy at another 1600 seat theater in Decatur, Illinois, July 12. Sherrill will be reuniting there with a band she performed with 20 years ago.  This will be the first time they have performed together since Sherrill relocated to Texas! Also, Sherrill recorded her first ever gospel CD with the #1 gospel recording studio in Nashville, Tennessee.  All of the songs were written by an 84 year old barber who resides in Dallas, Texas, Aubrey Freeman (he is still cutting hair!).  Aubrey is a life long songwriter had has written hits for old time artists such as Skeeter Davis and Lefty Frizzell. This CD entitled, "Blessed" will be released soon but one song was pre-released by the Nashville label and is currently enjoying high airplay across many gospel stations in the US and the internet. Also, don't be surprised to find Sherrill performing her own show, "Crazy 'bout Patsy" Tribute in Branson, Missouri USA in 2009... negotiations ongoing!
February 2008: Patsy Cline Symposium:
On April 4, 2008, The Virginia Historical Society will present a symposium that surveys the life, times, and influence of Patsy Cline through a day of paper presentations capped with an evening musical performance. Click here to go to their website, and click here to see the flyer (PDF).
June 2007: From an article in Video Business, 6/18/2007, by Cheryl Cheng:
"Shout Factory has signed an exclusive partnership with the Country Music Hall of Fame and Museum to create DVD collections from the Museum's archives of broadcast and cable TV shows. Some of the Museum's content includes the Johnny Cash Christmas TV specials, the Bobby Bare and Friends series and performances by such artists as Patsy Cline and Dolly Parton."
September 2006: Press release:
"RHINESTONES & ROSES" FASHION EVENT ADDED TO "NASHVILLE CELEBRATES COUNTRY", A WEEK OF EVENTS LEADING UP TO "THE 40th ANNUAL CMA AWARDS".
NASHVILLE – "Rhinestones & Roses" a historic fashion event for radio, sponsor and television trip winners has been added to "Nashville Celebrates Country", a week of activities leading up to "The 40th Annual CMA Awards", according to event producer, Grace Reinbold of What A Trip! Entertainment.
"This is Country Music's most celebrated and glamorous week and 'Rhinestones & Roses' is a tribute to the image of Country Music celebrities past and present," Reinbold said.
The invitation-only extravaganza takes place at noon, Sunday, Nov. 5 at War Memorial Auditorium in Nashville.
Reinbold explains the concept: "Fashion models and today's stars will walk the runway wearing wardrobes once owned and worn by legends such as Johnny Cash, Patsy Cline, Hank Williams, Sr., and others. Many of these outfits were crafted by legendary designer Manuel Cuevas (known lovingly to the music industry as Manuel), and are currently in Marty Stuart's vast collection of celebrity couture. The wardrobe being featured is extraordinary and a testament to the creative genius of Manuel."
Stuart is recognized as a Nashville ambassador, renowned music star and close friend to Manuel. The outfits are on loan to the fashion show. In June, the Tennessee State Museum will display an exhibit featuring Stuart's collection.
Julie Roberts, Josh Gracin, Trent Tomlinson and Grand Ole Opry stars are among the artists who will be participating in "Rhinestones & Roses". More artists will be announced soon. Many of Manuel's celebrity friends are expected to attend this event to show support, respect, love and admiration for the man who helped create their images. Manuel's daughter and assistant, Morelia Cuevas, and hair stylist to the stars, Debbie Metzger, are co-producers and curators for "Rhinestones & Roses".
Manuel's priceless couture is owned and coveted by international icons, ranging from presidents to music and film legends. Manuel has made custom clothing for Brooks & Dunn, Johnny Cash (making him "The Man in Black"), Kenny Chesney, Bob Dylan, Ethan Hawke, Mick Jagger, Kid Rock, Little Richard, Madonna, Marty Stuart, Billy Bob Thornton, John Travolta, Keith Urban, and countless others.
Tres Outlaws Boots will also be featured during "Rhinestones & Roses". These are no ordinary boots; they retail in Beverly Hills for as much as $50,000 a pair and are worn by royalty, presidents, senators, governors, Supreme Court justices, movie stars and music celebrities.
"The 40th Annual CMA Awards" is a production of the Country Music Association (CMA). The three-hour gala will be held live Monday, Nov. 6 (8:00-11:00 PM/ET) at the Gaylord Entertainment Center in Nashville and broadcast on the ABC Television Network.
Press wishing to attend this event, please contact:
Kirt Webster, Webster & Assoc. PR 615-777-6995
requests@websterpr.com
Photography risers will be provided at the end of the runway...
September 2006: Information from Calvin Champion via Bill Cox:
I wanted to let you know that Patsy is being featured in "Famous Country Singers Paper Dolls" by famed paper doll artist Tom Tierney. You can purchase your copy from Dover Publications. The book ISBN number is 0-486-44741-3. The picture of Patsy featured on the cover shows her wearing the red western outfit with white stars and fringe made by Mom Hensley. You must check it out!
http://store.doverpublications.com/0486447413.html
July 2006: Information from Jim McCoy:
Patsy Cline Karaoke Contest; Friday, September 1st & Saturday, September 2nd, 2006. Prizes will be awarded to the 1st, 2nd, & 3rd place winners. Winners get to perform on stage in the Troubadour Park on Sunday, September 3rd. Contest open to everyone – male or female. For more information please call (304) 258.9381. Thanks, Jim McCoy.
July 2006: News from Sean Sako:
CMT 40 Greatest Done-Me-Wrong Songs
Cheating, heartbreak and revenge... It's the stuff country music is made of. From the classics by Hank Williams and Loretta Lynn to tunes by Keith Urban and Shania Twain, CMT 40 Greatest Done-Me-Wrong Songs celebrates the best done-me-wrong ditties in a two-hour tongue-in-cheek countdown show. Each song on the countdown is illustrated with a variety of celebrity interviews, music, video clips and photos. CMT e-mail said Patsy will be in special!!!
Wed., Aug. 9, 5:00 PM ET/PT
July 2006: On June 27 this site had its 10 year anniversary, and it went by unnoticed, much because I forgot all about it myself... :-) Well, time sure flies when you're having fun... Ten years on the Internet. Go figure...
June 2006: Mandy Barnett will be performing at the Scandinavian Country Music Festival in Furuvik, Sweden in August. It is the festival's 25 year anniversary, and it spans over three days, August 4, 5 and 6. Mandy's show will take place on August 4 at 21:00 Swedish DST (19:00 GMT). All country music fans in Scandinavia should take this opportunity to see Mandy perform, and to hear one of the greatest voices ever! For more information write to:
AB Furuviksparken
Box 672
801 27 Gävle
SWEDEN
Phone: 46-(0)26-17 73 00
E-mail: info@furuvik.se
Website: www.furuvik.se
Thanks to Jimmy Walker for getting my attention on this performance by Mandy!
May 2006: Information from Janel Manning:
Prince William Little Theatre, Manassas, VA is currently performing Always... Patsy Cline, a musical tribute to Patsy and her friendship with Louise Seger. This was written and originally directed by Ted Swindley. Under the current direction of Susy Moorstein and musical direction of Pat McInerney, this performance includes over 20 of Patsy's songs and excerpts of Patsy's letters to Louise (played by local community theatre favorite and Sterling, VA resident, Barbara D. Carpenter). While Jill Wainner, also a Sterling, VA resident, brings the memories and music to life. Performances will be at: Jennie Dean Elementary School, 9601 Prince William Street at Wellington Rd, Manassas, VA on Friday & Saturday, May 5, 6, 12, 13 at 8:00 pm with a May 7, Sunday matinee at 3:00 pm. Tickets: $12 general admission, $10 senior/student, $6 ages 6-12 years. For info or reservations, call 703-330-7796 or visit www.pwlt.org.
March 2006: A request from George Ellington:
Please add Cowboy Copas And Hawkshaw Hawkins to the Country Music Hall of Fame!
On March 5th 1963 a plane crashed in the hills of Tennessee taking the lives of Cowboy Copas, Patsy Cline and Hawkshaw Hawkins. In 43 years Patsy Cline's name is always remembered, but Cowboy Copas and Hawkshaw Hawkins have been forgotten. There were no finer honky tonk singers in the 1940's thru the 1960's, but they are always forgotten. I want to change that! Please sign this petition and let the Country Music Foundation know you feel it is time to change this oversight!
March 2006: Information from Jimmy Walker:
Stephen Shutts is currently selling a set of 12 letters and postcards that Patsy wrote to Treva Miller. The letters are from the collection of Mike Freeman and Cindy Hazen. They published several of the letters in the book, "Love Always, Letters to a Fan".
At this time 3 of them are up for sale starting at $700.00 (a postcard). The price depends on length and content. I realize many people can't afford this but I am sending this as FYI. Maybe people will want to pool their money to buy one.
He is also working to sell the house Elvis owned before he moved into Graceland from Audabon Dr. Stephen's email is smshutts@mindspring.com.
March 2006: Sherrill Douglas is booked at the Tropicana Casino in Atlantic City, New Jersey as Patsy Cline on all Mondays, Tuesdays and Wednesdays in April. She performs two afternoon dinner shows each day in the 300+ seat "Sound of Philadelphia Room" tentatively at 12:30 and 3:30 PM. The performances are open to the public. Anyone interested in seeing her "Crazy 'bout Patsy" tribute to Patsy Cline show should contact "Bus Marketing Dept." at the Tropicana Casino, 609-340-4000 or 1-800-THE-TROP or www.tropicana.net.
March 2006: Information from Bill Cox:
On Sunday the 5th, from 3:00pm to 6:00pm CST (4:00pm-7:00pm EST), Shawn Nagy's SuperOldies.com will broadcast a tribute to Patsy Cline, Cowboy Copas, Hawkshaw Hawkins and Randy Hughes.

http://www.superoldies.com/main.html

The broadcast will feature rare and unreleased tracks, interviews, Patsy commercials, and all of your favorites.

You will have to download a small playlist file, then open it with a supported player. Shawn (and I) recommend Winamp:

http://www.winamp.com/player/free.php

Be sure to tune in.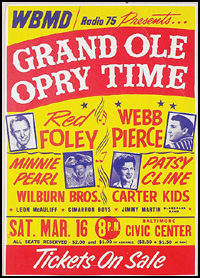 December 2005: The auction site at It's only rock'n roll now has an authentic, rare & historically important poster up for auction, made for the "Grand Ole Opry Time" show that Patsy was scheduled to attend at the Baltimore Civic Center on March 16, 1963... See picture to the right. The starting bid is $3000.00. Click here to go directly to the auction page. The Lot # is 1152.
November 2005: Information from Bill Cox: The city of Shreveport, Louisiana is establishing a "Walkway of Stars", and Jim Reeves has been nominated to receive a star. Among the criteria for induction are "individuals from Shreveport, or someone that made an impact on Shreveport and/or had ties to Shreveport". For those familiar with Jim's story, you know that he and his wife, Mary, were residents of Shreveport for several years. Jim was an announcer for radio station KWKH and the Louisiana Hayride, in addition to being a Hayride member. While at KWKH and the Louisiana Hayride, Jim had his breakthrough hit with "Mexican Joe" as well as scoring a number of other hits.
At least one member of the Shreveport Chamber of Commerce, Debra Wayt, has raised some objections to Jim's nomination. She cites that Jim wasn't a native of Shreveport (which didn't stop them from approving Elvis Presley's nomination) and that he is already honored in the Texas Country Music Hall of Fame across the state line in Carthage, TX (suggesting that makes this nomination unnecessary). While Ms. Wayt agreed that Jim Reeves was a great singer, she feels that he no longer has a large enough fan base (implying that no one would remember who Jim Reeves was, so why bother inducting him).
The Reeves family is asking fans who feel that Jim should be included in the "Walkway of Stars" to write or e-mail Ms. Wayt to show support for Jim's nomination.
Debra Wayt
Shreveport Chamber of Commerce
400 Edwards Street
Shreveport, LA 71101
Or, e-mail at debrawayt@shreveportchamber.org
If you send an e-mail, please CC the Chamber's President at dickbremer@shreveportchamber.org, as well as Jim's niece, Lani Arnold, at Grannylani@aol.com.
November 2005: News from Philip Martin:
Childhood Home Now on National Register of Historic Places
Exciting News... "Spread the Word"... On November 17th, the National Park Service announced that the childhood home of Patsy Cline located at 608 South Kent Street in Winchester, Virginia, has been approved to be listed on the National Register of Historic Places. Many of you recall that the home accomplished a big hurdle in October when it was initially approved to be listed on the Virginia Registry. Now this prestigious national designation is even more special and noteworthy.
October 2005: On October 20, a tribute show called "Ung Rebell - Rockens kvinnor" (in English: "Young Rebel - Women of Rock") premiered at the Scala Theatre in Stockholm, Sweden. This is a tribute show about strong and influential women in rock music, and the women featured in the show are Janis Joplin, PJ Harvey, Big Mama Thornton, Patti Smith and, yes indeed, Patsy Cline. We may not see Patsy as a rock singer, but who cares, she is strong and she is influential, and she is in there! As far as I know, this is the first time ever, that Patsy and her music are featured in a stage show in Sweden!
One of the singers in the show, Louise Hoffsten, says that she discovered Patsy only recently, and that she thinks that Patsy has a wonderful voice, and that it is a delight to sing her songs! The other artists in the show are Marika Lagercrantz (who also directed the show), Karin Wistrand, Peter Jezewski (pictures below) and The All Male Band. The show is approx. 2 hours and 20 minutes, and plays Thursdays, Fridays and Saturdays through Dec 17.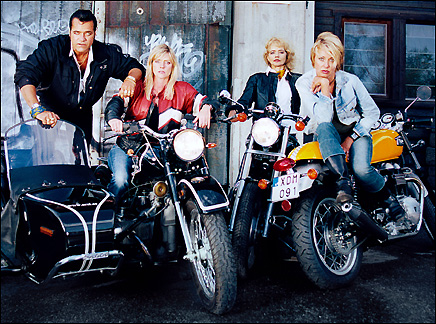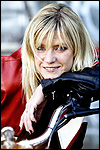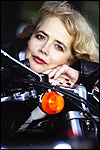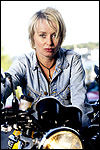 September 2005: News from Jimmy Walker: November 14, 2005; Carnegie Hall 80th Anniversary Signature Show. The Grand Ole Opry will make a triumphant return to Carnegie Hall on the eve of the CMA Awards in New York City. Tickets may be purchased by calling CarnegieCharge at (212) 247-7800, online at carnegiehall.org or in person at the Carnegie Hall box office on the corner of 57th and 7th in New York City. Performers: Alan Jackson, Trace Adkins, Brad Paisley, Vince Gill, Charley Pride, Ricky Skaggs, Martina McBride, Trisha Yearwood, Alison Krauss & Union Station, Bill Anderson, Jimmy Dickens.

September 2005: Great news from Philip Martin:
Yesterday, the Board of the Department of Historic Resources voted to place 608 South Kent Street on the Virginia Landmarks Register. In addition, they recommended the house be placed on the National Register of Historic Places. This, on top of the recent Historical Marker unveiling over Labor Day weekend, is exciting news to share.

September 2005: I have added a few pictures from the Historical Marker Dedication at 608 South Kent Street in Winchester, VA, in the Places section, courtesy of Philip Martin and Sean Sako. Click here!

September 2005: According to Bill Cox, the "Sweet Dreams Still" DVD, contrary to what it says at Amazon.com, is region free. That is good news for us outside the states!

August 2005: It seems to be confirmed that Mandy Barnett will play Patsy in the upcoming movie "Crazy", which is about the life of legendary guitar player Hank Garland. Mandy also played Patsy in the original cast production of "Always Patsy Cline" at the Ryman Auditorium about 10 years ago. There is no official information about the movie at Mandy's homepage yet, but it is listed in the Internet Movie Database, and Mandy's name is there.

July 2005: News from Bill Cox: On Saturday, September 3, a concert to raise funds for the Patsy Cline Memorial Bell Tower will be held at the Moose Lodge in Winchester, Virginia. George Hamilton IV, Roni Stoneman and Tommy Cash will be performing. The doors open at 7:00pm, the concert begins at 8:00pm. There is a $15 admission fee.

Proceeds from the concert will go toward improvements at the Patsy Cline Memorial Bell Tower located in Shenandoah Memorial Park. Electricity has been run to the tower, and plans call for the installation of lighting and other upgrades.

June 2005: I have added two pictures to the Places section, courtesy of Sean Sako, showing a Patsy Cline display at an AmSouth bank in Nashville. The display shows Patsy's gold pants and boots. You find the link under the "Nashville, Tennessee" header. Thanks, Sean!

June 2005: Excerpt from an article in The Winchester Star: "A highway marker to commemorate the life of country music legend Patsy Cline has been approved for placement at her childhood home in Winchester. Fourteen markers were approved on June 1 by the Department of Historic Resources to highlight aspects of the history of the Commonwealth.

The program, which began in 1927 and is one of the oldest in the country, has approved more than 2,000 markers throughout the state, said Scott Arnold, program manager for six years. Two years ago, he tried to contact someone in Winchester to get the ball rolling for a marker here, but he said he could find no one interested at that time.

In March of this year, Phillip Martin pursued the matter and worked with Arnold to make the marker a reality. It will be placed at 608 S. Kent St., Cline's childhood home and will be dedicated on Sept. 3. The Virginia Department of Transportation will place the marker and maintain it, Arnold said. The cost is $1,350 for casting and delivery and is paid for by sponsors, not by state funding."

June 2005: I have posted a few great photos, courtesy of Mario Munoz, in the Places section under the "Hollywood, California" title. The photos show the ceremony when Patsy got her star on the Hollywood Walk of Fame in August 1999. And there are also a few other photos, showing Mario cleaning the star, a street sign at Universal Studios, and a car that was used in the "Sweet Dreams" movie.

May 2005: The DVD "Patsy Cline - Sweet Dreams Still" will be released on September 27. Region 1 only, it seems, which is too bad for us in Europe... Click here to pre-order the Region 1 DVD from Amazon.com in the states. If anyone hears of a Region 2 version, please let me know! At the time when I write this, Amazon.co.uk don't have it listed.

The material on this DVD, or parts of it, is shown on PBS in June:
| | |
| --- | --- |
| 6/1/05 | Harrisburg Lancaster PA |
| 6/1/05 | Lebanon York PA |
| 6/2/05 | El Paso TX |
| 6/4/05 | Seattle Tacomca Yakima WA |
| 6/4/05 | Pasco Richland Kennewick WA |
| 6/4/05 | Rochester NY |
| 6/5/05 | Nashville TN |
| 6/5/05 | Syracuse NY |
| 6/7/05 | Spokane WA |
| 6/7/05 | Tallahassee Thomasville GA |
| 6/7/05 | Panama City FL |
| 6/8/05 | Springfield Joplin MO |
| 6/8/05 | Pittsburg KS |
| 6/8/05 | Miami Ft. Lauderdale FL |
| 6/8/05 | Jacksonville FL |
| 6/8/05 | Chattanooga TN |
| 6/8/05 | Savannah Augusta Macon GA |
| 6/8/05 | Atlanta Columbus Albany GA |
| 6/8/05 | Albany Brunswick GA |
| 6/10/05 | Miami Ft. Lauderdale FL |
| 6/10/05 | New York NY |
| 6/10/05 | Albany Schenectady Troy NY |
| 6/10/05 | El Paso TX |
| 6/11/05 | Nashville TN |
| 6/11/05 | Spokane WA |
| 6/11/05 | Washington DC |
| 6/11/05 | Pittsburg PA |
| 6/11/05 | Baltimore MD |
May 2005: Fans got married at 720 South Kent Street in Winchester, for the first time inside the house, on the exact spot where Patsy and Charlie got married. Previously, other couples have been married on the porch of the house.

May 2005: The games mentioned below have now been restored. You find them under "Games" in the second menu (click "Next menu...") at the top of the screen.

May 2005: As the returning visitor may have noticed, I have now refurnished the site somewhat... I thought that it was time to do something new. The new site makes heavy use of Cascading Style Sheets (CSS), both CSS version 1 and CSS version 2 features are used. This means that a CSS2 compliant browser is required to view this site properly. Therefore, Netscape v4.x is no longer supported. Recent statistics shows that Netscape 4.x is used by 0.2% of the surfers on the net, so not supporting it is not a big problem... :-) So if you are having problems viewing this site, it is time to install a browser that can meet up to today's standards.

The games that were available before, Memory and the Tile Game, are removed for the time being. They may be reinstalled later. And the Records page has been removed permanently. I don't have the time, nor the will, to maintain it anymore. The Songs page, which previously had links to the various records, are still there, but the links are removed.

When it comes to information about records, I can recommend Bill Cox's site, Patsy Cline - The Lady, The Legend, where he keeps an extensive source of information on Patsy's records. Click here to go directly to his Records page.

The pages about Mandy Barnett, Erica Dawn, Rossana Holmes, Sheila Marie, Sherrill Douglas and Trina Rae Murphy, are still in the old site's look and feel, but they will be updated to the new look later. Links to them can be found under "Guests" in the second menu at the top of the screen. Just click "Next menu..." to bring up that menu.

May 2005: Please visit Bill Cox's The Cline Chronicle for some interesting articles that have been published in May.

April 2005: The following is a Message From Philip Martin, via Bill Cox: I want to announce that an effort has been underway in the past 2 weeks to get a Virginia Historical Highway Marker approved and installed in front of 608 South Kent Street. We have an opportunity to expedite what can often be a lengthy process and have gotten tentative approval already. I submitted the package earlier today to the Dept of Historic Resources. The response was extremely positive and nothing should impede its approval according to the Director of the Historical Highway Marker Program. The committee will convene to vote in April and by June 1 we will have the final approval after which the order goes to the foundry. What can take 4-6 months at the foundry is also being expedited because of the Labor Day weekend festivities. I envision a well publicized media event with a formal unveiling ceremony and reception following for sponsors who contribute at least $100.

The Marker is to be installed the last week of August by VDOT. I have prepared a mailing announcement to be sent out in June to a wide audience soliciting other sponsors to include organizations, businesses, and individuals. A plaque depicting the names will be displayed in the house.

March 2005: The restaurant at Dyersburg Regional Airport has been dedicated to the memory of Patsy. Even the telephone booth that had been walled up for years has been uncovered and furnished with a replica telephone reminiscent of the early sixties and posters honoring the renowned singer. It is appropriately named "Patsy's Sky Grille". The idea is a brainchild of Robin Steinzor, owner of Stein-Low Catering, who took over the restaurant's operation and recently opened for business.

February 2005: The first annual Patsy Cline Memorial Festival will be held in Camden on March 5. This event will be the 42nd anniversary of the tragic plane crash that took the lives of Grand Ole Opry stars Patsy Cline, Cowboy Copas, Hawkshaw Hawkins and their pilot Randy Hughes. Their small plane went down just outside the city limits of Camden in Benton County on March 5, 1963. The concert will be held at Birdies (formerly the Camden Country Club), next to the Magic Valley Golf Course on Eva Road.

Unlike other sing-alike festivals held by the Chamber, this event has come about as a result of the recent January 10 visit of Grand Ole Opry Star Marty Stuart, W.S. Holland and promoter Scott Mills. The group of musicians and friends traveled to Camden to visit the crash site. "We kicked around the idea of having a concert and we all thought it was a great idea," says Mills who said the first concert will come out of his own pocket. "We hope it will be a lead off to many others that will raise funds to build up the memorial site."

This will be a day of music featuring W.S. Holland and The Survivors (the Johnny Cash band) and Mike Walker, along with local entertainers John Austin McDaniel, the Jack Tripper Band, and the Harmons Creek Band. Mills says that in order to plan and promote a large fundraiser or bigger show it takes about 8-10 months, getting sponsors and such. "This first concert is mainly to start drawing attention to the tragedy of the entertainers," says Mills who wants to be sure of the area's support before he brings in a bigger show. "Marty has just released a new album and will be on tour in March, but does plan to be a part of future shows," continued Mills as he spoke of plans for a July 4th show for this summer. "Mills says if this takes off it will put Camden and Benton County on the map," says Birdie's General Manager Bobby Smith. "People in this area are starving for good clean entertainment," says Smith who says they will probably be turning people away as they did New Year's.

The facility will hold 350 comfortably. Smith says the Chamber is planning to unveil the new marker at the crash site earlier that same day. Admission to the show is $20 with doors opening at 5:00 and music starting at 6:00. Birdies is located on Eva Road in Camden next to the Golf Course. Tickets will be sold at the door on a first come first served basis. For more information, contact Bobby Smith at Birdies Bar & Grill at 731-584-4826.
---
News from:
[2005] [2004] [2003] [2002] [2001]
[2000] [1999] [1998] [1997] [1996]