News from 1996
Dec 1996: I have now divided the guestbook into two separate pages. The main page of course contains the newest entries, and you have a link to the older entries both at the top and at the bottom of the main guestbook page. I will keep a maximum of around 1500 lines on each page, and this means that in the future there will be three pages, and so on. The reason for this is of course to get the main page to load more quickly, since the fans that come back regularly are mainly only interested in the newer entries. But no entries will be deleted! Note: The entry from Julie Fudge is now on the "older" page, while the entry from Charlie Dick still is on the main page.

Dec 1996: Wow! Patsy's husband, Charlie Dick, has visited this site and has written in the guestbook!!! This is a great honor! Now both Charlie and Julie have been here... Nice! Both of you, welcome back!

Dec 1996: Faron Young, who originally recorded "Sweet dreams", died of a self-inflected gunshot wound on the afternoon of Tuesday, Dec 10. Faron Young appeared together with Patsy, Jim Reeves, Minnie Pearl, Bill Monroe, Grandpa Jones, Marty Robbins, and The Jordanaires, at the Carnegie Hall concert on Nov 29, 1961. Info courtesy of Sue Wilden.

Nov 1996: This is old news for some, but maybe some of you don't know about it: In Sep 1993 a stamp was released, with Patsy's name and picture on it. It would be nice to have that stamp, so if anyone is willing to contribute one, please e-mail me!

Nov 1996: This may interest no one, but I have just managed to buy a copy of Patsy's "Sentimentally yours" LP, and I'm rather happy about it. I have also bought a few more 7" singles and a 7" promotion EP. All records I have are listed on the main page.

Nov 1996: Gosh... Patsy's daughter Julie has been to the site, and has written in the guestbook!!! As the maker of this site, I consider that a great honor... Go to the guestbook and read!

Oct 1996: On the 28th I got my copy of the "Always... Patsy Cline" CD from 1995, starring Mandy Barnett as Patsy and Tere Myers as Louise Seger. I can only say one thing: The show is fantastic! It's too bad that I couldn't see it, but just hearing it isn't bad either... Mandy Barnett is absolutely wonderful as Patsy... And Tere's story telling as Louise is bound to give you a few laughs... But when Mandy sings "Sweet dreams" and "Crazy", it's hard to keep the tears away, and when they come to the end of the show, when Tere is reading the first letter that Louise got from Patsy, and Mandy is singing "Faded love", then it's impossible to keep the tears away... It's a terrific show! If you, like me, haven't gotten the chance to see it, at least get this CD and listen to it... You won't regret it... It's on MCA records, MCAD-11205.

Oct 1996: I have added some more text on the main page, under "Patsy's recording career", about the recording of "Crazy".

Oct 1996: On the 22nd I got a very nice gift in the mail, an autographed book called "Patsy Cline - Singing girl from the Shenandoah Valley", from the authors Stuart E. Brown, Jr. and Lorraine F. Myers. I have altered some of the text on the main page due to the facts in this book, and I have also added a few very nice pictures under the "Pictures of Patsy Cline" section. Thank you very much for the nice gift, Stuart and Lorraine!! If you would like more info about this book, send your mailing address to vabooks@mnsinc.com.

Oct 1996: On the 12th I got this letter from Pat Spicer (slightly edited): "You mention Patsy Cline sound alikes. Have none of your website visitors had the pleasure of attending the Patsy Cline tribute by Gail Bliss? She has been performing here in Toronto, Canada since June and I have been to her show twice. She is absolutely great and really brings Patsy back to life. It is a most amazing show, with song and story inter-twined. She plays Toronto until sometime in November and I have no idea where the show goes from there. Any Patsy Cline fan in the southern Ontario region should not miss this show. I guarentee you'll have goose-bumps during most of the songs! (Her singing of 'Just a Closer Walk with Thee' is awesome).

About Gail Bliss: Gail Bliss is a vocalist, saxophonist, songwriter and actress whose musical tastes range from country to jazz, swing, pop and blues. A native of Grants Pass, Oregon, she was selected from over 600 women for the title role in the first U.S. national tour of 'A Closer Walk with Patsy Cline'. Gail played Patsy Cline in the 1995 award winning Branson production of 'Patsy!' in which she was voted Best New Female Vocalist. She recently released her own album 'Gail Bliss and Patsy Cline'".

Thanks for the info, Pat! Here you have a web site about the show in Toronto.

Oct 1996: I got a word from Sue Wilden saying that the latest catalog from BMG Music (used to be RCA Music) has the Patsy Cline 4 CD-box set on sale for 19.99 USD! With shipping and tax it should come to around 26 USD. Thanks, Sue!

Oct 1996: On the 8th I added a picture of Patsy under the "Pictures" section, showing her riding a car at a festival in 1956. The photo was sent to me, and is courtesy of Harold Madagan at Gaunt's Drug Store in Winchester.

Oct 1996: Well, as you might have seen, Jimmy Walker wrote in the guestbook about another (small) Patsy site that unfortunately has almost the same URL (http://www.patsycline.com/) as my official site. I hope that they will add a link to my site, so that people that mix the addresses up can find the place they want to go to... The other site has a map that shows the Patsy related places in Winchester.

Oct 1996: On the 4th I tried to run Internet Explorer 2.1 for the first time, and then I discovered that these pages doesn't always look as they should in Internet Explorer... I have always used Netscape and the pages look as they should when using Netscape 2.0 or later. Therefore I have today tried to update the pages so that they shall look alright in both Netscape and IE. The differences that I have discovered so far have to do with how the browsers handle lists, font colors and tables (the menu buttons on the main page is much wider in IE than in Netscape). There may still be some faults in the colors when running IE, but I will try to correct that as soon as possible. It's strange that no one has said anything, but I suppose that most people use Netscape... And maybe IE 3.0 is more compatible with Netscape than 2.1... I can't try IE 3.0, since I don't have Windows 95 or NT...

Oct 1996: On the 3rd I got an e-mail from Kent Florence: "I saw a concert called 'A musical tribute to Patsy Cline' last weekend. The Jordanaires were there with a woman named Sharon Haynes who played Patsy. I had never heard of her before. The Jordanaires have said that she is the closest thing to Patsy they have seen or heard. I think she sounds alot like Patsy. Someone who has listened to her more could probably tell more of a difference than I can. I think she sounded more like Patsy in person than on the tape I bought after the show. It sounds like it was hastily made". Thanks for the info, Kent!

Oct 1996: On the 1st I got the following information from Wayne: "April 3rd, 1997, 'A closer walk with Patsy Cline' will begin in Nashville, TN, at the Texas Troubadour Theatre. Terri Williams has been selected to portray Patsy. Terri started her career at Opryland USA in Nashville. Then she moved her talents to Branson, where she was a feature performer on the Mo Bandy Show. 'Country Music Magazine' said she was the 'best female voice in Branson'. 'A closer walk with Patsy Cline' chronicles Patsy's life from the time she first performed on radio as a teenager, up until the tragic accident in 1963. Charlie Dick, Patsy's husband, says: 'No one will leave disappointed. At the intimate Texas Troubadour Theatre it will be a big success. It's a must see!'. For more information about 'A closer walk with Patsy Cline', call (615)885-0028." Thanks for the info, Wayne!

Sep 1996: On the 18th I added some text under "Patsy's life" on the main page.

Sep 1996: Jimmy Walker has contributed some useful information in the guestbook. Check it out. There is a fund raiser called "Buy a brick for Patsy", that the Chamber of Commerce is helping with through a subcommitee. Contact Julie Armel for the best info. Address: Celebrating Patsy Cline Inc, 1360 Pleasant Valley Rd, Winchester, VA 22604. Phone: 1-800-662-1360 or 504-662-4135. They are trying to open a museum that will feature Patsy, and maybe also civil war history. They hope to have it opened in 1997. Thanks for the info, Jimmy!

Sep 1996: I just got another name of a "Patsy-like" singer, Terri Clark. Terri is apparently a big fan of Patsy's, and she has sang "Three cigarettes in an ashtray" and "Leavin' on your mind" live. There is a site called The Terri Clark Fan Pages if you are interested.

Sep 1996: I have listened more to LeAnn Rimes' album, and it really grows on me. It's very nice... I especially like the songs "Blue" (of course), "Hurt me", "Talk to me" and "Cattle call", which is a duet with Eddy Arnold, and I think it's a fantastic song...

Sep 1996: On the 14th I made some changes in the text under "Patsy's recording career" on the main page.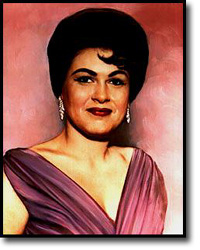 Sep 1996: Got some info about k.d. lang from Sue Wilden: She started out singing country, feeling that she was guided by Patsy's spirit... She did covers of "Three cigarettes in an ashtray" and "Stop, look and listen", apparently on her first album, which also features a picture of Patsy. On her latest albums she sings pop instead of country. Sue says that k.d. is an excellent singer, and I guess that I'll just have to take her word for it, until I've heard k.d. sing... :-). If you like, go to the Obvious Gossip homepage, which is the home of the official k.d. lang fan club.
Sep 1996: Amy Barrett at the Camden Chamber of Commerce has Patsy T-shirts and program books from the festival for sale. The T-shirts are 5 USD and the program books 3 USD, plus shipping. The address is P.O. Box 270, Camden, TN, 38320, USA. The telephone number is (901) 584-8395. Thanks to Sue Wilden for the info!
Sep 1996: Two names have been suggested to me, apart from LeAnn Rimes, when it comes to good "Patsy-like" country singers, and they are Mandy Barnett and k.d. lang. Kim wrote in the guestbook about Mandy, and Cliff at In Your Ear Music mentioned k.d. lang, and that she sounded very much like Patsy on her first albums... I got to know from Cliff that Mandy apparently has made only one album so far, called "Mandy Barnett". If anyone has any more info about k.d. lang and her "Patsy-like" albums, please e-mail me, or write about it in the guestbook!
Sep 1996: On the 11th I got my copy of the CD with LeAnn Rimes. Well, what can I say... She has a fantastic voice, and she seems to be able to do just about anything with it... I listened through the whole CD once, and the song "Blue" twice. When I listen to it, I can sometimes hear something that reminds me of Patsy, and I can imagine how it would have sounded if Patsy had gotten the chance to record it... Maybe this is how Patsy sounded when she was 14? What will LeAnn's voice be like when she is 20? Only the future can tell... LeAnn's voice is one of the best I've heard when it comes to country and countryrock, but I can still say, without hesitation, that there will never be another Patsy Cline...
Sep 1996: I have added some info about the special versions of "I love you, honey" and "Stop, look and listen" on the "Recording sessions" page.
Sep 1996: On the 9th I got some additional info on LeAnn Rimes: LeAnn is from Garland, Texas, and she turned 14 on August 28. There is a LeAnn page on the WWW. Click here to go there. Check it out!
Sep 1996: On the 8th it is Patsy's birthday. Happy birthday, Patsy!
Sep 1996: Apparently there is a fund raiser going on to raise money for a museum in Winchester, Va. I hope to get more info on that later.
Sep 1996: On the 3rd I received the 20th vote, and thus it was time to put up the list of the most popular songs. But I hope that people will continue to vote, preferably before they look at the list. It's more fun that way...
Sep 1996: I got a letter on the 2nd, from Sue Wilden, in which she says that I ought to listen to a young girl, LeAnn Rimes, who is only 13 years old and has recorded a song that was written for Patsy, called "Blue". Apparently the writer, Bill Mack, sat on it until he could find someone who could sing it the way that Patsy would have done, and apparently this girl does! I gotta get that CD, and maybe you should too! If this girl has a voice and a feeling that comes anywhere near Patsy's, then something big has happened in the music world...
Sep 1996: Added this news page on the 2nd, to be used for Patsy related news and info about changes on this site.
Aug 1996: Added some additional pictures from the crash site, that I got from Kent Florence, on the 30th.
Aug 1996: The husband of Patsy's friend Loretta Lynn, Oliver Doolittle "Mooney" Lynn, passed away on the 23rd... My deepest sympathy to Loretta and her family... Doo, when you see Patsy, tell her that we love her...
Aug 1996: A new CD is released, containing 19 tracks from the Arthur Godfrey show, recorded between January 21, 1957 and January 17, 1958. The CD is called "Patsy Cline - The Birth of a Star". The first track is the interview with Patsy's mother, Hilda Hensley, followed by 17 performances by Patsy, and some talk, and last the "Awards Dialogue" in which they talk about the various awards that Patsy had gotten already at that time.
Aug 1996: I have added a few more pictures of Patsy under the "Pictures" section.
Aug 1996: Added the voting page on the 20th, so that visitors can vote for the Patsy Cline songs that they think are best, and later I will present the list of the most popular songs.
Aug 1996: The site moved to a new server, courtesy of Starmail.Com, and got the new URL "http://www.patsy-cline.com". The original site in Sweden is still there, though, as a backup. I have announced the new URL on the major search engines.
July 1996: Added info about when Patsy was elected into the Country Music Hall of Fame.
July 1996: This site is made even better, since Sue Wilden and Kent Florence have contributed pictures, showing interesting Patsy related places. Press the "Places" button or follow the link at the end of the main page.
July 1996: I have added menu buttons that takes the user to other pages on the site, and I have also made the "Pictures" section a little "fancier".
June 1996: I have added some pictures of Patsy.
June 1996: The Patsy Cline site is launched on the 27th. The URL is "http://www.nola.ovik.se/pj/patsy/". The site is announced on the major search engines.
---
News from:
[2005] [2004] [2003] [2002] [2001]
[2000] [1999] [1998] [1997] [1996]