At the Riverside Park Ballroom
in Phoenix, Arizona, 1960.
Photo by Johnny Franklin.



Fan Forum - Page 29
Entries from March 24 to July 12, 2006
---
[Page 33] [Page 32] [Page 31] [Page 30] [Page 29] [Page 28] [Page 27]
[Page 26] [Page 25] [Page 24] [Page 23] [Page 22] [Page 21] [Page 20]
[Page 19] [Page 18] [Page 17] [Page 16] [Page 15] [Page 14] [Page 13]
[Page 12] [Page 11] [Page 10] [Page 9] [Page 8] [Page 7]
[Page 6] [Page 5] [Page 4] [Page 3] [Page 2] [Page 1]
---
Musuem Opening Date Postponed

Those people intending to travel to Winchester, VA for the planned September opening of the Patsy Cline Museum should contact Celebrating Patsy Cline Inc. by e-mail to obtain up to date information about the opening date before making any travel arrangments. For some reason the museum website has not been updated since March and still shows the opening as being slated (planned) for September. E-mail addresses can be found on the site. www.patsyclinemuseum.com

E-mails from the CPC president in response to specific questions sent by e-mail from the UK have said that the CPC president does not yet know the opening date, but does know it will not be in September.

Bernard Green <syemon.es@btinternet.com>
Sharnbrook, UK - Wednesday, July 12, 2006 at 09:28:07 (CEST)
---
Just heard from Julie, and Michelle had her third baby last night. Michelle and the baby are doing fine.
Robyn Jones <run2dad2004@yahoo.com>
Syracuse, NY USA - Tuesday, July 11, 2006 at 22:21:19 (CEST)
---
Congratulations Per. We're both having milestones this year. Do you realize that I was just shy of my 20th birthday when you started your site and this Friday I'll be 30.

If it weren't for you and this site I too wouldn't have been able to form the lasting friendships I have with people I met on this very forum. I appreciate all you do and all you have done for our lady.

Happy 10th, buddy.

Mark Willix <markwillix@gmail.com>
Rockmart, GA USA - Tuesday, July 11, 2006 at 19:34:55 (CEST)
---
Hi Per and all!

Just wanted to run this by you... As many of you know, my friend Leigh is the webmistress of DottieWest.Net. Leigh receives COUNTLESS emails each week from fans wanting to know why Dottie West hasn't made it into the Country Music Hall of Fame. Yes, I know, there's a list FULL of people that should be in there, but apprantly Dottie West is one of those at the top according to the letters that Leigh's been getting.

And it makes sense: Dottie was a successful Nashville songwriter of over 400 songs, recorded with many GREAT duet partners, charted on the top countless times, was the first female Country artist to win a Grammy, was instrumental in starting the careers of Larry Gatlin and Steve Wariner, played hostess to then uknowns/current Hall of Famers Kris Kristofferson, Willie Nelson and Roger Miller... the list goes on. But maybe most importantly, especially to us, she carried on the legacy of Patsy Cline, her best friend. She continued to break down doors for women in Country and wasn't afraid to try new things. And from the 1960's to the 1980's NOBODY had a career and image transformation like Dottie West. She carried on Patsy's proof that women in Country CAN be sexy without Minnie Pearl's hand-me-downs...

Leigh and I have started a petition to send to the CMA in favor of Dottie. While it may not be the key, it would sure be a loud knock on their door to show that Dottie is still thought of by many - including we Patsy Cline fans. You can sign the petition at http://www.thepetitionsite.com/takeaction/663345735 or by visiting Leigh's site at www.DottieWest.Net.

Lastly, Patsy Cline is the reason, but Per, you truly have brought the fans together through this AMAZING site. As I've told you many times, Patsy would be so grateful. Bless you for all you do!

Thanks Hosses!

Jared Vaughn <JaredVaughn81@aol.com>
Spartanburg, SC USA - Sunday, July 09, 2006 at 05:05:42 (CEST)
---
Per,

Congrats! on 10 years of keeping this wonderful website on the Internet! I rememeber the first time I found this site back in 1996, I was so excited! While I don't post as much as I did back then, I visit this site weekly to check things out. This will always be the number one website that started it all, for us fans, friends, webmasters, and crazy nuts! LOL. Take care everyone!
Shane Collins <shanec449@verizon.net>
Williamsport, Pa - Saturday, July 08, 2006 at 02:54:29 (CEST)
---
I posted the following on my Forum, as well:

Per's site is the one that brought all of us together. And, when several of us struck out and created our own sites, we did it with Per's site as the benchmark.

I remember the group we called "The Regulars", who were the ones who posted to the Fan Forum on a consistent basis.

Plus, I have made a number of close friendships with folks I met here. Some, I've met in person since. Others, I've yet to meet (but hope to soon). For that, I am eternally grateful.

Thank you, Per.

Bill Cox <spam@patsycline.info>
Knoxville, TN USA - Friday, July 07, 2006 at 18:15:57 (CEST)
---
Per admitted:

-----
July 2006: On June 27 this site had its 10 year anniversary, and it went by unnoticed, much because I forgot all about it myself... :-) Well, time sure flies when you're having fun... Ten years on the Internet. Go figure...
-----

Per,

Time does fly so fast when one is enjoying one self. I am sure, no I KNOW for a fact, there are so many people to whom your 10 years work has brought so much additional pleasure in their enjoyment of Patsy, that you can be forgiven that one small modest clerical error.

My sincere thanks for opening up the world of Patsy Cline to me, since November 1962 I had enjoyed listening to her and then 9 years ago I discovered this site which provides so much more about Patsy.

Thank you

Bernard Green <syemon.es@btinternet.com>
Bedford, UK - Friday, July 07, 2006 at 17:39:22 (CEST)
---
Patsy Cline, a small spark in the history of mankind, with an unforgettably great heart full of love and devotion.
Walter Serro <w.serro@wavenet.at>
Reisenberg, Austria - Friday, July 07, 2006 at 17:36:26 (CEST)
---
Sorry Per, forgot about your ten year anniversary, well this site just gets better year after year.
Robyn Jones <run2dad2004@yahoo.com>
Syrcause, NY USA - Friday, July 07, 2006 at 02:36:03 (CEST)
Comment: Well, as I wrote on the news page, I forgot it myself... Thanks, Robyn! /Per
---
Happy 10th year anniversary, Per! Way to go. You have given so much to us fans through the years. Your site has been a "Patsy school" for me and many others. Here's to 10 more! Cheers
ReCliner Sean <rc@reclinerclub.com>
Nashville, TN USA - Friday, July 07, 2006 at 01:40:26 (CEST)
Comment: Thanks, Sean! /Per
---
Jared wrote:

-----
Okay. So there's no escaping "the woman".
-----

No there isn't, and isn't that just wonderful.

And isn't it amazing how many people can sing along to much of Patsy's music. Just proves how many admirers are out there enjoying her music.

Bernard Green <syemon.es@btinternet.com>
Sharnbrook, UK - Wednesday, July 05, 2006 at 19:57:56 (CEST)
---
Okay. So there's no escaping "the woman". For some reason I put myself through the misery of going to Six Flags over Georgia this past weekend (why? Because we Southerners love standing in lines, 90 degree heat, $15 for a burger and pushy crowds full of crying children - all for $50...)

Anyhow... back to the point... guess what they play on rotation daily throughout the park PA system? "Patsy Cline's Greatest Hits". As soon as it changed from Lonestar's album to Patsy Cline's, you would have thought time stood still. Everybody - and I do mean EVERYBODY around us was singing "I'm back in baby's arms..."

You would have thought we were at the First Church of Patsy Cline Protestant Reformed Fan Temple the way people haulted in their tracks and sang.

Hope you hosses are well!

Your Hoss,
Jared Vaughn <Jared Vaughn81@aol.com>
Spartanburg, SC USA - Wednesday, July 05, 2006 at 08:28:19 (CEST)
---
We know there are a few alternate takes of Patsy out there, such as "Stop, Look and Listen", "A Poor Man's Roses" ('56 Version) and "That Wonderful Someone", as all of these have made an appearance on various CDs.

If Owen didn't turn everything over to Decca, then any other alternate takes that might exist are probably a part of the collection of tapes a company in Nashville bought from CBS/Columbia Records when they quit using the Quonset Hut in the early '80's. Several years ago, they held a news conference where they played some alternate takes of Hank Williams and Johnny Cash that were part of this collection, and said they were working to release the recordings. I haven't heard anything about them since then.

Owen Bradley's original "Bradley's Barn" in Mt. Juliet, TN burned to the ground in 1980. Some items were lost, the one thing specifically mentioned is the session log book listing all artists and songs recorded at the "Barn" up to that point, but I don't know if there were any master recordings that were lost.

Bill Cox <spam@patsycline.info>
Knoxville, TN USA - Wednesday, July 05, 2006 at 06:33:04 (CEST)
---
Did the plane hit the bottom of the mountain or the mountain itself?
Robyn Jones <run2dad2004@yahoo.com>
Syracuse, NY USA - Wednesday, July 05, 2006 at 03:22:50 (CEST)
Comment: The plane hit the ground nose down. The crash into the mountain wall, that was shown in the movie "Sweet Dreams", falls into the category of "artistic freedom"... /Per
---
George, I agree it would be great to such a collection with alt. takes and false starts. I don't think they exist, though. Seems like I read years ago, after the box collection, that there was fire at one of Bradley's Studio and they may have been lost. Not sure. Maybe Bill Cox can help shed some light on this subject. If not, remind me to call Harold Bradley.

Always,
Jimmy Walker <patsyfan1@aol.com>
Wednesday, July 05, 2006 at 00:48:46 (CEST)
---
Just talked to Julie, and her daughter Michelle is expecting baby number three this week!!
Robyn Jones <run2dad2004@yahoo.com>
Syracuse, NY USA - Tuesday, July 04, 2006 at 03:00:24 (CEST)
---
I struck gold the other day while browsing for music at a local flea market. Mercury issued a compilation of epic proportions on CD in 1986 of all the sides Sarah Vaughan had recorded for the label between 1954-59, and again when she returned in 1963-69. The collection is 23 CDs in all, complete with all commercial sides as well as all preserved alternate takes and unissued masters. In some cases, there are 4 or 5 instances of one tune in a row, all interestingly different interpretations (takes) which showcase the excitement and improvised atmosphere of a time when studio recordings were still essentially "live."

Needless to say, this much-cherised, extensive and complete collection of Sarah's work for Mercury got me thinking about Patsy.

Wouldn't it be great if Universal decomissioned "The Patsy Cline Collection" and released such a compilation as this? A collection complete with alternate takes and false starts would surely be a dream come true for Patsy fans.

I've always wondered if it was Owen Bradley's policy to keep alternate takes and false starts, as was practice for so many A&R producers in the '50s. It would be nice to have a complete collection of all Patsy's work.

George Hewitt <george.e.hewitt@gmail.com>
Edmonton, AB Canada - Monday, July 03, 2006 at 23:33:42 (CEST)
---
Agree wholeheartedly. Glad someone else besides myself feels that way. Today's music is in sad shape.
Patsyfan
Monday, July 03, 2006 at 16:47:13 (CEST)
---
I agree entirely, Sophie. Shania is good but she does not compare to Patsy.
Helen Smith <helensmith_1999@yahoo.com>
England, United Kingdom - Monday, July 03, 2006 at 12:05:30 (CEST)
---
Just read something about Shania Twain being one of the most successful, beloved, influential etc etc singers of all time. Come on! I am sorry, but singers like her and the recent pop country artists cannot hold a candle to the greatness of someone like Patsy Cline. It's like comparing bubble gum to a gourmet meal. Pop is pop - fun but ultimately lightweight and short lived. And it relies on the flash of video imagery. The music of the giants like Patsy has real soul and will live forever.
Sophie McCann
Canada - Sunday, July 02, 2006 at 21:02:10 (CEST)
---
I just worked in Camden, TN this year, and found a shrine where the plane crashed. There are too many posts to go thru to see if this shrine is mentioned. I'm taking my Motorcycle Riding Club to see the shrine this coming Sat. Is it something the fan club does not want to talk about or recognize? I think it is a tribute to her for the individuals who have made this shrine what it is. Just curious, have been a fan of Patsy's for many years. As well as the other two stars killed with her.
Ron Mclemore <ronmclemore@bellsouth.net>
Rogersville, Al USA - Sunday, July 02, 2006 at 09:27:05 (CEST)
Comment: If you go to the Places page, and look under the "Crash site at Camden, Tennessee" heading, you can see some pictures from the crash site, for example the monument. /Per
---
During Canada Day's festivities, I had a friend tonight (who knows my penchant for Patsy), say to others that she is "obscure". What constitutes "obscure", anyways? I hardly think that Patsy was obscure.

I think of kids nowadays that know Patsy's records from their parents. And when you think of kids nowadays who know Patsy, their parents were in their late teens, early twenties in the 80s, well after Patsy's time.

I say that Patsy is a legend. Patsy is a non-sequitur in a sea of tired pop music.

George Hewitt <george.e.hewitt@gmail.com>
Edmonton, AB Canada - Sunday, July 02, 2006 at 09:07:50 (CEST)
---
Tim Poole wrote:

-----
I'm heading to Maryland over Labor Day and I'm wondering what's going on in Winchester that weekend? Any Patsy events going on? Is that the weekend the big event is?
-----

Well, one thing that is NOT apparently happening is the opening of the museum. CPC hope to be told by the design firm in mid July when their museum will be opening.

Bernard <syemon.es@btinternet.com>
Sharnbrook, UK - Saturday, July 01, 2006 at 17:02:59 (CEST)
---
Hello,
I heard that Patsy performed in Canada. Does anyone have any info as to where (city/province) and in which venues she performed? I'd love to know more about this! Thanks very much if you can help.
Patsyfan
Friday, June 30, 2006 at 22:25:59 (CEST)
---
Thanks for the info. Appreciate it very much.
1patsyfan
Thursday, June 29, 2006 at 21:38:35 (CEST)
---
Hello Everyone,
It's been a quiet summer on the boards so far. Hope everyone out east is drying out! I'm heading to Maryland over Labor Day and I'm wondering what's going on in Winchester that weekend? Any Patsy events going on? Is that the weekend the big event is?
Also, a note to Jared, I'm coming to SC soon. Get in touch and we'll meet for a drink and an earful of the Cline!
Tim Poole <Tappster4real@aol.com>
St. Charles, IL USA - Thursday, June 29, 2006 at 15:25:27 (CEST)
---
Hello,
Does anyone here own both "Birth of a Star" and "Discovery" CDs? I own the former only, and am trying to decide whether or not to buy "Discovery". If the songs are the same on both, what would be the bonus of owning both? Thanks.
1patsyfan
Wednesday, June 28, 2006 at 17:25:24 (CEST)
Comment: From Bill Cox's Records Page: The tracks on both CDs are the same. However, different performances were used for four of the tracks: "Three Cigarettes", "Walkin' Dream", "Come On In" and "Ain't No Wheels On This Ship". In addition, the dialogue between Patsy and Arthur Godfrey differs slightly between the two CDs. So if you are a true collector of Patsy's performances, you must have both! For information about Patsy's records I can recommend Bill's site. /Per
---
Patsy is a great inspration to me, magically singing lyrics that are lovely but not close to being as beautiful as the voice they come from. All I can say is thank you, Patsy. Thank you.
Mathew <mathewmonty@hotmail.com>
Monday, June 26, 2006 at 23:27:24 (CEST)
---
I love Patsy Cline and have heard every single song of hers. I listen to her music every single day. No one can compare to the strength and quality of her singing. Thanks!
Curtis <inadaze560@aol.com>
Wilmington, NC - Monday, June 26, 2006 at 08:15:04 (CEST)
---
I love Patsy and have sung all of her songs in public as and entertainer over a period of many years. There will never be anyone like her ever, she inspired me to push myself as far as I could, and I did. But I don't seem to be able to find out what ever happened to Charlie after Patsy passed away, can anyone tell me where he is today?
Freda Mace <cherokee112154@yahoo.com>
Campbellsville, KY USA - Saturday, June 24, 2006 at 14:44:15 (CEST)
---
Patsy will forever be the greatest ever female singer of all time. If it wasn't for the movie "Desert hearts" I may not have ever heard such a sweet and touching voice like her's... Thank God for such a beautiful woman and a wonderful singer... Love you, Patsy!!! Wish you still were here in person to show us more of your unforgettable talent and beauty... You are truly unforgettable!!!
Tania <girlyluva66@yahoo.com>
Brisbane, Australia - Thursday, June 22, 2006 at 08:57:19 (CEST)
---
Hi all! It's so quiet around the forum these days! Hope you're all doing well.

I was searching around on YouTube.Com tonight and found the 1973 Broadcast of Chet Atkins being inducted into the Country Music Hall of Fame. It begins at the tail end of Patsy's induction (applause only) and shows her plaque. Talk about hanging the carrot over the horses head!!!

Hope all is well with you all!

Jared Vaughn <JaredVaughn81@aol.com>
Spartanburg, SC USA - Wednesday, June 21, 2006 at 08:10:36 (CEST)
---
Hi All,

Noticed on CMT the other day they are doing a Greatest of Willie Nelson. His writing of "Crazy" is #16. They show some film footage of her singing and people speak about this great song.

Always,
Jimmy Walker <patsyfan1@aol.com>
Lexington, KY - Monday, June 19, 2006 at 23:59:28 (CEST)
---
Happy belated birthday, Charlie!!!!
Robyn Jones <run2dad2004@yahoo.com>
Syracuse, NY USA - Saturday, June 03, 2006 at 16:33:00 (CEST)
---
Recently two strangers selected the same record on a juke box. It was a Patsy Cline song and they got talking. They discovered that almost 40 years before they had been friends living a few hundred yards apart in a town in a different country. They shared music tastes and Patsy Cline was a favourite they had shared. But they lived in a country where events were to create an unpenetratable barrier between them, causing them to separate, lose touch and go their own separate ways. By chance they were singles in the same holiday resort, by chance they went to the same cafe, and by chance there was a Patsy Cline record in the juke box.

Their full story is private and will remain so other than to say the reunion has returned happiness and given a future to two people.

Bernard Green <syemon.es@btinternet.com>
Sharnbrook, UK - Saturday, May 27, 2006 at 18:43:28 (CEST)
---
Love the site!!! :)
Robyn Jones <run2dad2004@yahoo.com>
Syrcause, NY - Sunday, May 14, 2006 at 02:05:39 (CEST)
---
I am looking for any info on who might represent the Patsy Cline estate in matters of likeness and name permission. I am currently writing a stage play and looking for permission to use her likeness, but am finding it difficult to find. Any help would be appreciated.
Thanks,
Mark Jones <mark_jonespress@sbcglobal.net>
Amarillo, TX USA - Friday, May 12, 2006 at 15:30:50 (CEST)
Comment: Contact Patsy's husband Charlie Dick and their daughter Julie at LegacyInc@comcast.net /Per
---
Patsy T-shirts are available through the fan club, Ernest Tubb Record Shop, and EBAY.

APC (fan club), PO Box 2236, Winchester VA 22604

Always,
Jimmy W <patsyfan1@aol.com>
Lexington, Ky USA - Wednesday, May 10, 2006 at 01:03:21 (CEST)
---
I too have written to the seller and E-Bay. I hope they take the point and end the sale. This is not the first time parts of the plane have been sold on E-Bay. I am told that in 2001 apparently some sections of the tail area metal skin were on E-Bay, then removed after objections and then put back on when these objections were over-ruled. ( some one may have full details )

It is good that the fan community is alert and expresses its feelings about these morbid ways of cashing in on tragedy.

It is a pity that fans do not have the legal ability to prevent such tasteless sales taking place on a public auction site. At least a private sale, out of public view, would avoid causing distress to those who feel deeply about the people who died in that tragedy.

Bernard Green <syemon.es@btinternet.com>
Sharnbrook, UK - Tuesday, May 09, 2006 at 17:01:16 (CEST)
---
It is worth complaining to Ebay about the listing for the propeller and it only takes a minute; you don't need to write a lengthy e-mail about how disgusted you are etc. All you need to write is the item number '7615458152'. Just go to:

www.ebay.com > Help > Contact Us > Listing Violations > Offensive and potentially offensive items > Items produced by or linked to disasterous or tragic events > Item number: 7615458152

Helen Smith <helensmith_1999@yahoo.com>
England, United Kingdom - Monday, May 08, 2006 at 22:02:03 (CEST)
---
Regarding the ebay listing for the prop, I did indeed fire off a letter of protest to ebay regarding the prop for sale. It was in extremely poor taste to allow this... I even went so far as the send an email to the seller blasting his decision to sell such an article. Ebay will allow anything if it pays well. PLEASE send an email to seller asking him to remove this listing out of respect for the individuals who perished in this tragedy. Thank you.
Steve <loanasap@comcast.net>
Old Hickory, Tn - Monday, May 08, 2006 at 02:47:22 (CEST)
---
Did anyone else see the ad for the prop from Randy Hughes' plane on E-Bay? The minimum bid was $350,000! I cannot believe someone would try to sell something like that. I do consider it a part of history BUT would you buy a piece of the seat JFK was seating in when he was killed? No. The ONLY reason it's for sell is because of Patsy. I think it's disgusting. As of tonight, he has had no bids on it, thank God. I think it should be donated to the Country Hall of Fame where it could be housed out of site. Patsy Cline to me is family. Think an email campaign to E-Bay might work to get it pulled? Sorry to ramble but this sorta thing really makes me mad!
Tim Poole <Tappster4real@aol.com>
St. Charles, IL USA - Sunday, May 07, 2006 at 05:28:03 (CEST)
---
Today for the first time I went to the crash site in Camden, Tn. I was ten years old when it happened and remember it vividly, my grandmother knew Cowboy Copas. Standing there in that spot in the woods was a solemn occasion and it made me want to look her up on the internet and I came to this site. Good job on the website.
Rick <myrlangel@aol.com>
Dickson, TN USA - Sunday, May 07, 2006 at 02:57:33 (CEST)
Comment: Thanks, Rick! /Per
---
Nrosas, you could try www.djtees.com, although I don't know how good they are because I have never bought any t-shirts from them.
Helen Smith <helensmith_1999@yahoo.com>
England, United Kingdom - Saturday, May 06, 2006 at 20:12:49 (CEST)
---
Where can I find a Patsy Cline t-shirt?
Nrosas <nerosas15@yahoo.com>
Duarte, CA USA - Thursday, May 04, 2006 at 05:34:27 (CEST)
---
Maybe I'm a little late but I'd like to say one thing: Whoever says Patsy Cline was "homely" and "fat" deserves a swift kick in the ass. What a way to lose fans, lady!! Patsy was and is the most beautiful lady I have ever seen.
Stephanie
WI, USA - Saturday, April 29, 2006 at 02:05:23 (CEST)
---
On Thursday last week, 20th April, I learnt that a group of until now silent fans in the UK had been on the point of helping the museum with a substantial sum of money. The final decision was to have been made in November, but due to illness the meeting was delayed until December, and therefore occured after the news of Philip Martin's sacking had circulated.

Who said illness is always a bad thing.

Bernard Green <syemon.es@btinternet.com>
Sharnbrook, UK - Monday, April 24, 2006 at 17:30:43 (CEST)
---
Two signed photos for auction:

[1]
http://www.rrauction.com/bidtracker_detail.cfm?IN=859

Description:
Vintage glossy 4 x 5 fan club photograph of the legendary singer wearing a cowgirl outfit with white boots, a fringed blouse a white neckerchief and white cowboy hat, bearing a facsimile signature "Your Friend, Patsy Cline" on the front, and authentically signed "Best wishes, Patsy Cline" on the reverse. In very good condition, with heavy creasing to right side, corner creases to left side, a few faint spots of discoloration on the reverse. R&R COA.

[2]
http://www.rrauction.com/bidtracker_detail.cfm?IN=858

Description:
Legendary Country singer. In 1957 Cline appeared on Arthur Godfrey's Talent Scouts and sang "Walkin' After Midnight". The song went on to make both the country and pop charts, and her career took off. She was the first female country star to cross over into pop, with hits that included "I Fall To Pieces" and "Crazy". In 1963, at the age of 30, she was killed in a plane crash. Vintage 8 x 10 light cardstock portrait of Cline wearing a white blouse, metallic vest and neckerchief, signed "Thanks, Patsy Cline" in blue ballpoint. The portrait was taken at Lamps Photography in Winchester, Virginia, Cline's hometown. In fine condition, with a few surface impressions and a crease on her left sleeve. R&R COA.

and [3] a large collection of autographs (3 MegByte download)
http://www.rrauction.com/content/pdf/308pdf/music.pdf

Bernard Green <syemon.es@btinternet.com>
Sharnbrook, UK - Saturday, April 22, 2006 at 22:48:33 (CEST)
---
FOR IMMEDIATE RELEASE
American Cabaret Theatre
401 East Michigan Street
Indianapolis, Indiana 46204
317-631-0334
www.actindy.org

AMERICAN CABARET THEATRE BRINGS PATSY TO INDIANAPOLIS

"Always... Patsy Cline" directed by Bob Harbin, is more than a tribute to the legendary country singer who died tragically at age 30 in a plane crash in 1963. The show is based on a true story about Cline's (played by Melissa Schott) friendship with a fan from Houston named Louise Seger (played by Vonda Fuhrmann), who befriended the star in a Texas honky-tonk in l961, and continued a correspondence with Cline until her death.

The musical play, complete with down home country humor, true emotion and even some audience participation, includes many of Patsy' unforgettable hits such as Crazy, I Fall to Pieces, Sweet Dreams and Walking After Midnight...27 songs in all. The show's title was inspired by Cline's letters to Seger, which were consistently signed "Love ALWAYS... Patsy Cline."

"We are very excited to have Patsy here at ACT," comments Artistic Director Bob Harbin. "It's something very different than what people are used to seeing on our stage."

Showtimes and dates:

Friday, April 28 - 7:30 PM
Saturday, April 29 - 7:30 PM
Sunday, April 30 - 3:00 PM
Friday, May 5 - 7:30 PM
Saturday, May 6 - 7:30 PM
Sunday, May 7 - 3:00 PM
Friday, May 12 - 7:30 PM
Saturday, May 13 - 7:30 PM
Sunday, May 14 - 3:00 PM
Friday, May 19 - 7:30 PM
Saturday, May 20 - 7:30 PM
Sunday, May 21 - 3:00 PM
Friday, May 26 - 7:30 PM
Saturday, May 27 - 7:30 PM
Sunday, May 28 - 3:00 PM
Friday, June 2 - 7:30 PM
Saturday, June 3 - 7:30 PM
Sunday, June 4 - 3:00 PM

Box Office Information:
317-631-0334 x. 115 or 102
Single tickets - $20 - $25

Bill Skaggs <bskaggs@actindy.org>
Indianapolis, IN USA - Thursday, April 20, 2006 at 18:19:16 (CEST)
---
As you all may have seen on www.reclinerclub.com I know own a copy of the Johnny Cash Show (#48). He does a History of Country Music Tribute. There is about 45 seconds or so of the newly discovered version of "Walkin After Midnight" used in the show. Most of this is shown on Youtube.com. I spoke with Charlie moments ago and he has not had a chance to view it online. I am sending him a copy of the show to view at his home. From what I have told him he is not aware of the show origins, though in my opinion I think it is an Ozark Jubilee telecast. He will consult with the Hall of Fame.

I found the show on eBay. It is quite good with many legends performing. How wonderful to see Johnny enjoying the rockabilly portion.

I took a moment to ask about Jimmy McCoy as many of us were considered about his health in March. He is doing pretty good though he still has back troubles. He plans to head to Nashville this week to work on a recording project, a Tribute for Ernest Tubb. His special guests in the studio will be Charlie's grandsons viewing the process, these are Chips boys.

Always,
Jimmy Walker <patsyfan1@aol.com>
Wednesday, April 19, 2006 at 23:25:36 (CEST)
---
Hey guys,

Did anyone manage to tape that SuperOldies.com tribute program on March 5th? I missed it =(

George Hewitt <george.e.hewitt@gmail.com>
Edmonton, AB Canada - Sunday, April 16, 2006 at 20:31:48 (CEST)
---
Are there any fans of Patsy Cline who were living in the former German Democratic Republic (East Germany) in the years 1960 to 1975 who could help me with a piece of reseach into radio broadcasting. Who listened to what.

Ich suche Kontakt mit Fans der Patsy Cline die in den ehemalig Deutsche Demokratische Republik (DDR) 1960 und 1975 darzwischen gewohnt hatte. Hilfe mit ein Forschungsprojekt der Rundfunke wird verlangt. Wer horte was.

Bernard Green
Sharn Nook
Kennell Hill
Sharnbrook
Bedfordshire
MK44 1PS

Bernard Green <syemon.es@btinternet.com>
Sharnbrook, UK - Sunday, April 16, 2006 at 17:19:28 (CEST)
---
Hello all,

Glad to see the list being active again. My thoughts on the "fat" comment: True that Patsy's weight did fluctuate throughout the years but I don't think you could have said Patsy was really fat. She did put on some weight after her car wreck but she was laid up for six weeks, what do you expect. She got back in shape pretty quickly after that. Another thing, someone said look at Patsy's dresses and you could truly see she wasn't a big lady. I totally agree. Historical fact: Dress sizes in the 1960's and before were gauged differently than today. The standards for women's dress sizes have not remained constant over the years; they have changed as the size and shape of the average woman has changed. Clothing manufacturers assume most women don't want to wear clothing of a size identified as "Large," for example, so they adjust their sizing so that the average-sized woman takes a "Medium".

If the size of the average woman has increased a bit over the years, then the very same size that was a "Large" fifty years ago might be a "Medium" today. This is sort of what has happened to women's dress sizes since the 1940s: A woman who weighs more now than she did twenty years ago might actually be wearing a smaller dress size today. Example: The silk "nude" dress designed by Jean Louis that had 6,000 hand stitched rhinestones that Marilyn Monroe wore to sing for President Kennedy, that was auctioned off a few years ago at Christie's of New York, this dress was from 1962, less than a year before Patsy died, and here's a quote about Marilyn's dress from People Weekly magazine:

-----
"That gown and others evince Monroe's glittery, larger-than-life appeal. Until examined closely. Then they show that the impossibly curvy, nearly 5'6" actress was actually quite slim. 'One of the smallest mannequins we found in the U.S. was still not the correct size to fit the Happy Birthday dress,' says Valentino, who had a smaller mannequin made in London, England. 'Marilyn was much more petite than people realized.'"
-----

Marilyn's dress size was different at times but on average she wore a size 12 back in those days. I think the same thing can be said of Patsy Cline. Also, if Patsy Cline had never been "found" in her day and came out today she would still be just as popular if not more! As George Jones said, "If Patsy were alive today, she'd still be singing and giving these girls they've got today the what for! There'd most definetly be some competition!" Patsy would have kept up with the times! The same as Elvis would have, everytime you see an Elvis impersonator it's in that 1970's Vegas style jumpsuit's. Elvis would have kept up with the times.

Excuse me for comparing Patsy with Marilyn Monroe and Elvis Presley, but I think Patsy is in the best of company. Patsy was an extremely classy lady and was full of sophistication and really helped bring country out of the hay seed image of the 1950's and before. Beauty is in the eye of the beholder and I think that Patsy Cline was a very beautiful woman, inside and out! Some of the problem with Patsy's image is that today, and especially on the award shows, they continually show Patsy in the 1950's pictures when she did wear the cowgirl outfits. They rarely show her in the 1960's photos. Like the Vegas pictures with the full length sequined dressed or the red photo shots. I think everyone should take the advice of my mother, "If you can't say anything good then keep your mouth shut"! Ha! I think Patsy would be saying, "You tell 'em, Hoss!"

Troyce Hendricks <troyce1@bellsouth.net>
Minden, LA USA - Saturday, April 15, 2006 at 04:48:20 (CEST)
---
Hey guys,

It's been a while since I've checked back with what's been going on in Patsy cyberspace. Reading previous entries, I have to say that I truly appreciate what y'all are doing for Patsy's legacy. It's disappointing to hear what's been happening with the museum. Life is truly too short for red tape. It's too bad that everyone can't simply look at things "through the eyes of a child."

Even though life and financial struggles have gotten in the way of being around and submitting feedback regularly on Per's site, when I visited today, I felt blessed that all of you are standing up for what is right and what is most paramount - in this case - Patsy's memory. The fact that we all, together, celebrate her legacy as a truly honest and talented performer creates such love in the world. Love, surely, that can never be hindered by either a delayed and political museum project, nor by ignorant, bigoted trolls who feel the need to attack fan forums merely to get a rise out of people.

I hope you're all doing well. I endeavour to check back soon and keep up-to-date with all the doin's.

Take care.
With love,
George Hewitt <george.e.hewitt@gmail.com>
Edmonton, AB Canada - Thursday, April 13, 2006 at 20:54:53 (CEST)
---
This just in from Gail Davies website to my email:

"I think you completely missed what I was trying to say, Mr. Vaughn. My point was that women today are being judged more for their looks instead of their talent when it should be the way it was in Patsy's day. She did slim down as her career progressed but she came to town a bit on the plump side and that's a fact. Some of my closest friends knew her well and they would tell you the same thing. Again, the point I was stressing was that her incredible voice was more important than her looks and that's what really matters and should still matter today..."

I think she could've just said that instead of "fat". I got the point to begin with.

Like her or not, Gail Davies has always had my respect for being a Country outlaw and a strong female role in music history. Just her taking the time to respond adds to that respect... although just a small percentage. She did call "the Cline" "fat." HAHA.

Your Hoss,
Jared Vaughn <JaredVaughn81@aol.com>
Spartanburg, SC USA - Tuesday, April 11, 2006 at 05:11:45 (CEST)
---
I just visited Patsy's gravesite and there were pennies laid on her stone, I am wondering if anyone knows of the significance of that? Thanks, Trish
Trish <trishsharleyd@aol.com>
Galloway, OH - Monday, April 10, 2006 at 19:39:26 (CEST)
Comment: This page contains a possible explanation below the second picture. /Per
---
Well. It LOOKS like this is the most recognition Gail Davies has recieved in a LONG time. I was sitting in my living room watching that program from where I'd taped it the night before and had to rewind it to make sure I wasn't deaf ("I coulda fallen thru my butt and hung myself" as Louise says in "Always..."). I wrote Ms. Davies to tell her of my disappointment in her remarks. She had a good point, but it was overshadowed by her BAD choice of words. I think her point was that Country Music is so focused on self image today that even a singer as good as Patsy Cline wouldn't have made it. But there again, she must've forgotten that Patsy Cline was of a different era and, for that reason, her personal cosmetic image cannot be compared to today. For the 60's - and especially in a then hayseed image Country Music - Patsy was IN! She went from cowgirl outfits and fringe to spiked heels and chiffon, rhinestones, wigs, heavy make-up, cocktail dresses, dangly earrings. As far as I'm concerened (and I believe countless historians would agree) there was nobody before Patsy to leave gingham and the country sweetheart image in the dust. While Patsy was Country's first diva, everybody else was still wearing hand me downs from Minnie Pearl!

And fat? Big boned, maybe. Full features? Maybe. Fat? No. Gail OBVIOUSLY is such a Country Music fanatic that she has Patsy's measurements on file. Wasn't it Faron Young who said in Ellis Nassour's bio that Patsy was built like a brick... um... we'll say hourglass. Minnie Pearl said Patsy was the first to wear tight dresses and look great in them because she had a pretty figure.

If Gail wanted to use a PRIME example of someone who has A LOT of talent but lacks the image she should've used herself.

Calling Patsy Cline "fat" is like saying "Kitty Wells is a legend, but she sings straight through her nose and nobody wants to hear that today". While it may be an opinion, it's one best kept to yourself and shouldn't be used when making a point. Especially on national television.

Whew. I feel better now! LOL!

Your Hoss,
Jared Vaughn <JaredVaughn81@aol.com>
Spartanburg, SC USA - Monday, April 10, 2006 at 04:58:07 (CEST)
---
"Patsy Cline described as fat"

I hope the writer sued her optician for supplying defective spectacles. Or perhaps the writer needs to correct the aspect ratio on her TV set, old videos should not be viewed in wide screen mode.

From all the photos I have seen Patsy was a very attractive woman, and it seems, naturally beautiful.

Patsy had everything, good looks and a voice that enthralls, but then, we all know that.

Bernard Green <syemon.es@btinternet.com>
Sharnbrook, UK - Sunday, April 09, 2006 at 12:02:21 (CEST)
---
Pam, I didn't understand the "homely" part. But I did understand her to say "fat". I too was upset and appalled to hear such a thing. Patsy was not fat, I have seen her stage clothes like many others on this forum. She wasn't a size 2 nor a 16.

Remember TV does add 10 lbs.

Always Jimmy W.
Pro-Patsy
Jimmy Walker <patsyfan1@aol.com>
Sunday, April 09, 2006 at 00:08:02 (CEST)
---
Did anyone watch the special on Women of Country on A&E Friday night? I was very angered by the comments made about Patsy by Gail Davies. She said that Patsy would never have made it in country today because she was too "fat and homely". What gall she has to insult such a great legend like Patsy. Shame on the producers for letting that comment survive editing! Patsy was neither fat nor homely! But that is not the point. Female singers should hold Patsy with the same high esteem male singers have for Hank Williams! She should not insult someone whose body of work leaves hers and all others in the dust! I made some emails to vent my dissappointment, and made an entry on CMT's message board. What do you think of these remarks? I don't recall such insults made about any of the other women on that show!
Pam Underwood <pcuwood @hotmail.com>
Raleigh, NC - Saturday, April 08, 2006 at 20:46:28 (CEST)
---
A news flash on BBC has carried the sad news that Gene Pitney has died aged 65. He passed away in a hotel in Cardiff, South Wales UK last night (Tuesday). He was on a concert tour of the UK and was due to appear in Bristol tonight.
Bernard Green <syemon.es@btinternet.com>
Sharnbrook, UK - Wednesday, April 05, 2006 at 14:20:49 (CEST)
---
Hey hosses,

Here's one for you. I saw a poster similar to this one at The Ernest Tubb Record Shop on Music Row in Nashville during my last visit. It hangs on the right hand side of the shop up high (a shrine to The Cline, if you will). I've never seen another like it, but I was wondering if any of you may have some insight as to if it was ever pressed or is a one of a kind that someone else created. Do any of you have it? I thought it was absolutely awesome.

Your Hoss,
Jared Vaughn <JaredVaughn81@aol.com>
Spartanburg, SC USA - Tuesday, April 04, 2006 at 22:20:39 (CEST)
---
I love Patsy Cline since I was a little girl, my mom used to listen to her all the time... I lost my mom to cancer and ever since, when I listen to Patsy I feel like my mom is still with me. I was in Nashville, Tennessee on March 28/06 and I recorded a CD with 2 of her songs, "I fall to pieces" and "Sweet dreams". I love to sing her songs, everybody says I sound just like her. She is my idol, i love her... I'm 36 years old from Ontario, Canada.
Colette Roy <callitts@hotmail.com>
Canada - Tuesday, April 04, 2006 at 18:52:07 (CEST)
---
Randy prefers to have a private life. Julie has several entries in blue listed on here. Great site, Per!!! :)
Robyn Jones <run2dad2004@yahoo.com>
Syracuse, NY - Sunday, April 02, 2006 at 20:56:34 (CEST)
Comment: Thanks, Robyn! :-) /Per
---
I have been doing a lot of research on Mrs. Patsy Cline. I, however, have not heard anything about her son Randy. Does anyone know what happened to him?
Jessica Merritt <jmerritt@pathgroup.com>
White House, TN 37188 - Friday, March 31, 2006 at 07:16:57 (CEST)
---
Hi, I have been searching for information on Patsy's son. You see something about her daughter all the time, but I have seen nothing about her son. Where is he?
Thanks,
Kem Hamm <ranny_kem@yahoo.com>
White House, TN USA - Thursday, March 30, 2006 at 23:30:02 (CEST)
---
http://www.winchesterstar.com/TheWinchesterStar/060329/Life_brew.asp

Winchester-Themed Beers On Tap at New Restaurant/Bar
By Val Van Meter
The Winchester Star

-----
"Since the pub opened Feb. 17, demand has already outpaced daily supplies of the most popular tipple, Patsy's Pilsner, named in honor of Winchester's own country music star, Patsy Cline."
-----

Bernard Green <syemon.es@btinternet.com>
Sharnbrook, UK - Wednesday, March 29, 2006 at 08:59:01 (CEST)
---
Dear Michael,

Why all the name calling? How can you judge me or others as not true "fans". You don't know us like I don't know you.

Only person that can judge me is God and you don't qualify for that office. I may not been a fan for 30 yrs but I learned alot from some of the dearest friends I know. I ONLY can speak for myself here... So here I go... Lets play Rodney King here. "Why can't we just get along?" I'm tired, real tired of this 3 year old junk... Patsy wouldn't be pleased with this. Lets be ADULTS here. Lets grow up.

Each of us have our opinions on the subject. It is called freedom of speech and it is my freedom to feel how I feel about some people who betrayed my trust and said they were my friend. One part is about Philip Martin, the other parts is about be accountable of what they say and turn around and say another. Which my morals, how I was raised and religious beliefs will not allow me to be apart of. Why can I say this? Because I spent money, time, blood and sweat for this cause. Money I didn't have, but I love Patsy so much I would do anything for her. I learned to love her, cherish her and her music.

She has been a friend when I didn't think I had a friend. When I'm happy, sad, depressed or glad she was there with her music and her sweet voice. Yep, I'm a fan, admirer and just love her.

These few months I have wanted to throw up my hands and say, "I can't take it no more." This has really affected my health and have tested my faith. But I'm praying that God will give me the strength to fight tooth and nail for my beloved Patsy. Why? She would do it for me!!! Yep, I'm Pro Patsy also... But I will not sell her down the river either. Patsy don't deserve that!!!

Molly Meridieth <Mojoe19701@frontiernet.net>
Mascot, Tn USA - Tuesday, March 28, 2006 at 01:36:15 (CEST)
---
http://www.lillyendowment.org/annualreports/LEAR1999_pdf/1999.pdf

(refering to designing of INDIANA STATE MUSEUM)

Ralph Appelbaum, America's celebrated museum exhibit designer, jokes that museum visitors fall into three categories: studiers, strollers and streakers. Studiers carefully scrutinize every historic marker they encounter; strollers amble through galleries, stopping only at items that interest them; and streakers dash past the artifacts and ask, "When do we eat? Where do we shop?"

Bernard Green <syemon.es@btinternet.com>
Sharn Nook, UK - Monday, March 27, 2006 at 19:14:39 (CEST)
---
In response to "Michael":

I too, have just seen the postings this Monday morning, and must echo Jared entirely. This is not a matter to be taken lightly. There is a huge sense of loss at what has happened. As for twisting words, I'm not sure where that comes from, because I stand by each and everything I have said on this forum and any other. I stake my personal reputation on it. I have nothing to hide, and wish to keep Patsy out of a quagmire of misguided egos and poor decision making.

We asked for honesty and integrity, and have been rebuked at every turn.

As Jared accurately points out, "Miss Cline" was not someone who would have tolerated mistreatment, using, dishonesty, and back-stabbing. CPC and all others are invited to participate in open, HONEST discussion. However, they push away from the table when invited for such.

There is no hatred or intolerance. There is a well-founded DEMAND for accountability.

Each of these webmasters are dear friends, however, I follow no one personally, and know no one else who does. These are fine, honest folks who love Patsy Cline with their hearts and souls, as do I. Years, tears, money, time, and love have been poured into this effort.

Please feel free to speak your opinion, but I implore you to not accuse, and worse, have a contest about "who is the bigger fan". That is juvenile, and irrelevant.

Patsy Cline the PERSON is who we love and fight for. Her music of course, is above any other in history, but for us, it is much more. For us it is a deep love, and a deep want for things to be done for her properly, with respect, with integrity, and with longevity. She put those things into her life and music, and we want the same for her.

Feel free to specifically enumerate the wrongs commited by any of this group, and unlike some, we will happily discuss that with you.

Theresa Shalaby <gerdbaby@yahoo.com>
Thompson's Sta, TN USA - Monday, March 27, 2006 at 18:51:44 (CEST)
---
In regard to the individual who is using the alias of "Michael". You wrote:

-----
"I'm not a big country music fan, but to me a true fan would not react in this way. I have only been introduced to Miss Cline these past two years and have been very impressed with her music. I have read what has been going on with all of you that are to be true fans, and the division that is between all of you is truly very sad."
-----

First of all, sir, a true fan WOULD indeed react in this manner. See, although you have only been introduced to "Miss Cline" these past two years and have joined countless fans across the globe in being impressed with her music, it saddens ME, sir, to think that you seemingly have missed a valid point in your daily readings, just as members of CPC have missed the same valid point in their proceedings.

In case you haven't heard. In case you didn't know. In case you've never picked up a Patsy Cline biography in the past two years that you've been a fan of "Miss Cline's". In case you've never heard anyone in the realm of Country Music that she personally knew speak of her. In case you've failed to see, comprehend and accept. Patsy Cline was a woman of integrity. She thirsted for a career that would allow her to live happily making music successfully more than anything else in life, with the exception of her children. HOWEVER - NOT ONCE did she EVER have to walk on anybody or USE someone to get to where she ended up: on top. She may have had to walk AROUND a few people, but never did she have to railroad ANYBODY in order to be successful. In fact, it was quite the opposite. Patsy Cline encouraged others and helped them along the way. Why? Because she had a heart. Because she had integrity. She gave of herself to her friends, fans and colleagues. Ruthlessness was not even a part of who she was. THAT, my friend, is a LARGE part of the legacy. THAT is the point that YOU missed. It is not ALL about the music. Much of it is about WHO she was. The stand that we former supporters of CPC have taken against this organization is for that very reason. The way that they used Philip Martin - a man who DROVE this organization that hadn't made a significant move in YEARS (and hasn't since his departure, so it seems...) and then WALKED on him without an ounce of gratitude. Patsy Cline would have never done that. That was not the kind of person that she was and such behavior is NOT a part of her legacy.

The second point that you missed is that Patsy Cline ALWAYS stood up for what she thought was right and supported the GOOD in the cause. We, as former supporters of CPC, felt that CPC's ways of doing business should be acknowledged as not acceptable regarding Patsy Cline's legacy. So we made our case. We cried our tears of loss. And we let it go.

It saddens ME, sir, to think that you failed to see two very valid points regarding WHO "Miss Cline" was. It saddens ME to think that you can't fully understand and judge what it's like to give your all to an organization, only to have them walk on you. It saddens me that you just waltzed into this forum out of the sunset and seemingly had no clue as to who you were talking to and about what. These people ("Lisa and her following..." as you have put it) have given their all for years to Patsy Cline. Their acts of love can be found on their websites (www.Patsified.com - no, she's not a true fan or anything), in the way that they've taken up for the integrity of Patsy Cline and in the time they've spent trying - WITH INTEGRITY - to ensure that her legacy lives on. Your FAILURE to understand that, to me, is "TRULY very sad." For the definition of a true fan, look to these people who understand an incredibly valid point regarding Patsy Cline's legacy.

And sir, if you still don't understand, please feel free to contact me or 80% of the individuals in this forum. Our email addresses ARE listed below our entries.

Jared Vaughn <JaredVaughn81@aol.com>
Spartanburg, SC USA - Monday, March 27, 2006 at 07:07:27 (CEST)
---
Hi all - I've been away from a computer all weekend so I'm just now getting "caught up" and have just read the entries below with great interest. I have to agree with Bernard on everything he's said and I couldn't say it any better. Like Bernard, I've never been to a Patsy Cline "organized event". I've never been to Winchester.

Michael, you're certainly free to express your opinions on this forum, but I don't think you have the right to speak disparagingly of those of us with views opposite your own. You're way off base in accusing any of the Patsy Cline webmasters of hatred or intolerance of the views of others. If Per were in any way intolerant, he would simply not put up your post to the forum. Lisa and others (myself included) have simply been asking questions and looking for information, but the folks running CPC have been unwilling to answer legitimate questions. We worked very hard at raising the money to buy those items at auction and then turned them over to CPC because we thought we all had the same agenda. Obviously that was not the case. Are we angry? Yes we are. There is such a thing as righteous anger.

We're also sad because in the past Patsy Cline and her legacy brought us together -- many friendships were formed, indeed on this very forum. There are a group of people I consider among my closest friends whom I met right here. We're sad that the situation has come to this point, but we're not hateful or hurtful people or intolerant. Time heals all wounds, and this too will pass and we wish CPC success in their efforts for the good of Patsy and her memory -- we're just so sad because it could have been so much better. So bottom line, Michael, agree with us or don't agree with us, but please don't call into question our love of Patsy and whether or not we are "true fans."

Guy Cesario <guyc@patsyclinetribute.com>
Chicago, IL - Monday, March 27, 2006 at 06:48:27 (CEST)
---
Love the picture. Wonder if anyone heard from Julie?
Robyn Jones <run2dad2004@yahoo.com>
Syracuse, NY USA - Monday, March 27, 2006 at 00:41:03 (CEST)
---
Wait a sec, I've seen a pic of Per, I forced him to send me one awhile back, he's adorable, and Per, you had better print this entry! LOL

By the way, may I make a quick point re: what Bernard was saying below. Merely drawing numbers of visitors cannot be the FOUNDATION of an effort like this. The foundation, the driving force, the main reason for existing, must always be Patsy, not money. First you present Patsy in the respectful way she needs to be presented, you take care of her artifacts first and foremost, and then you think about how to best attract visitors to what you have created for Patsy. But you don't use attracting visitors as your initial launching point and primary focus, otherwise you lose Patsy as you drag her along for the ride. You don't make a single move without considering how it reflects on Patsy and her family. Philip M. was focusing on Patsy and on a fan-driven effort, trying to figure out how to best present Patsy respectfully, and the best way to appeal to the fans, and the locals in Winchester apparently didn't like that sort of approach. For them, it seems that the primary purpose of this museum is to revitalize Old Town. A desperate need to revitalize Old Town leads to decisions that may not always be in Patsy's best interests, in my opinion.

Lisa, The Homesick Texan <spam@patsified.com>
Sunday, March 26, 2006 at 20:12:58 (CEST)
Comment: Regarding the picture of me; Maybe the word "adorable" has a fundamentally different meaning in the states than over here... :-) /Per
---
If someone has any information at all about the picture below, please contact Jimmy Walker. An author of a Jim Reeves book is interested in using it in the book, so if you are the owner of this photo, or know who is, please contact Jimmy at patsyfan1@aol.com!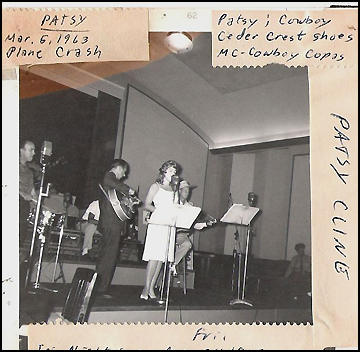 ---
Per wrote:

-----
"(Webmaster's comment: Not unlike people like myself and other fan site webmasters, right?)"
-----

Per, you are far too modest. Your site has brought immense pleasure, information, support and comradeship to Patsy's fans and admireres all around the world. No museum in a building will ever replace the service you provide to the fan community.

Lisa, Bill, Guy and Sue Bee also provide similar and complimentary services to the fan community. And you do it out of true respect and admiration.

A few hours browsing from an armchair provides far more than a museum in Winchester (or even Nashville) will ever provide.

Thank you all.

PS. I don't think I have ever seen a photo of Per.

Bernard Green <syemon.es@btinternet.com>
Sharnbrook, UK - Sunday, March 26, 2006 at 19:32:30 (CEST)
Comment: No, you have never seen a photo of me, and you should be glad... I wouldn't want to scare visitors away... :-) /Per
---
Michael:

Could you contact me directly with an e-mail adress I can respond to, please.

Thank you.

Bernard Green <syemon.es@btinternet.com>
Sharnbrook, UK - Sunday, March 26, 2006 at 19:13:15 (CEST)
---
Well, I must say, it's difficult to respond to someone who throws ad hominem attacks my way without providing a single example of what he's accusing me of, but I'll do my best.

First of all, I've always made a point never to get into a tussle with another as to which of us is the bigger Patsifan, nor do I go around judging whether others are "true fans" or not, especially people I don't even know. I don't have to prove my love of Patsy to you or to anyone else. (But it's amusing to me to think that anyone could leave my website thinking, "She's no fan of Patsy Cline," LOL!)

"Michael" or whoever you are, quality WAS indeed happening, and happening quickly, when competent individuals were working hard for no other reason, for no other agenda but Patsy, and making sound decisions and coming up with creative ideas we could all rally behind. Quality WAS happening in spite of the fact that some folks on the "team" were actively undermining the work of other team members and circumventing the board's unanimous decisions. Quality WAS happening in spite of the fact that some folks on the "team" were driving around with Patsy's clothing to show it off and not keeping track of fans' loaned items. Quality WAS happening in spite of the fact that some locals were withholding vital information from those of us who were "outsiders." Compare the prior ten years of NOTHING with the mere 9 months under Philip Martin. That says it all. If you need a link to the details about Martin's accomplishments, just ask.

Maybe some of you fans are happy to wait another ten years, but some of us would like to see this happen in our lifetimes. And most importantly, we'd like to see it happen in a respectful, safe manner that honors Patsy's name and does not insult the fans and does not act as if it is accountable to no one when questions are asked. I hate seeing Patsy attached to what is to me an arrogant effort that seeks only to be admired but not questioned.

Why do I care? Because I care about what's respectful of Patsy, and it's painful to see her name associated with what I see as incompetence and with people who appear to me to have deeply-rooted ego issues. We fans can choose to extricate ourselves from that Gong Show, but Patsy can't. I've heard from people in the Winchester area (not fans) who say that CPC is seen as just a joke which, by association, makes Patsy a joke. I think that Patsy deserves better than being considered a joke. When does she get the respect to which she is entitled?

How amazing that you can speak for Patsy and tell me that she isn't proud of me. What else is Patsy thinking? Does she take questions from the audience, because I have about a million of them to ask her.

If the CPC situation has spoiled your enjoyment of Patsy's music, then don't point to me and blame me. I didn't ask for this situation. Why in the world would I ask for the destruction of a dream for which I had worked and hoped and prayed for years? This situation was created needlessly out of whole cloth by folks in Winchester, not by me. You're blaming me, but I'm just the messenger.

And please provide examples where I've "twisted" anything anyone has said. I stand by every word I've ever written on this subject. I'll be interested to hear your examples. All I've ever done, and will continue to do, is attempt to find answers in this nightmare.

Very Sincerely,
Lisa, The Homesick Texan <spam@patsified.com>
Sunday, March 26, 2006 at 16:32:44 (CEST)
---
Per wrote:

-----
"...triggers me to ask if there is something fundamentally wrong with attracting tourists to the museum? Isn't the whole idea of a museum to get visitors, and as many as possible?"
-----

Museums can be devided into three basic types:

[1] those that fail and close

[2] those that are maintained by dedicated people who are dedicated to the person or subject to which the museum itself is dedicated. These have small numbers of visiting people truely interested in the person or subject. They are not a financial gold mine.

[3] those that are made attractive to the great mass of the public. These have tourists who have little if any interest. Often these are delivered by a tour bus driver and have time to fill before the bus moves on. These can be a financial gold mine.

So what about these three basic types.

Type [1], although no longer here, should not be ignored. They failed because they could not attract enough paying visitors to pay high costs of elaborate displays and/or there was no dedicated support to keep them viable. They can leave a gray page in the history of the person or subject the museum was centred on.

Type [2] tend to be small but sincere places where the person or subject is the most important item. Profit and other such matters are secondary to the cherishing and protection of the subject matter of the museum.

Often a group of dedicated people who devote time and effort in "payment" for the pleasure the subject of the museum gives them.
(Webmaster's comment: Not unlike people like myself and other fan site webmasters, right?)

Type [3] tend to be garish, sometimes tacky places where anything to bring people with spending power through the turnstiles is considered fair game. Add a children's playground to bring families in. The subject of the museum is often elaborated, modified or otherwise processed to make the subject more attractive to the mass of the public.

Often a paid management team with little if any real interest in the subject is used to run these as businesses with profit as their sole pleasure.

So what options there for CPC and its museum.

Supported by the fan community around the world CPC could have created a small fledgling place where fans and aware members of the public could visit and cherish the memories they have and learn more about Patsy from people who really are dedicated to Patsy. It could have grown as time went by.

Supported by the town of Winchester CPC may now make a museum that is a tourist attraction to bring tourists into to the old town.

The investment by the fans for a sincere place is a payment they require no return from. They are giving it freely out of admiration and respect for Patsy.

The investment by the City of Winchester is a financial investment linked to a 25 year period of commitment. While CPC may not be required to pay interest on that investment they will be expected to increase visitors to the Old Town to regenerate trade for existing businesses.

I hope it works out for CPC and the City. I would hate to see the museum in a run down area where other businesses have moved away leaving CPC's museum trapped in its 25 year term.

Regards,
Bernard Green <syemon.es@btinternet.com>
Sharnbrook, UK - Sunday, March 26, 2006 at 13:44:08 (CEST)
Comment: Say no more... I get the picture... /Per
---
Bernard, I agree with virtually everything you have ever said, but this part of your latest entry...

-----
"This shows how the City of Winchester see the museum as a means to divert tourist buses off the I-81 into Winchester Old Town and hopefully spend some time and money in an area which is suffering from loss of passing trade. This loss of trade is mentioned in other editions of the same newspaper."
-----

...triggers me to ask if there is something fundamentally wrong with attracting tourists to the museum? Isn't the whole idea of a museum to get visitors, and as many as possible?

Per Jonsson <crazy_dreams@hotmail.com>
Örnsköldsvik, Sweden - Sunday, March 26, 2006 at 13:01:08 (CEST)
---
To Michael:

Your comments have been printed because this forum and the other sincere web based tributes to Patsy Cline are open and free to all. Other non web based organisations with interests in Patsy Cline seem less open and less willing to discuss matters. Some have excluded people they do not like.

You have been a "fan" for two years, I have been an admirer since 1962. You have been to at least one "fan scene" dinner, I have never been to an organised event. The greatest life moment for me (Patsy Cline wise) was when my family stood on the stage of the Ryman on the very timber where Patsy stood and sang and took country music to a new higher level.

It is good that Patsy Cline's talent was so great that a fan club can exist for her, and for her "fans" to get to together for drinks and good food and other enjoyment. Many many more appreciate that talent without the dinners and social events of the "fan scene".

So what about this museum. What is the truth? There is an enormous amount of public domain information about the hidden agendas behind the museum project that CPC is running. If you wish to see the side that the fan club and CPC do not talk about, then I suggest you start here:

www.winchesterstar.com/thewinchesterstar/010227/Area_patsy.asp

I quote from that news item:

-----
"The study, if it occurs, would be '...the first step in determining whether or not this Patsy Cline museum will work to turn around downtown', Deskins said."
-----

This shows how the City of Winchester see the museum as a means to divert tourist buses off the I-81 into Winchester Old Town and hopefully spend some time and money in an area which is suffering from loss of passing trade. This loss of trade is mentioned in other editions of the same newspaper.

If you Google search on the names of the prominent people in CPC, you will find many references to these people and the things they are reported to have said. Collate these into a time line and see for yourself the changing tides of opinion. See for yourself the other agendas and facts that CPC may wish were never part of history.

A person who has recently moved his company out of Winchester has told me of the attitude in Winchester to "out of town people" interfering in Winchesters's business. They are not welcome. The same I consider happened in CPC. People from outside Winchester made CPC effective and got things moving at a fast rate. This has been stated publically by the people now at the top of CPC. But this external help meant CPC was now creating a sincere museum for Patsy. It was no longer a tourist attracting bus diverter based on one of the few people that Winchester had to use for such purposes.

As to your comments about Lisa. If people like Lisa had not given so much time, effort and money to CPC, then Judy Sue would not have had the blouses which she has been using as trophies to the achievements of CPC.

I was in Winchester in May 2002 and there was nothing to show for the efforts of CPC then. There would still be nothing to show if people from outside Winchester had not come to the rescue of CPC.

In Judy Sue's publicly quoted words about Philip Martin:

www.winchesterstar.com/TheWinchesterStar/050323/Area_museum.asp

-----
"To me, he's a breath of fresh air," said longtime Celebrating Patsy Cline board member Judy Sue Huyett-Kempf. "He's for Patsy."

Martin has "a fire that I haven't seen for a long time," and that passion has reinvigorated many board members, including herself, Huyett-Kempf said.

Martin joined the board in summer 2004 after his wife heard about Celebrating Patsy Cline.
-----

He was sacked by a subgroup of the board of CPC for reasons which they refuse to provide. Board members at the time of the vote were not given the reasons. Why did this breathe of fresh air suddenly become unwanted?

Bernard Green <syemon.es@btinternet.com>
Sharnbrook, UK - Sunday, March 26, 2006 at 11:13:18 (CEST)
---
Bad news, Lisa and your following, quality cannot be done quickly. I don't understand why you feel the need to rush Miss Cline's Museum. If you have waited 10 years already, what is a few more months to wait?

May I ask why sooner would be better for Miss Cline and the fans? You and your friends have stated that you guys will not return to Winchester. So why do you guys care about when the opening of this wonderful project for a great Lady of country music begins? I'm not a big country music fan, but to me a true fan would not react in this way. I have only been introduced to Miss Cline these past two years and have been very impressed with her music. I have read what has been going on with all of you that are to be true fans, and the division that is between all of you is truly very sad.

I feel that Miss Cline would have never been proud of any of you. This has put a negative feeling in my love of her music, and I would like to say thank you to all of you for that. It seems that your small group of friends always try to twist everything that is said by anyone else. I have met a few true friends who knew her at the fan club dinner, and I can truly say that they are the real fans, compared to your group on these forums.

It's so sad to see so much hatred and intolerance in a group of people who are supposed to have the same goal. I already know that you and your group of friends are going to twist and make me sound unwelcome. Yet it does not matter because I live in reality and I do have friends in my life that love me no matter what my opinions are.

Thank you,
Michael
Nashville, Tn USA - Saturday, March 25, 2006 at 23:34:50 (CET)
---
Whoa, hosses. I think that what everyone is missing here is that in the final analysis, the date doesn't matter. In the bigger picture, the sooner we could have opened, the better it would have been for us fans and for Patsy. After ten years of NOTHING, we would have made ANY day work. We would have found a way to make a Halloween opening work. We would have found a way to make a Christmas opening work. Arbor Day, Easter, World Frog Day, Candlemas, Waitangi Day, Sandwich Day, the Fandoana Bathing Festival, National Clean Off Your Desk Day... I can't think of a single day out of 365 that we could not have found to make work after TEN YEARS. Philip wanted it done as soon as feasible, period; we would have made the date work. THAT is the main point that everyone seems to be missing in this.

Those of us who were involved at the time were busting our back sides trying to get things done quickly AND in a quality fashion. Quality can be done quickly, but it takes serious commitment and lots of hard work. I can't begin to tell you how painful it is when you realize that part of your team had other agendas and was actively undermining what other parts of the team were attempting to do. Well, now it's all theirs, and they are welcome to it. It just saddens me because it didn't have to be this way.

Lisa, The Homesick Texan <spam@patsified.com>
Saturday, March 25, 2006 at 17:00:05 (CET)
---
To clarify a recent post... I checked with some other fan club members who can back me up on the fact we were told by Philip Martin during Labor Day 2005 activities, that CPC planned to have a museum grand opening for the March 5, 2006 weekend. This was the original date I was referring to.

5 weeks or so after Labor Day I, along with several other people I received an e-newsletter from CPC by Philip, that they had decided to postpone the grand opening to the fall of 2006 due to unforeseen issues developing after Labor Day 2005, and would have a soft opening in March 2006.

Always,
Jimmy Walker
Lexington, KY - Saturday, March 25, 2006 at 01:49:19 (CET)
---
Theresa wrote:

-----
"Also, the asbestos issue was supposedly at the first museum site. The new one is purportedly in great shape, so I think the question that Bernard has pertains to if the new digs are in such super shape, then why does it take another 6 months or so to "gut it out"? The whole impetus for moving to the new locale was to eliminate that issue, according to the recent CPC press releases."
-----

That was exactly what my question was.

Since then I have heard about the very serious problems that existed in 48 S Loudoun St with water and other material from leaking pipes, broken pipes and over flowing baths and sinks in the apartments which comes through the ceiling into the offices and work areas of the previous tenant. Rain water also overflowed roof drains and flooded the rear area of the building. The board of CPC appear to have been un-aware of these problems until after they voted to allow Philip Martin to sign the lease on 48.

But the question still stands. The new site at 134 was re-modelled for use as a library (we can ignore the losses of books, video and audio tapes caused by water and smoke damage when the fire brigade were dealing with a fire in appartments next door at 132 above the Post Office) and should therefor be ideal for a museum. Why is it going to take 5 months to fit display cabinets into the building?

If there is a genuine reason for this long period of time then there can be no shame on CPC if they explain it.

Bernard Green <syemon.es@btinternet.com>
Sharnbrook, UK - Friday, March 24, 2006 at 12:01:29 (CET)
---
[Page 33] [Page 32] [Page 31] [Page 30] [Page 29] [Page 28] [Page 27]
[Page 26] [Page 25] [Page 24] [Page 23] [Page 22] [Page 21] [Page 20]
[Page 19] [Page 18] [Page 17] [Page 16] [Page 15] [Page 14] [Page 13]
[Page 12] [Page 11] [Page 10] [Page 9] [Page 8] [Page 7]
[Page 6] [Page 5] [Page 4] [Page 3] [Page 2] [Page 1]
---