---
Sheila Marie
---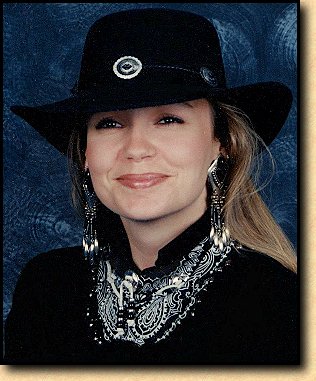 Sheila Marie
"The tone of her voice is gorgeous"
Those are Sheila Marie's own words when describing the voice of Patsy Cline, but it could just as well be me describing the voice of Sheila Marie! She has no intention of trying to sound like Patsy, but she has a wonderful voice, full of emotion, and it is very obvious that she loves to sing Patsy's songs, and that she loves Patsy!
Sheila Marie never intended to sing solo in public. She sang in a church choir, but she never stood up front, singing solo. She stood in the back, in the tenor section...
She, and her husband David, share a love for Patsy since many years back, and when they were on their first dates, when Sheila Marie was 16, they would always end up listening to a Patsy Cline tape, and Sheila Marie always ended up singing to it. David has always loved to hear his wife sing, and one time when David was planning a Christmas party, he asked Sheila Marie to sing at the party, but she said, "No! I won't sing!" Well, at least he managed to pursuade her to go to a singing practise, and the people that were there all agreed that Sheila Marie sounded great!
At that point she began to realize that maybe she should try to make it on her own (without the choir), and sing solo. And David has always supported her, and helped her to get to where she is today. She now has put together a tribute to Patsy, where she sings several of Patsy's songs, with sincere emotion! I have received her promotion CD, containing three songs, and a video cassette showing a transmission of the TV show "Cable Talk", in which Sheila Marie is interviewed and also sings three songs, and after listening to her, and watching her perform, I can fully agree with the testimonials below!
If you want to book someone who does a tribute to Patsy, Sheila Marie is a very good choice! For further information and bookings, call 703-777-5683, or send an e-mail to David at douglasson@integrity.com. The show is approx. an hour and a half. Also, feel free to sign Sheila Marie's guestbook!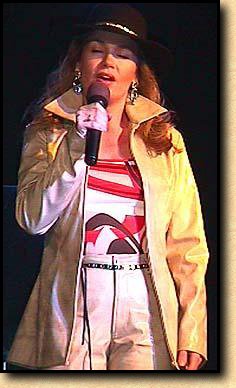 Sheila Marie at a
Starsearch competition.

Testimonials:

"This incredibly talented lady sings her heart out! Sit back, close your eyes, and imagine you are listening to Patsy herself. Energetic and motivated, this is a show you must see!" Sandy Snyder, General Manager, Kurtz Cultural Center, Winchester.

"Dynamic! She has a very strong, rich voice with a good look. She sounds excellent. A very talented lady." JD Thompson, Treasurer to the Always Patsy Cline Fan Club.

"Fantastic tribute to Patsy Cline! One of the best I've heard!" Cathy Hefner, Co-Treasurer to the Always Patsy Cline fan Club.

"She is not a Patsy Cline impersonator, but sings with a passion and inflection in her voice that reminds you of Patsy Cline." Barry Lee, DJ, WINC Radio.

"As lovers of country music and big fans of Patsy Cline, we have never heard a better recitation of Patsy Cline's songs than Sheila Marie's. She has such a powerful voice! We loved her personality, too. She lights up the stage! We can't wait to hear her again!" Jim & Patricia Combs, Wardensville, WV.

"Caught Sheila Marie as she performed in front of a group of business professionals and their families over the holidays. She brought energy, passion, and more to each rendition of Patsy Cline's songs. If you closed your eyes you were convinced that in some way the legend came alive in Sheila's one hundred and ten percent performance." Fred Pollard, Sales Consultant, Winchester, VA.

"Outstanding renditions of Patsy Cline favorites!" Ray & June Gritsko, Winchester, VA.

"She is wonderful! Her delivery gives you a chill! If you love Patsy Cline, you have got to see and hear Sheila Marie." Shirley Lee, long time Patsy Cline fan, White Post, VA.
---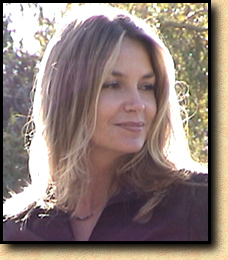 Stills from Sheila Marie's video
---
For Sheila Marie's schedule, please visit her new website!
---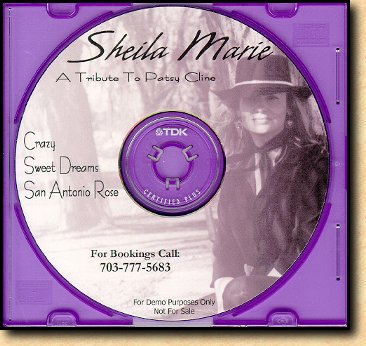 Sheila Marie's promotion CD.
Sound samples from the CD:
Crazy
Sweet Dreams
San Antonio Rose
---
Sign Sheila Marie's guestbook!
---