The monument at the crash
site near Camden, TN.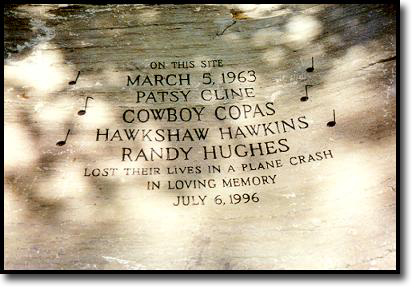 This is the monument that was raised at the crash site on July 6, 1996.
It is a rock with this inscription: "On this site, March 5, 1963,
Patsy Cline, Cowboy Copas, Hawkshaw Hawkins, Randy Hughes,
lost their lives in a plane crash. In loving memory, July 6, 1996".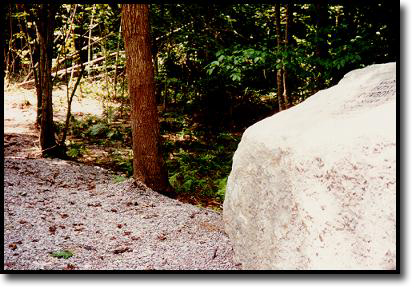 On the ground to the left of the monument, by the trees, is where
Patsy's body was found, according to Kent Florence's uncle, who was
the secretary of the local Civil Defense, and who was among the first
officials to arrive at the scene, together with Highway Patrol Trooper
Troy Odle. The plane was located by W J Hollingsworth and his son at
daybreak on March 6, and they notified the police.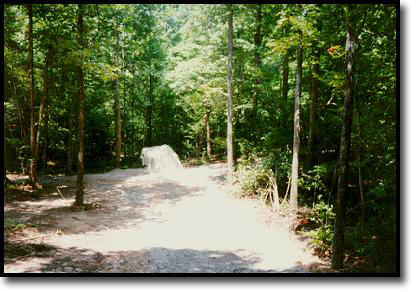 The monument from a distance.
Photos courtesy of Kent Florence.
---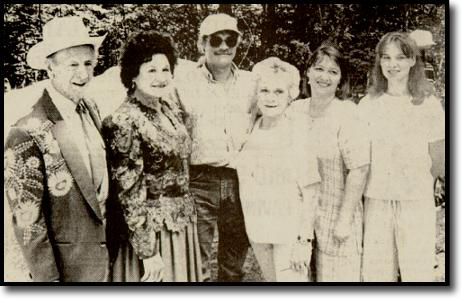 This picture was taken on July 6, 1996, when (from the left)
Johnny Wright, Kitty Wells, Harold Hawkins, Jean Shepard,
Julie Fudge and Michelle Fudge dedicated the monument.
Harold Hawkins is the second son of Hawkshaw Hawkins and
Jean Shepard. Julie (Julia Simadore) Fudge is the daughter
of Patsy Cline, and Michelle is Julie's daughter and
thus Patsy's granddaughter.
Photo from The Camden Chronicle.
---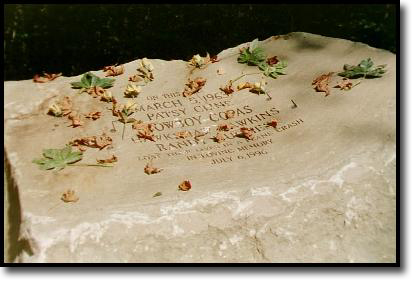 An alternate photo of the monument, with flowers on top.
Photo courtesy of Sue Wilden.